Newly Released College Admissions Scandal Emails Show Lori Loughlin & Mossimo Giannulli's Alleged Involvement – Perez Hilton
Lori Loughlin and Mossimo Giannulli are well on their way to having THE day in court
According to the email dump, an unnamed USC official was in contact with Giannulli as early as September 2016, apparently trying to court the fashion designer over potentially donating to his alma mater. Emailing Lori's husband about a "check in" over the status of his potential assistance to the university, the official asked about whether Isabella Rose planned on "continuing with the admissions process at USC," and wrote:
"Please let me know if I can be at all helpful in setting up a 1:1 opportunity for her, customized tour of campus for the family and/or a classroom visit. I'd also be happy to flag her application."
Nothing like allowing the already-rich and well-connected to get ahead in life, ya know?! Jeez…
Now, the email's release has prompted USC to come out and deny any wrongdoing. In a statement to The New York Times this week, the school fired back:
"What was being offered to the Giannullis was neither special nor unique. Tours, classroom visits and meetings are routinely offered. The primary purpose of a flag is to be able to track the outcome of the admission review process. It is not a substitute for otherwise being qualified for admission to USC."
That may be true!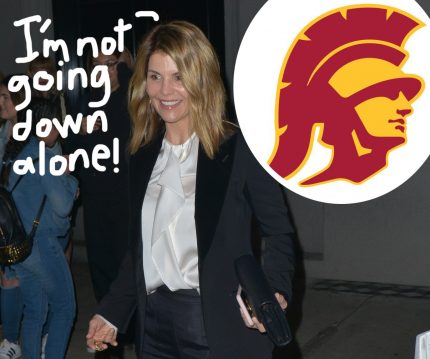 Read more: https://perezhilton.com/lori-loughlin-mossimo-giannulli-emails-released/