Dog The Bounty Hunter Admits To Falling On Hard Times After Beth Chapman's Death: 'I'm Broke' – Perez Hilton
Months after the tragic passing of his beloved wife last year, Dog The Bounty Hunter, unfortunately, fell on hard times.
Per a September interview with The New York Times just now making the rounds, the 66-year-old was extremely candid about the sad state of his personal affairs, finances, and how he fell on hard times after spouse Beth Chapman lost her battle to cancer on June 26, 2019.
At the time, medical bills and family expenses were skyrocketing. Combined with the stress of tending to his ailing wife, the entire situation really put the reality TV star in a pinch. He admitted:
"I'm broke."
Additionally, the Dog's Most Wanted star was also facing the possibility of losing his Colorado home if he didn't make good on his bounty hunting duties and recover a high-value criminal who fled on drug charges; a judge reportedly gave Dog an extension on that job due to Chapman's poor health at the time.
But as we mentioned, things only got worse from there once Beth died. Despite efforts to manage his responsibilities and family as a single father, the star's health began to plummet.
Dog was diagnosed was a pulmonary embolism which occurs when one or more arteries of the heart have been blocked by blood. He made the shocking reveal during an episode of The Dr. Oz Show that same month.
The star was so down on his luck he even contemplating taking his own life. But luckily, cooler heads prevailed and loved ones were able to step in and encourage a better state of mind.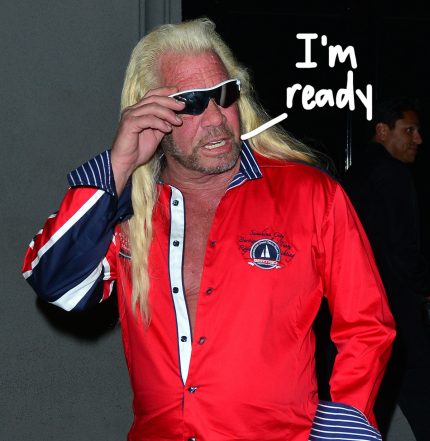 Read more: https://perezhilton.com/dog-the-bounty-life-update-broke/