How Amy Klobuchar can seize her moment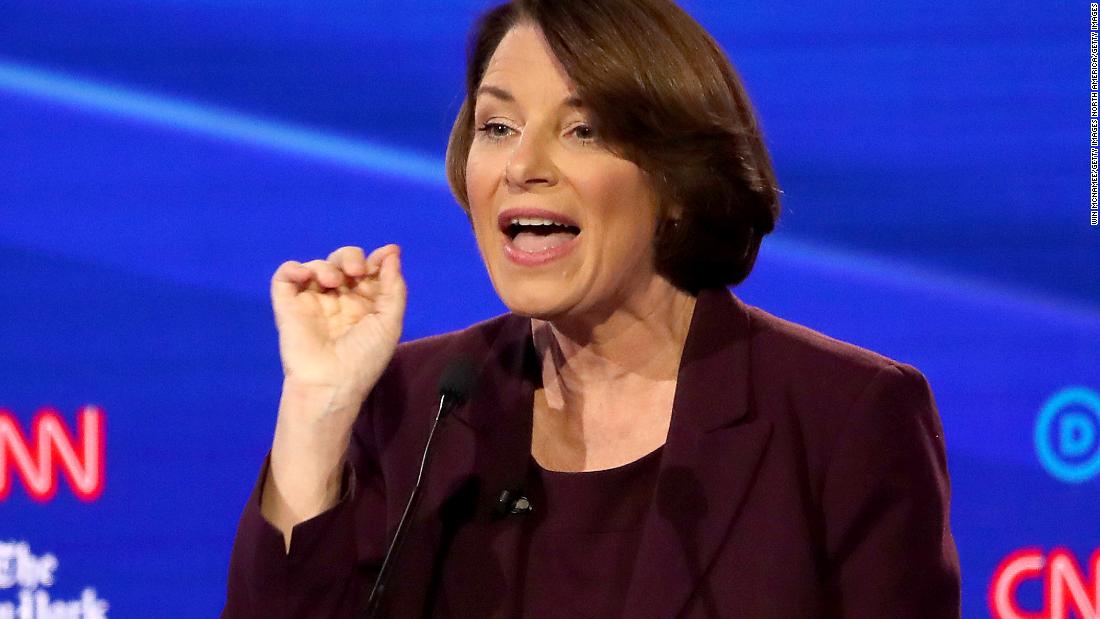 (CNN)When the five qualifying contenders for the Democratic nomination for president take the stage in Des Moines for the final debate ahead of the Iowa primary, only one of them can claim that most coveted mantle: the Democratic candidate who has proven they can win over Republicans.
That Democrat is Senator Amy Klobuchar from Minnesota, who has done well enough to stay in the hunt and is doing slightly better in recent polls. She is the one remaining candidate who has actually won a lot of Republican votes over her years in midwestern politics. But she remains mired near the bottom, despite the conventional wisdom —
pushed by
highly placed
center-right pundits
— that Democrats are going to have to reach across the aisle to win in 2020.
Amy Klobuchar doesn't just win elections in Minnesota — she crushes them. Even as political control in Minnesota has swung back and forth between Republicans and Democrats and came
perilously close
to voting for Donald Trump in 2016, Klobuchar won by over 20 points in 2006, an incredible 35 points in 2012, and 24 points in 2018.
She runs far ahead of her Democratic comrades on the statewide ticket, clearly attracting numerous Republican-leaning voters comfortable with splitting their ticket in her favor. She's made that success her calling card in the 2020 presidential primary. It doesn't seem to have worked.
If she wants to climb higher and seize her moment to change that, she might have to try something new: stop promising to win Republican votes, and start trying to win over the left.
I'm a Minnesota progressive voter. I voted for Klobuchar happily enough in '06 and '18 (in '12 I was living in Chicago), but she's never been the local politician who most represents my views. We're a weird state with strange politics, electing a wide-range of politicians — from Michele Bachmann to Jesse Ventura to Ilhan Omar.
Tina Smith, who replaced former comedian Al Franken, is a former president of Planned Parenthood. The new governor, Tim Walz, used to be a schoolteacher and football coach in the southern part of the state. Klobuchar just hasn't had to spend a lot of time catering to the left, because Minnesotans seem eager to support her even when her ideas aren't lockstep in line with our most progressive voters.
The truth is that if any Democrat can win over Trump voters, it's probably Klobuchar.
So instead of reaching to the right, what would it look like to hear Amy Klobuchar, a woman who knows how to win, try to win more votes from left-wing Democrats on the strength of her ideas? I've been trying to reach out to the Klobuchar campaign for the last six weeks to try to get them to tell me what their pitch looks like, but to no avail.
I'd like to know whether there's a positive centrist vision for America beyond the premise that it will be easier to achieve.
We know that the problems facing our country are vast in scale and supported by entrenched and dangerous forces. Folks in the center need to make an affirmative case that their ideas are the best, most practical, but also sufficient answers to those challenges. It may be too late for any move to vault my senator up from fifth place among those who take the stage for the next debate, but the effort would make for a better campaign — one more focused on fixing problems, rather than indulging the fantasy that a large number of Trump voters will suddenly come to their senses.
Read more: https://www.cnn.com/2020/01/11/opinions/amy-klobuchar-2020-best-strategy-perry/index.html