Liverpool 11 points clear despite Alisson red as Van Dijk sinks Brighton
Two headers from Virgil van Dijk gave Liverpool a 2-1 win over Brighton and put them 11 points clear at the top, despite playing a dozen minutes with 10 men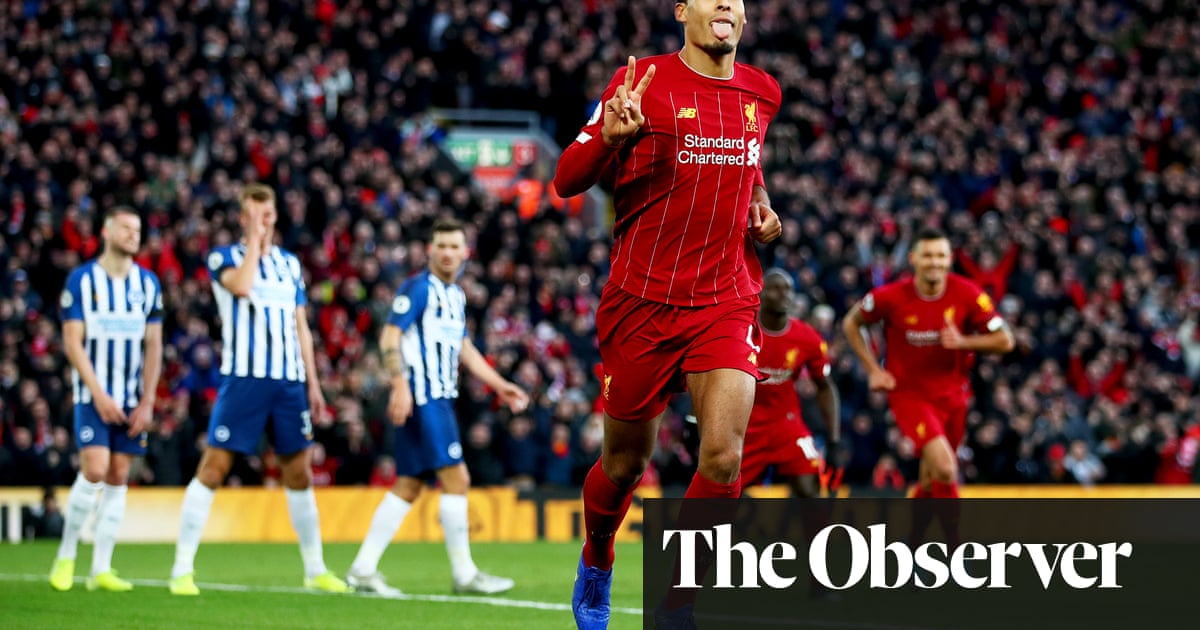 Was this the day Liverpool seized control of the title race? No, that happened when Manchester City were deservedly defeated here last time out. All that can be said for sure after Brighton were beaten at a surprisingly fraught Anfield is this was the day the Premier League champions disappeared from Jrgen Klopps rear-view mirror.
A strange affair it was too. Liverpool were in control and comfortable after Virgil van Dijk put two headers past the Brighton goalkeeper, Mathew Ryan, in quick succession.
Then, with 14 minutes remaining, Alisson was dismissed for handling outside his area and Lewis Dunk converted the resulting free-kick. Cue unexpected tension. Adrin, Liverpools replacement keeper, saved at full stretch from Aaron Mooy and almost fumbled a tame header by Pascal Gross over his goal line.
But the 10 men held out to extend their lead to a remarkable 11 points by the end of November. Klopp blew a sigh of relief on the final whistle, although it could have been disbelief at 13 wins from 14 league games and a margin for error in the Premier League that suggests Liverpools 30-year wait for the title might end at a canter.
None of the 13 games we won was easy, said Klopp. We didnt feel it for a second. It is not as though we feel ourselves as favourites in some games. We fight with all we have for the result. Result-wise it is an incredible period but we dont think about the last 14 games. We have to think about the next one, which is Everton and a big one.
It became more complicated today with the red card and the change we had to make. We brought on a frozen goalkeeper. Imagine you go on there with shorts, a really thin shirt and gloves that are not made for keeping you warm. Some people let the free-kick happen like that and we looked a bit silly in that moment but Adrin helped us a lot. I am really proud of the desire the boys showed. The red card made it a really special win.
Citys draw at Newcastle and the prospect of edging ever closer to that league title were forgotten at kick-off when the game opened with a powerful reminder of what matters most. The entire crowd, Brighton supporters included, rose to their feet as Justice for the 96 echoed around Anfield for the first six minutes of the game. The Kop was bedecked in Hillsborough banners in response to the latest kick in the teeth for the victims families, Thursdays verdict that David Duckenfield was not guilty of the gross negligence manslaughter of those unlawfully killed at the 1989 FA Cup semi-final. Justice delayed is justice denied, read one.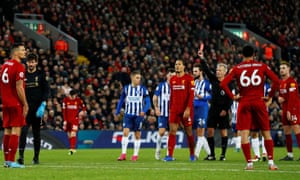 Read more: https://www.theguardian.com/football/2019/nov/30/liverpool-brighton-hove-albion-premier-league-match-report