Naomi Watts Hilariously Documents Her Quarantine Meltdown After Three Home Appliances Break In One Day – Perez Hilton
This is all too relatable and gave us the laugh we truly needed right now!
Naomi Watts proved she's just like the rest of us who might be going a little stir crazy at home while social distancing amid the coronavirus pandemic. It's been about a month since Americans were instructed to stay home and on Tuesday, the 51-year-old actress took to Instagram and hilariously documented how bad things have gotten after not one, not two, but THREE of her important household appliances broke in one day. Yikes!
Watts described the major malfunctions happening at her place alongside her video post, writing:
"Quarantine Day #756: When your printer, vacuum cleaner and dishwasher all break in the same day….#ffs"
But what makes the slow-motion clip of Naomi absolutely losing her s**t so funny is how she dubbed it with the ferocious roar of a Godzilla-like monster! Seriously, this is the kind of stuff we'd expect to see from the clever creators on TikTok and it really hits all the right notes of frustration. Watch it for yourself (below):
Ahahahaha!
Several of the Gypsy star's famous friends hopped in the comments section, like Julianne Moore, who wrote, "Bad news." Watts then replied, "Not a good day," adding a crying-laughing emoji. Cristina Cuomo, the wife of Chris Cuomo who's currently battling the coronavirus, also responded with, "I feel you."
Fans chimed in with stories about their own meltdowns at home, too:
"Oh noooo!!!!"

"No way that's bad day for sure"

"My freezer, fridge, AND microwave all decided to die in quarantine and I may follow suit"

"And the Oscar goes to… 😂😂!!!"

"Omg that's a MOOD! 😂"

"Just gonna use this opportunity to say that you're my favorite actress"
OK, that last comment had nothing to do with the video but it did prompt a reply with three heart-eyed emojis from the actress, LOLz. But here's a little piece of good news: the family's trampoline was also apparently broken, but Naomi's brother Ben Watts stepped up to fix it! It'll probably be put to good use again between her two sons, Sasha, and Kai Schreiber whom she shares with Ray Donovan star Liev Schreiber.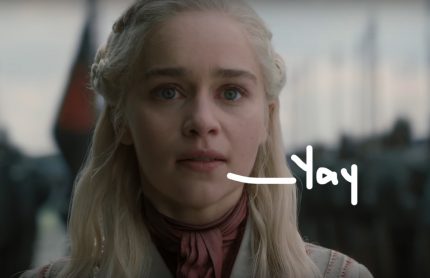 Read more: https://perezhilton.com/naomi-watts-funny-quarantine-video-meltdown/