Brad Pitt Credits Bradley Cooper With Helping Him Get Sober: 'Every Day's Been Happier Since' – Perez Hilton
Brad Pitt just made a surprising and heartfelt admission about his journey to sobriety.
During the National Board of Review annual awards gala in New York City on Wednesday night, Bradley Cooper presented the 56-year-old with the Best Supporting Actor distinction for his work in Once Upon a Time… in Hollywood.
Upon receiving the high honor for portraying a loyal stuntman named Cliff Booth in the Quentin Tarantino-directed film, Pitt used the moment to praise his fellow A-lister for being a great friend to him through some of the darkest moments of his life.
Brad made it clear from the very beginning that he was grateful to receive the award from the Hangover star, who apparently juggled daddy duty with his two-year-old daughter, Lea De Seine, to be present at the event:
"Thank you, Bradley. Bradley just put his daughter to bed and rushed over here to do this. He's a sweetheart."
Then he explained how Cooper played a key role in changing his unhealthy relationship with alcohol:
"I got sober because of this guy and every day has been happier ever since. I love you and I thank you."
Aww. We're not crying, you're crying…
This is especially touching to hear considering the 45-year-old star was in a similar situation throughout his twenties and we're glad these two could find common ground with each other. You can catch a snippet of the sweet speech (below):
Brad Pitt accepts the Best Supporting Actor Award for ONCE UPON A TIME IN HOLLYWOOD from Bradley Cooper at #NationalBoardOfReview #NBR pic.twitter.com/HS6mUVOWSD

— Matt Neglia (@NextBestPicture) January 9, 2020
Of course, our readers know, this isn't the first time the Ad Astra actor has been vocal about his past struggles to maintain sobriety as it was a major source of contention during his split 2016 from Angelina Jolie.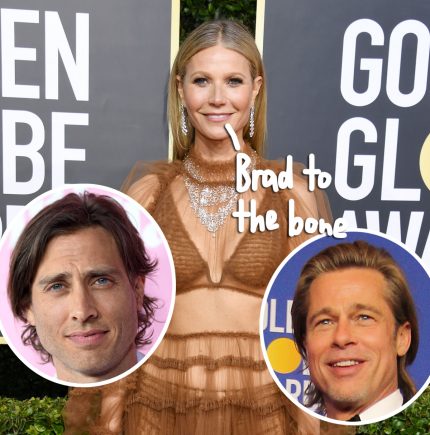 Read more: https://perezhilton.com/brad-pitt-bradley-cooper-sobriety-journey/