Rob Kardashian Is 'Worried Sick' About Daughter Dream Spending Any More Time With Blac Chyna – Perez Hilton
Rob Kardashian is awfully concerned about his daughter's well-being, and it sounds like he's doing whatever he can behind the scenes to make it better.
The one-time Keeping Up with the Kardashians star is reportedly "worried sick" about Dream Kardashian every time she goes off to live at Blac Chyna's house. As
Speaking to E! News about the matter now, multiple sources have come forward relaying information about Rob's reaction to the disturbing allegations.
With rumors swirling and plenty of highly emotional, contentious moments likely ahead, it seems like everybody involved is bracing themselves for the worst with this one.
Rob Is 'Worried Sick'
One insider reports the KarJenner son's stomach is tied up in knots over the matter, saying (below):
"He is worried sick about Dream and knows she would be better off with him. She tells Rob some of the stuff that goes on and he also hears it from the nanny and friends. [Rob and his family] have noticed serious behavioral changes after she spends time at Chyna's house. She comes back to Rob and it takes her time to adjust."
Yikes…
A second source seemingly confirmed the part about changes popping up after stays with Chyna; this confidant reports more on the matter:
"There have been many times where Dream has been picked up from Chyna's house and has been upset about what went on during her stay. He hates having to send Dream back to Chyna's and it gets him stressed out and anxious when the time comes."
Ugh.
We can't even imagine having to go through something like this…
Rob Prepares For A Fight…
What's clear from al this insider info is Rob's motivation for change.
All the insiders, sources, and behind-the-scenes info coalesces around that; the sometime KUWTK star is "not going to sit back and tolerate" this alleged behavior.
The second source spoke more about the motivation here, adding:
"Rob is in a very good place in his life right now and has no tolerance for any irresponsible behavior around Dream. He got very angry and upset when hearing about Chyna's alleged behavior around Dream and wants Dream to primarily stay at his house or be in the hands of his family/sisters. He would never want to take Dream away from her mother but wants Chyna to get help for whatever she may be dealing with personally."
Wow…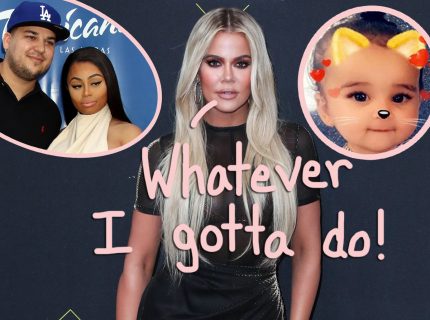 Read more: https://perezhilton.com/rob-kardashian-blac-chyna-dream-kardashian-worried-sick-drama/