Boris Johnson thrusts London Bridge attack into centre of election battle
Prime minister says terrorists convicted of the most serious offences should never be released from prison
Boris Johnson on Saturday said that those convicted of the most serious terrorist offences should never be released from prison, as arguments over the blame for Fridays London Bridge attack were thrust centre stage into the election campaign.
The prime minister reacted to the latest terrorist incident in which three people died, including the assailant by promising a package of hardline reforms which also included mandatory minimum 14-year sentences, an end to automatic early release for terrorist and extremism offences, and a new system under which those convicted will have to serve every day of sentences handed down by judges.
At the same time, Labour leader Jeremy Corbyn and the London mayor Sadiq Khan said urgent questions had to be asked about the Tory governments record of imposing draconian austerity cuts to the prison services, while attempting a botched probation privatisation and failing to run an effective sentencing system.
On Saturday further details emerged about the knifeman, Usman Khan, and how he was subdued with a fire extinguisher and a narwhal tusk on London Bridge.
The convicted terrorist, who had been fitted with an electronic tag to track his movements after release from prison on licence last December, had been attending a prisoner rehabilitation conference at Fishmongers Hall. After threatening to blow up the building, he stabbed five people then moved to London Bridge where he was confronted by members of the public. One sprayed him with a fire extinguisher, while another pointed a 2m narwhal tusk taken from Fishmongers Hall by a Polish chef named ukasz. Khan was tackled from behind and pinned down. Among those grappling with him were ex-prisoners attending the conference including James Ford, a convicted murderer.
Sources told the Observer that Khan attended a Whitehall conference earlier this year under escort. But he went to Fridays conference unsupervised following discussions between police and probation officers.
The Ministry of Justice said on Saturday it was conducting a review of licence conditions of some 70 terrorists released under licence since 2000. Last night Islamic State claimed responsibility but offered no evidence to support the claim.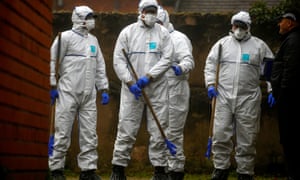 Read more: https://www.theguardian.com/politics/2019/nov/30/boris-johnson-london-bridge-terror-attack-hardline-reforms