The number of US coronavirus cases has topped 11,000 as testing becomes more available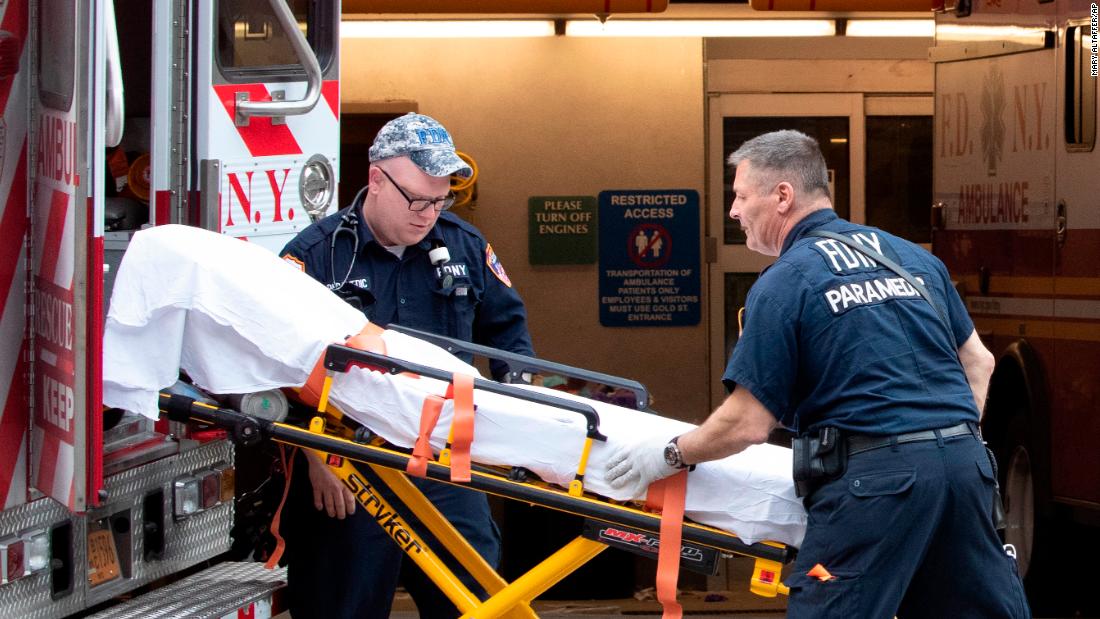 (CNN)The number of coronavirus cases in the US surpassed 11,000 on Thursday as testing becomes more readily available.
"Tens of thousands" of tests are being conducted every day, Vice President Mike Pence said in a White House briefing. The administration faced criticism in recent days for being unable to say exactly how many people in the US had been tested.
"Testing is available in all 50 states," the vice president said. "It is becoming increasingly available literally every hour of the day."
Dr. Deborah Birx, the White House coronavirus response coordinator, said the "dramatic increases in the number of new cases" was "based on our ability to test additional people." The number of cases will continue to rise over the next two or three days, she said, as health officials clear testing backlogs.
"The number of test positives are increasing," Birx said. "That is a dramatically important signature that everyone is doing their job."
New York Gov. Andrew Cuomo told CNN in an interview Thursday morning that 8,000 tests were done in his state overnight. Later that morning, officials announced New York state had 4,152 coronavirus cases; that number stood just below 3,000 late Wednesday.
"When you do 8,000 tests," the governor said, "the numbers are going to go up exponentially."
The number has risen dramatically in recent days.
More than 2,700 new cases were reported in the US in 24 hours between Wednesday morning and Thursday morning. At least 11,639 people across the country have tested positive for the virus, as Thursday afternoon. At least 170 have died.
But as the number of cases grows, so does the burden on health officials across the country. Many communities are already grappling with
shortages of medical equipment
, with some attempting to fill the gaps on their own.
Sewing masks together
In southwest Georgia, hospitals are left with three days' worth of masks, Scott Steiner, president & CEO of Phoebe Putney Health System, told CNN.
"We have gone through five months, now six months' worth of supplies in less than a week," he said. "And we are scrambling."
"We have about 3,000 of these made. We believe we can make 200,000 of them," he said. "It will take a few weeks, but this is kind of what we're having to do because we don't know when the next shipment is coming."
Similar stories of DIY supplies have been pouring in from across the country.
"We literally were down to under half a day's worth of personal protective equipment," Dr. Amy Compton-Phillips, the chief clinical officer and executive vice president of Providence St. Joseph Health, a system of more than 50 hospitals that provides services
across seven US states
, said Wednesday. "We've been virtually desperate, looking under every nook and cranny, trying to find the equipment we need. "
Those hospitals typically together go through 250,000 masks a year, she said. In three months this year, a single hospital has gone through the same amount.
"The increased demand has just far outstripped supply," Compton-Phillips said. So hospitals are resorting to making their own equipment.
"We're actually going to put out (a) 100 million mask challenge with plans on how to build the masks as well as design so you can make it at home. Because we need to do something. And we know the global supply chain is just tied up right now," she said.
State measures to combat shortages
New York City is two to three weeks away from running out of some medical supplies, according to Mayor Bill de Blasio.
He said Thursday that the city needs 3 million N95 masks, 50 million surgical masks and 15,000 ventilators. Additionally, the city needs 25 million surgical gowns, coveralls, gloves and face masks.
Officials in King County, Washington, on Wednesday said they are setting up a temporary hospital on a soccer field that will provide the county an additional 200 medical beds. Health officials estimated the county needs about 3,000 more beds.
Meanwhile, Maryland health officials were working to increase their number of beds by at least 6,000, and in New York state,
Gov. Cuomo said the state
would need as many as 110,000 beds when the virus peaks in an estimated 45 days.
Some of the demand for beds will be alleviated by Carnival Cruises, which the President said would provide ships to be used as temporary hospitals. According to the cruise line, this could provide 1,000 hospital beds and up to 7 intensive care units per ship.
Beds aren't the only concern. The state has a capacity of 3,000 ventilators, but Gov. Cuomo says that's not enough.
"They all talk about flattening the curve," he told CNN's Chris Cuomo earlier this week. "I don't see a curve. I see a wave. And the wave is going to break on the health care system and … it is going to be a tsunami."
Michael Dowling, president and CEO of the Northwell Health, was picked by New York's governor to lead a hospital surge team. He said he wants to purchase as many as 500 ventilators, which can cost $20,000 to $40,000 a machine.
But with an abruptly heightened demand for ventilators, manufacturers say it's hard to keep up.
"It is more than we can currently provide," said Kathrin Elsner, team leader of MarCom Ventilators at Hamilton Medical Inc. The company has received hundreds of orders and requests within the past few weeks, Elsner said.
Smaller, rural hospitals across the United States — which often have no more than 25 beds and just one ventilator — might be forced to transfer patients to larger facilities if they see a surge in cases.
"That is rural America," said Alan Morgan, chief executive officer of the National Rural Health Association. "You have a high proportion of low-income, elderly people with high health needs. So if you were to have a cluster in a rural community it would turn bad quickly."
Trump pushes FDA to drop barriers to treatments
In a news briefing Thursday, Preisdent Donald Trump said he had pushed the US Food and Drug Administration to eliminate barriers to getting therapeutics to coronavirus patients.
Trump said the antimalarial drug chloroquine and its analog hydroxychloroquine would be available by prescription to treat the novel coronavirus.
Whether the drugs are effective against Covid-19 is still under investigation.
FDA Commissioner Stephen Hahn tempered the President's remarks, telling reporters the FDA was still responsible for making sure products are safe.
"The FDA is committed to continuing to provide regulatory flexibility and guidance, but let me make one thing clear," Hahn said. "The FDA's responsibility to the American people is to ensure that products are safe and effective."
Regarding the President's remarks on chloroquine, Hahn said the president directed the FDA to look at the drug and see if its use could be expanded to benefit coronavirus patients. "And again, we want to do that in the setting of a clinical trial — a large, pragmatic clinical trial to actually gather that information," Hahn said.
Doctors in China, the US and other countries have used chloroquine experimentally in Covid-19 patients, but there is not yet sufficient clinical evidence that it's effective in humans.
The drug, generally considered to be safe for most patients, can have side effects like seizures, nausea, vomiting, deafness, vision changes and low blood pressure.
Trump also mentioned the antiviral drug remdesivir, which is the focus of clinical trials in China and the US.
The experimental antiviral appears to work against a range of very different virus families, including coronaviruses and Ebola. The drug is already being tested at the University of Nebraska Medical Center in adults diagnosed with the novel coronavirus disease, according to the National Institutes of Health.
Read more: https://www.cnn.com/2020/03/19/health/us-coronavirus-case-updates-thursday/index.html