Welby reflects on London Bridge terror attack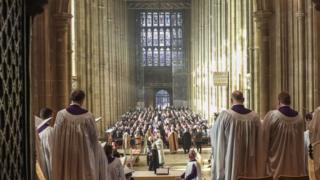 The Archbishop of Canterbury has used his Christmas Day sermon to talk about the "darkness" that led to last month's London Bridge terror attack.
Jack Merritt, 25, and Saskia Jones, 23, were stabbed to death by Usman Khan, who was later shot dead by police.
During the service at Canterbury Cathedral, Justin Welby said the light of Jesus could bring hope.
He also reflected on a visit to the Democratic Republic of Congo, which is dealing with an Ebola virus outbreak.
"Darkness is a monster that lies", he told the congregation. "Its growling claims seem to call out with a louder volume than the love-filled whispers of light.
"We see the shadows out of the corner of our eyes. They may be violence as in the Congo or on London Bridge; they may be political; they may be purely personal."
He continued: "Whether solid or illusion, they are the reality with which we live. By contrast we do not see light, but we do see truth in light."
Mr Welby described Canterbury as a "city of peace that celebrates Christmas gloriously", before comparing it to Beni, which is five times the size of the Kent city.
The archbishop said: "It [Beni] has been at the centre of the second worst outbreak of Ebola in history; roughly 3,000 people have died. Its Anglican bishop is alight with Christ, always present, always giving of himself."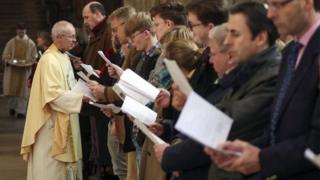 It comes after the spiritual leader of the Church of England shared a message of unity on 23 December, as he appealed to anyone who felt "embarrassed or ashamed" during the festive period.
In a series of tweets, he spoke of Jesus' humble beginnings, appearing to direct his message to those living in poverty.
He said: "God meets us wherever we are, however messy. If you're embarrassed or ashamed, God is neither."
Meanwhile, in his homily on Christmas Eve, the leader of the Roman Catholic Church in England and Wales, Cardinal Vincent Nichols, said that after "so much bitter political discourse and division" we "are to look one another in the eye and see there all that is good".
Cardinal Nichols added during Midnight Mass at Westminster Cathedral: "The source of that good in every person we meet is, of course, the life of God, a divine goodness, which shows itself fully in Christ Jesus."
He encouraged worshippers to find "the goodness of God in every person", adding: "Only then will our society become a place in which no-one is afraid and all sense a welcome. This is the fresh start we need."
Read more: https://www.bbc.co.uk/news/uk-50907176