'Heroes' praised for mum and child flood rescue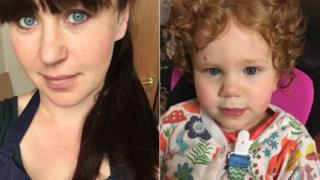 A mother has praised two men who "risked their lives" to save her and her 23-month-old baby from their car as it filled with flood water.
Nikki Birgit Campbell, 36, and her daughter, Rhea, were trapped on the A762 near Glenlee in Dumfries and Galloway on Tuesday afternoon.
She said they were pulled to safety by two local men.
"If it wasn't for them then I don't know what would have happened to us," she said.
A 73-year-old man was also rescued from a separate car in the incident at Waterside as the region was hit by heavy rain and winds.
Ms Campbell has posted an emotional video on Facebook thanking those who came to help her and Rhea, who has cerebral palsy.
They were almost home after an appointment at an epilepsy clinic at the Royal Hospital for Children in Glasgow, where Rhea had been surprised by a visit from Father Christmas.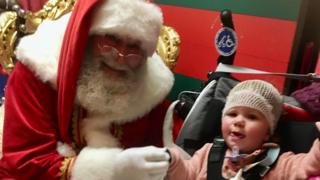 She said: "We drove a road that I have driven so many times, that was flooded. And it had never been a problem.
"The local hydro opened their flood gates and before I knew it my car was filled with water.
"I was just trying to keep Rhea safe."
She described the men who rescued them as "heroes". When they pulled her from the car, the water was chest height.
"I feel like such a bad mum for putting my baby in that danger. She was so scared.
"Thank you to everyone who has shown concern and offered to help because we appreciate it so much."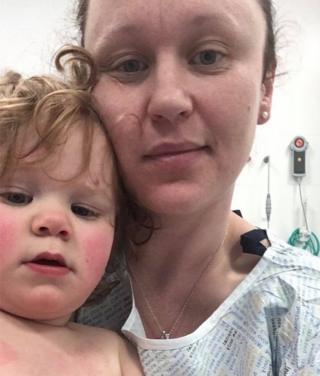 Ms Campbell told BBC Scotland that the car had been written off, and she lost Rhea's wheelchair and iPad in the flood.
"I'm still very, very scared and upset over what happened," she added.
The rescuers – including two police officers – were also praised by Police Scotland's Chief Insp Bryan Lee, who said their actions were "nothing short of heroic".
One of the members of the public who helped Ms Campbell was a retired police officer.
Two other passers-by helped the 73-year-old safely from his car.
Ch Insp Lee said: "I cannot praise the two officers and the members of the public involved in these rescues enough.
"Their actions, which were nothing short of heroic, saved the lives of three people. Without their bravery this incident could have had a very different outcome."
He said he has personally thanked the officers but he also wanted to publicly thank the men who stopped to help.
"Thankfully incidents like this are rare, however, it is extremely encouraging to know that members of our community came together, and were prepared to put themselves at risk to save those in need," he added.
Two fire appliances and two water rescue units were sent to the scene by the Scottish Fire and Rescue Service.
Once rescued, Ms Campbell and her daughter, were treated by Scottish Ambulance Service staff and taken to Dumfries and Galloway Hospital.
Police said they were discharged after being treated for minor injuries.
Read more: https://www.bbc.co.uk/news/uk-scotland-south-scotland-50742384