Extreme abortion laws shine light on Trump's courting of religious right
Evangelical backing for a thrice-married celebrity is not as odd as it seems: on abortion, the supreme court and more, the president has delivered win after win
After bowing his head in prayer, Donald Trump addressed faith leaders in the sunshine of the White House rose garden.
Together, we are building a culture that cherishes the dignity and worth of human life, he said, earlier this month. Every child, born and unborn, is a sacred gift from God.
It was hardly a detailed policy pronouncement the president devoted more time to his bizarre claim that he has liberated shops to say Merry Christmas again. But it was enough to bring the audience to their feet, in rapturous applause, at the national day of prayer service. They sense a historic opportunity is theirs for the taking.
Eight hundred miles away, Alabama is on the verge of turning back the clock to a near total ban on abortion. When some Republicans in the state Senate last week stripped an exception for rape and incest from the bill, shouting broke out in the chamber and the vote was postponed. If the measure passes it would give Alabama the harshest anti-abortion law in the country but it also points to a wider trend: Kentucky, Mississippi, Ohio and Georgia have approved bans on abortion once a fetal heartbeat is detected, which can occur in about the sixth week of pregnancy.
Alexandria Ocasio-Cortez, a Democratic congresswoman from New York with a huge social media following, tweeted in response: 6 weeks pregnant = 2 weeks late on your period. Most of the men writing these bills dont know the first thing about a womans body outside of the things they want from it. Its relatively common for a woman to have a late period + not be pregnant. So this is a backdoor ban.
The passage of such extreme laws has stunned reproductive rights advocates and thrown a fresh light on the marriage of convenience between Trump and an increasingly powerful religious right which was crucial to bringing to him power in 2016 and is intent on repeating the feat next year.
A thrice-married adulterer with previously socially liberal views, Trump captured four in five white evangelical voters, more than fellow Republicans Mitt Romney, John McCain or George W Bush in the previous three elections. Analysts suggest reasons include fear over a decline of Christian values, the failure of past Republican presidents to deliver their promises and Trumps relentless focus on loading federal courts with conservative judges.
For Shannon Wilburn, a Christian and a teacher in Atlanta, the 2016 election came down to binary choice on abortion.
The sanctity of life was a major deciding factor, she said. Hillary Clinton had no problem terminating a life in late term. Whoever the candidate was opposing her, I would have felt the same.
Wilburn, 51, said she welcomes the recent moves at state level to curb abortion access.
I take the stance of a pro-lifer. Im a woman and people are talking about womens rights, but what about babies rights?
They feared the sixth vote
While other Republicans presidents were ostensibly more religious, they were often seen as making too many compromises on the difficult issues. But Trump, in the eyes of evangelicals, has actually delivered, most obviously by nominating conservatives Neil Gorsuch and Brett Kavanaugh to the supreme court, potentially locking in their values for a generation and imperiling the 1973 Roe v Wade ruling that effectively legalised abortion.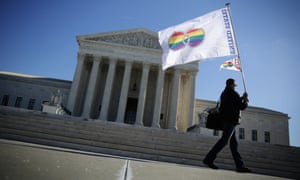 Read more: https://www.theguardian.com/us-news/2019/may/13/donald-trump-evangelical-christians-republicans-abortion-supreme-court