The Sunday school children: The little-known tragedy of the Sri Lankan Easter attacks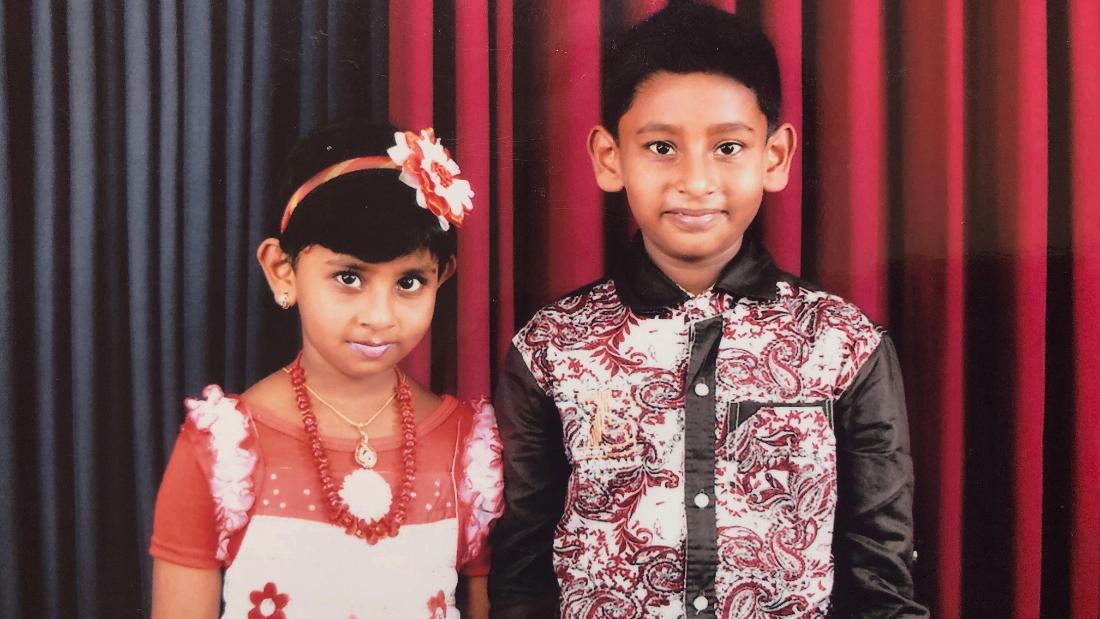 Batticaloa, Sri Lanka (CNN)The first church Mohammed Nasar Mohammed Azar tried to blow up had already finished its service by the time he arrived. The Easter Sunday mass there had started early.
That timing mix-up saved the lives of hundreds of people inside St. Mary's, who were already back in their homes by the time Azar walked through the church gates, intent on murdering everyone inside.
But his error proved catastrophic to the evangelical congregation of the nearby Zion Church, where he went next.
It was then that Azar seemingly decided to cut his losses and detonate his bomb outside, where the children who had just finished Sunday school were gathering.
He killed 29 people, including the two men who had held him back, Raju and Sasikumar — now hailed as heroes for saving the lives of many others.
"If he had walked inside and made his way to the center, I would have died, too, "Vimalaretnam said.
"And the number of victims would have been in the region of 200 to 300 people."
"She looked perfect and beautiful"
Knowing that a greater disaster was averted is little comfort to the families of those who died.
Fourteen of the victims were children from the Sunday school. Siblings Sharon Stephen Shanthakumar, 12, and Sarah Hepzibah Shanthakumar, 10, were among them.
They are the two eldest children of Vairaperumal and Kaowsalya Shanthakumar, both born again Christians who converted from Hinduism.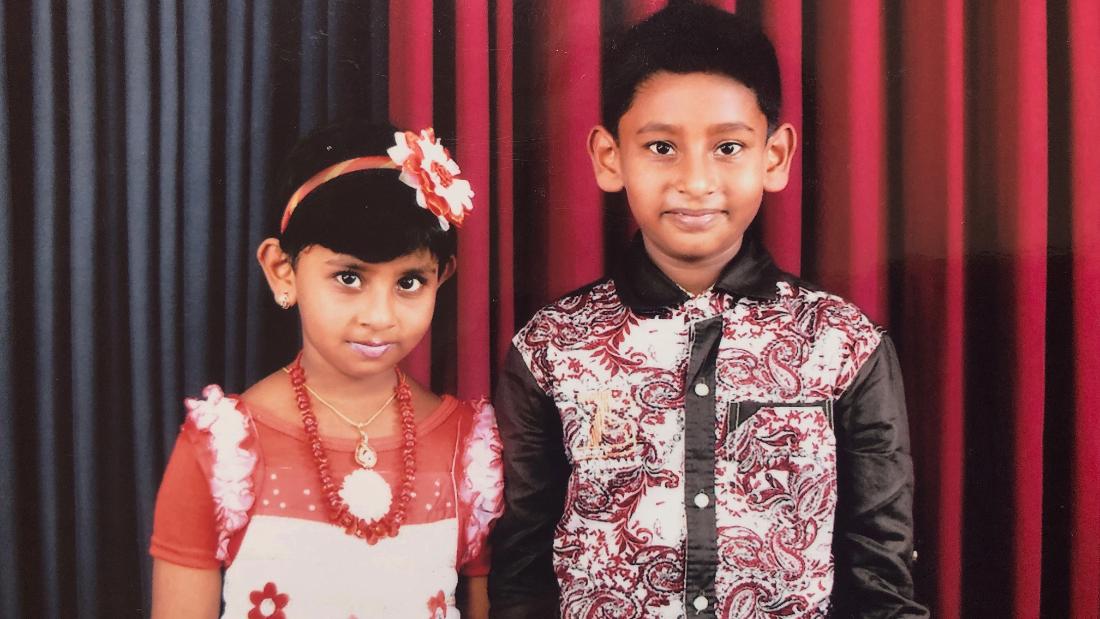 Kaowsalya, the children's 39-year-old mother, was on her way to pick them up from Sunday school. She was 100 meters (328 foot) away on a tuk tuk when she saw smoke rising from the church.
"As I got closer, I saw people standing outside," she said. "They told me that a gas cylinder exploded. I told them that my children were there at Sunday school, but they would not let me in."
Her husband then arrived but they couldn't find their children, so they rushed to the hospital.
"I saw the doctors trying to recover her heart beat by pumping her chest," Shanthakumar said, of Sarah. "Then shortly afterwards, they told me that she had died."
Apart from a small wound, she said her daughter did not appear to be visibly hurt.
"She had been bleeding through both her ears," she said. "Apart from that, she looked perfect and beautiful."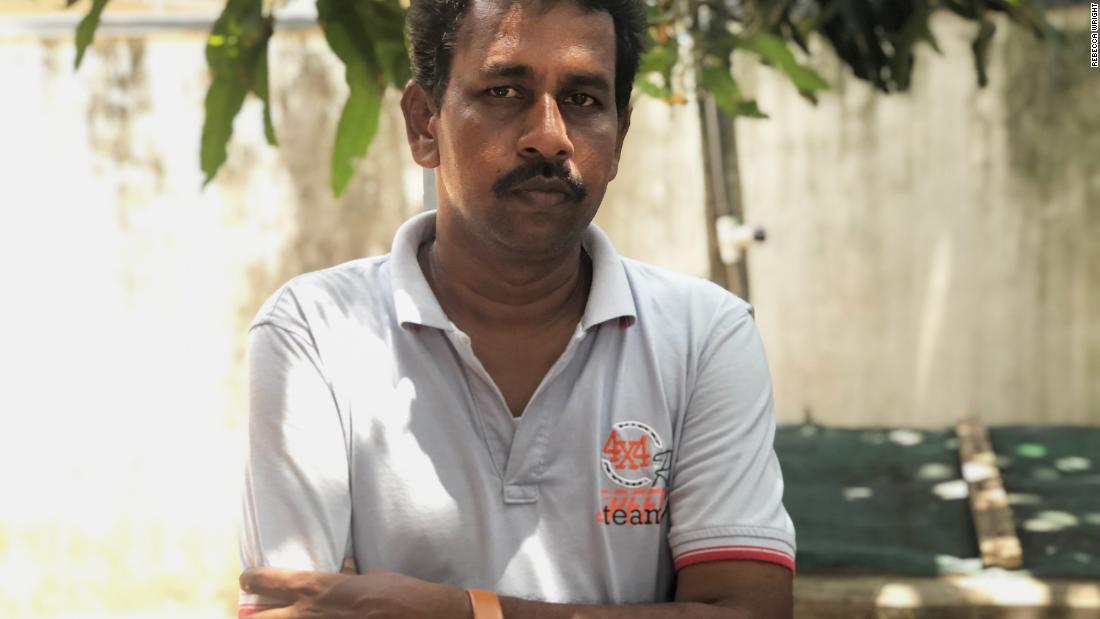 But it was different for their son Sharon.
"The next day my husband went to identify my son at the church," she said. "They wouldn't let me see him. He was completely charred. We had to identify him using his teeth."
The couple's youngest child, five-year-old Salisha Stephen Shanthakumar, was not at Sunday school that day. She is all her parents have left. Her mother said that since the attack she has been quiet and withdrawn — wondering where her two best friends have gone.
"I saw everything burning"
Salisha's older siblings are memorialized alongside the other victims on a large poster outside the Zion Church, which remains closed following the attack.
Among the adults on the poster is Rajeevkaran Vimalaretnam's mother, 64-year-old Vanaja Devi Vimalaretnam, who also worked at the church.
After parking his bike outside the church, Vimalaretnam had gone to chat with her at the entrance, where she was handing out leaflets.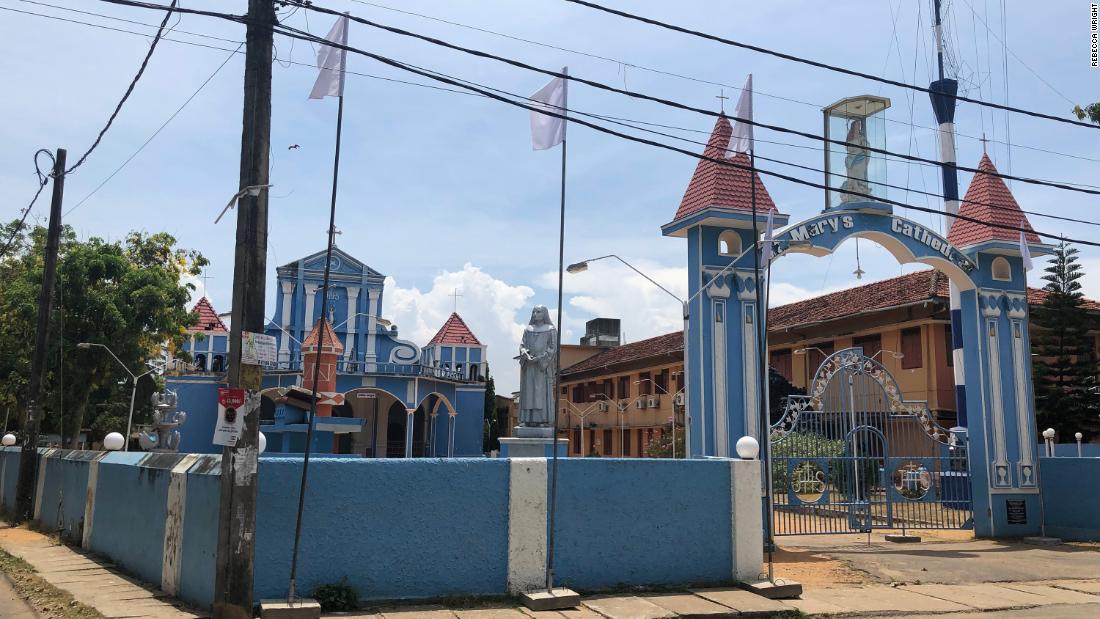 "My mother had been administering in that church for more than 30 years," he said. "She invited me to come (for dinner) if I had the time. I said I will and I patted her shoulder and left."
Moments later, she was dead.
"I heard a huge explosion, and as I turned, I saw a huge fire erupting," Vimalaretnam said.
Their ringleader, well-known hate preacher Zahran Hashim, blew himself up in the Shangri-La hotel in Colombo, and his two brothers and father followed suit almost a week later in a house in Sainthamaruthu, south of Batticaloa, taking their wives and children with them.
A state of emergency is in place in Sri Lanka, as police try to round up the remaining members of the NTJ group.
In an
exclusive interview with CNN
, Sri Lanka's President Maithripala Sirisena repeatedly denied that he knew about intelligence, warning of an attack, sent weeks in advance.
Sirisena asked the chief of police and the defense secretary to resign, blaming them for failing to tell him or act upon the threat.
As the security forces attempt to get the situation under control, places of worship still feel like vulnerable targets.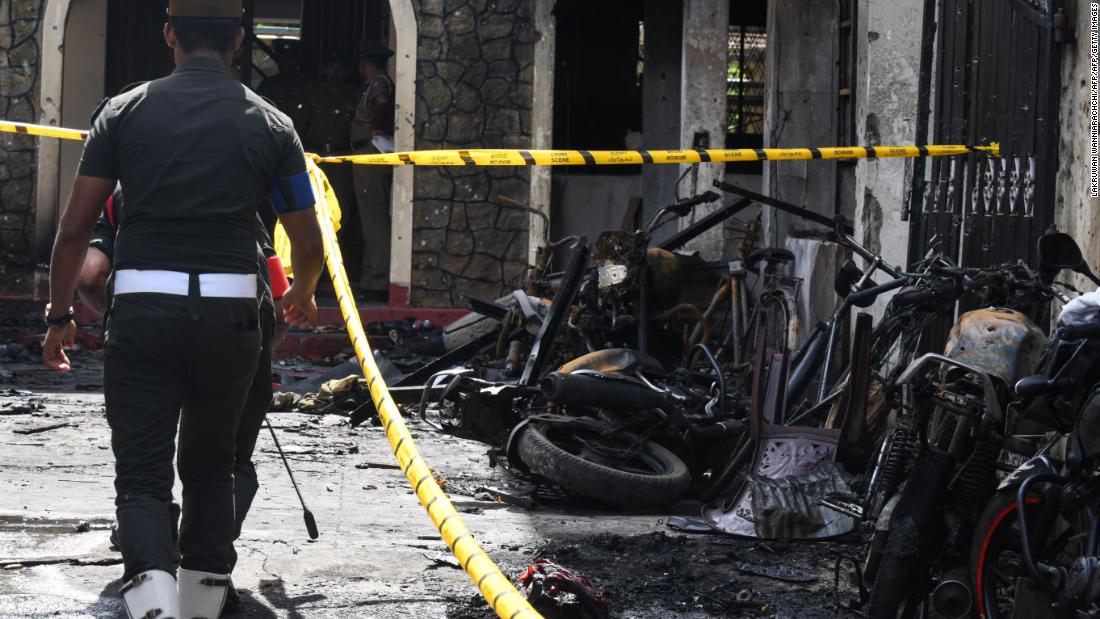 The Archbishop of Colombo, Cardinal Malcolm Ranjith, has ordered that Catholic churches cancel mass again this Sunday, and has urged Catholic schools to remain closed. Many other places of worship are also postponing services as a precaution.
As communities stay on high alert for future attacks, divisions between religious groups are becoming more pronounced.
A Muslim living in Batticaloa told CNN that people are scared to leave their homes due to increasing suspicion against them from the rest of the community.
A mosque came under attack in Kuliyapitiya, north of Negombo, during prayers on Wednesday night, with crowds hurling stones at the building.
The Sri Lankan President's office has announced that the burqa has been banned until further notice, describing the full face veil as "a security risk and a flag of fundamentalism."
"It's a tense situation now," said Rajeevkaran Vimalaretnam.
But he insisted he doesn't harbor any resentment to the Muslim population.
"We are Christians… We worship the lord," he said. "We have no vengeance towards anyone."
Read more: https://www.cnn.com/2019/05/04/asia/zion-bombs-sri-lanka-intl/index.html