We watched Notre Dame burn. Can we recapture her spirit?
Paris residents looked on in horror as their beloved lady went up in flames. Now a new battle begins: how best to rebuild her for the centuries ahead
Most of us will always remember the moment on 15 April when we heard that Notre Dame was on fire.
I was in my kitchen, when something unusual caught the corner of my eye. I turned towards the window to see huge clouds of smoke billowing in the spring breeze. I live on the Left Bank, with a view of the southern flank of the cathedral. I ran outside, on to the Quai de la Tournelle, where throngs of tourists and Parisians had already gathered. It was just after 7pm and the fire had only been discovered 20 minutes earlier.
Of those moments, I remember a kaleidoscope of images and feelings: the stupor in peoples eyes, their mouths forming in silent screams, the vivid yellow of the smoke. On the Seine below me, a bateau-mouche river cruise glided along the water, its passengers standing up, as if suffering an electric shock, their heads bent towards the sky. The flames were bright red and orange like those tongues of fire in Renaissance paintings. Notre Dame was in mortal danger that much was obvious to everyone. The moment was strangely superb and yet terrible. I ran home, and cried.
We need certitudes in life. They are the frameworks of our existence, the reasons we can endure hardship and survive traumas. Notre Dame was one of them. If Notre Dame, 850 years of history, can go up in flames in just a few hours, if Notre Dame can be destroyed, then everything can disappear: democracy, peace, fraternity.
The fire was spreading so fast, the spire now engulfed in flames, it was just a question of time before it collapsed. Below my window, I could see the police trying to contain the ever-growing crowd spilling into the small streets leading to the river banks.
Firefighters appeared from every corner with gigantic water hoses. They were focused, their gestures precise and purposeful while the rest of us felt utterly powerless, rooted to the ground, our eyes fixed on Her. In the crowd, I saw a young woman staring at Notre Dames towers. I could see her lips move in rhythm. I first I thought she was silently praying, then I realised she was repeating the same word: rsiste, rsiste, rsiste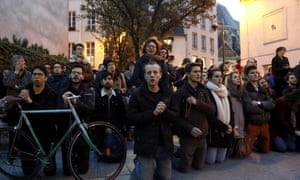 Read more: https://www.theguardian.com/global/2019/apr/20/i-watched-notre-dame-burn-then-ran-home-and-wept