Stanley 'Tookie' Williams: one of the last men to be executed in California
The once-feared leader of the Crips, put to death in 2005, had a warning for UK gangs. Tony Thompson met him in prison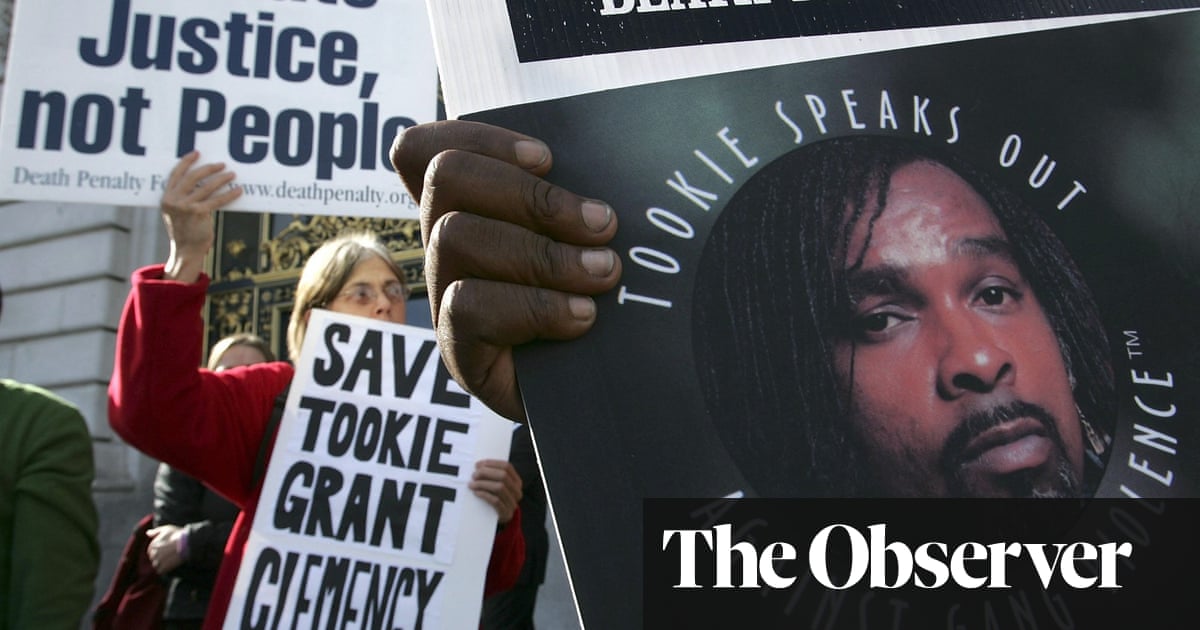 On 13 March 2019, Californias governor, Gavin Newsom, placed a moratorium on the death penalty, halting executions for the duration of his tenure. Stanley Tookie Williams was among the last people to be executed in the state before the moratorium. The former Crips gang leader died by lethal injection on 13 December 2005, after last-minute appeals by his lawyers and a clemency petition to then governor Arnold Schwarzenegger were unsuccessful. Tony Thompson spoke with Williams in this piece originally published on 27 November 2004.
Stanley Tookie Williams is not typical of the 629 death row inmates at San Quentin prison in San Francisco. Convicted of four murders and the self-confessed cofounder of the Crips, the worlds deadliest street gang, he has become a successful childrens author whose conversations are sprinkled with Latin phrases and references to ancient Greek mathematicians. He has been nominated for the Nobel peace prize four times for his anti-gang initiatives, which he is now extending to Britain.
His biography, Redemption, published in the UK last week, features a Protocol for Peace, which gangs can use to help formulate a truce.
Within the prison system rival gangs have agreed to make peace for the purpose of survival. That simple philosophy can be transmitted to rival gangs out on the streets, Williams explains. Instead of our killing each other, that energy can be harnessed to oppose poverty, illiteracy, unemployment, discrimination and other social and judiciary injustices. The protocol is intended to be simple and straightforward. You dont need to understand Euclidean geometry to work it out. Its all there in black and white to stop the killing, to address the social emergency of urban violence, to stop the madness.
The protocol achieved its first success in June, when hundreds of members of two street gangs in New Jersey used it to bring calm to their community. In the four months before the treaty was signed, there had been 34 gang-related murders. The peace has held ever since.
Williams believes a similar success can be achieved in Birmingham, London, Nottingham and Manchester, all plagued by gang violence: The message is simple: dont join a gang. All you will find is trouble, pain and sadness. I know. I did.
Williams has written nine anti-gang books for teenagers under the umbrella title Tookie Speaks Out Against Gang Violence, launched the Internet Project for Street Peace and mentors schoolchildren by telephone. He has received more than 50,000 emails from young people, parents, teachers and law enforcement officers from around the world testifying that his writings have changed and saved lives.
Despite this, and the strong likelihood of a fifth Nobel nomination next year, Williams is down to his last appeal against the death sentence. In four months, he could be executed.
Visiting death row is a sobering and regulated experience. I am not allowed to wear blue, yellow or pale green (all colours worn by inmates). I cannot wear jeans of any kind or a white T-shirt and am not allowed to wear sunglasses unless they are prescription. I can take nothing with me other than my passport (kept by the clerk as I enter the visiting room) and $30 in denominations no bigger than a single dollar bill and no smaller than a quarter.
Walking the path to the visiting room you see the tall metal chimney which, when lethal gas was the preferred method of execution, vented poisoned air from the death chamber into the atmosphere killing any passing birds in the process.
Next to the chimney is a metallic structure with two lights, one green, one red. The green light is permanently on; the red appears only when the execution chamber is in use, switching back to green once the prisoner has been pronounced dead.
San Quentin was built in 1852 and conditions have changed little in the past 100 years, remaining powerfully reminiscent of the Shawshank Redemption . The main death row building consists of five tiers of concrete cells, 9ft by 4ft, closed off by open bars. Guards are authorised to respond quickly to threats. A sign states: No warning shots fired in this unit.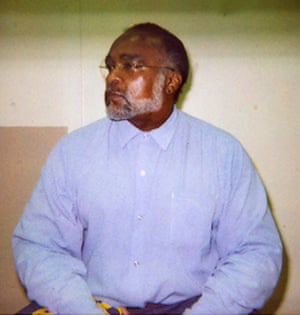 Read more: https://www.theguardian.com/books/2004/nov/28/biography.tonythompson