Man found opposite Parliament dies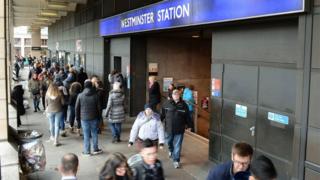 A man has died hours after he was found unresponsive in an underpass opposite the Houses of Parliament.
The man, who was named as Gyula Remes, 43, was found by British Transport Police at 23.30 GMT on Tuesday outside Westminster Underground Station.
Officers administered first aid and he was taken to a central London hospital but he died in the early hours.
Communities Secretary James Brokenshire said he would be asking Westminster City Council to investigate his death.
The Metropolitan Police said it was not treating the death as suspicious.
Dawn, who used to sleep opposite the man, said she thought his death was related to the drug Spice and that he had choked on his own vomit.
"He was the most gorgeous gentleman you would like to meet," she said, adding: "It's killing me this, I can't cope with this, I really can't. I keep expecting him to walk around here."
She said he had just found a job and was expecting to be off the streets soon.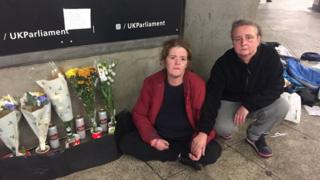 Sara, 38, from Essex, has slept in the underpass for the past month.
"That poor man has lost his life and everyone else comes out the exit and they're just walking by as if nothing's happened.
"He was blue last night and everyone was just walking past him like he didn't matter."
Shadow housing minister, Melanie Onn, said the area where the man was found has becoming increasingly popular with homeless people.
Ms Onn said: "Just last week I saw police resuscitating someone in the same spot.
"It's a go to area because it's dry and warmer than outside, but it's wholly inappropriate to stay there. There's not even any wash facilities."
Mr Brokenshire said he was committed to ensuring independent reviews into the deaths of rough sleepers were conducted, so that support could be targeted in the right way.
In February a homeless man was found dead in an underpass that leads from the station to the Palace of Westminster.
Read more: https://www.bbc.co.uk/news/uk-england-london-46619035