Kate's 'Royal Mail' delivery for RAF gifts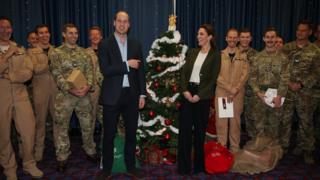 Now that's what you'd call a truly royal mail service.
The Duke and Duchess of Cambridge have visited Cyprus to deliver gifts to UK service personnel who will be on duty – and away from family – at Christmas.
Prince William and Catherine had collected the presents from those family members when they hosted a party at Kensington Palace a day earlier.
After handing them over to members of 11 Squadron at RAF Akrotiri, the duke said: "You all put duty first."
And as she did her part in handing out gifts in the sergeant's mess, the duchess was heard joking that their parcel service "really was royal mail".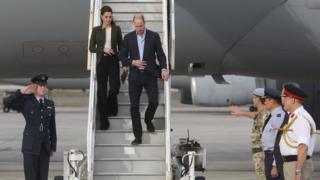 The Typhoon fighter unit flies missions from the Mediterranean island to combat the Islamic State group.
Over Christmas, 11,000 men and women will be deployed by the Army, Royal Navy and RAF in 35 countries, Prince William said in a brief speech.
"All of this work is done without fanfare. You don't seek praise for your contribution. It's not about credit or recognition – for you, it's just about service," he said.
"But as we approach Christmas, Catherine and I feel strongly that praise for your work and recognition of your sacrifices is exactly what is due to you all."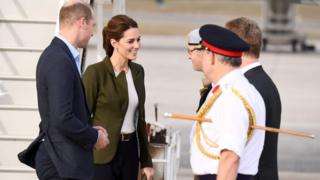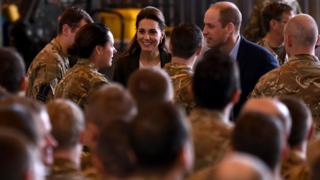 Prince William said that his experience in the armed forces, most recently as an RAF search and rescue pilot, meant "we both know a bit of what it feels like".
He also praised the sacrifices of their families, many of whom the couple had met on Tuesday, when they held a party at Kensington Palace and collected gifts to transport to the base.
"We know this isn't easy for you or for your wives, husbands, children, and friends back in the UK. On behalf of everyone back home, we would like to say thank you," the duke said.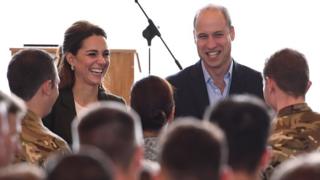 Sqn Ldr Waghorn, a senior engineer who works on Typhoon jets, said it was a "real honour" to have a visit from the royal couple.
He said: "Yesterday they were all talking about what we do at the party and I guess all the families are proud of what we do and serving.
"It's sad we won't be home for Christmas, but to get that personal message from them with the duke and duchess is lovely," he said.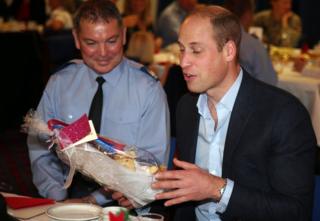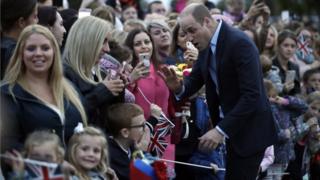 Later the duke and duchess joined families stationed at the base for a Christmas afternoon tea.
Sat a few seats away from William were two former colleagues – Flt Sgt David Sheppard, 48, and Sgt Dickie Myers, 32 – who were part of the RAF Search and Rescue crews at RAF Valley on Anglesey when the royal flew rescue missions from the base.
Sgt Myers, a winchman, who is now based at RAF Akrotiri, said: "He joked about my tatty badge and said I hadn't lost any weight – I'd put some on – his banter is top notch."
Read more: https://www.bbc.co.uk/news/uk-46458554