Blaze breaks out after 'huge explosion'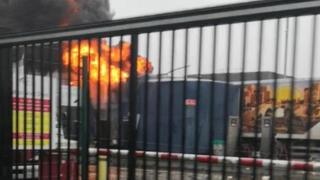 A fire has broken out after a "huge explosion" at an industrial estate.
Emergency services were called to Transfesa Road in Paddock Wood, Kent after a "loud bang", fire crews said.
People on social media reported "a huge explosion" at about 13:00 GMT which "shook houses", followed by flames and plumes of smoke.
Roads have been closed as firefighters tackle the blaze but Kent Fire & Rescue said the "industrial diesel tank" fire was largely under control.
It said: "A number of calls came into 999 fire control after a loud bang could be heard and a large plume of dark smoke could be seen from some distance.
"Crews have used foam from the fire engines and specialist foam unit to bring the fire under control."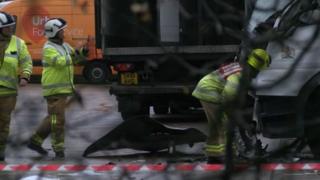 Thomas Davies tweeted: "Heard it in East Peckham. Wondered what the hell it was. Shook the house."
TunWellsFCSupporters added: "It literally knocked me to the floor. Was a huge bang."
Read more: https://www.bbc.co.uk/news/uk-england-kent-46411684