They planned to practice yoga outdoors. Last night's shooting didn't stop them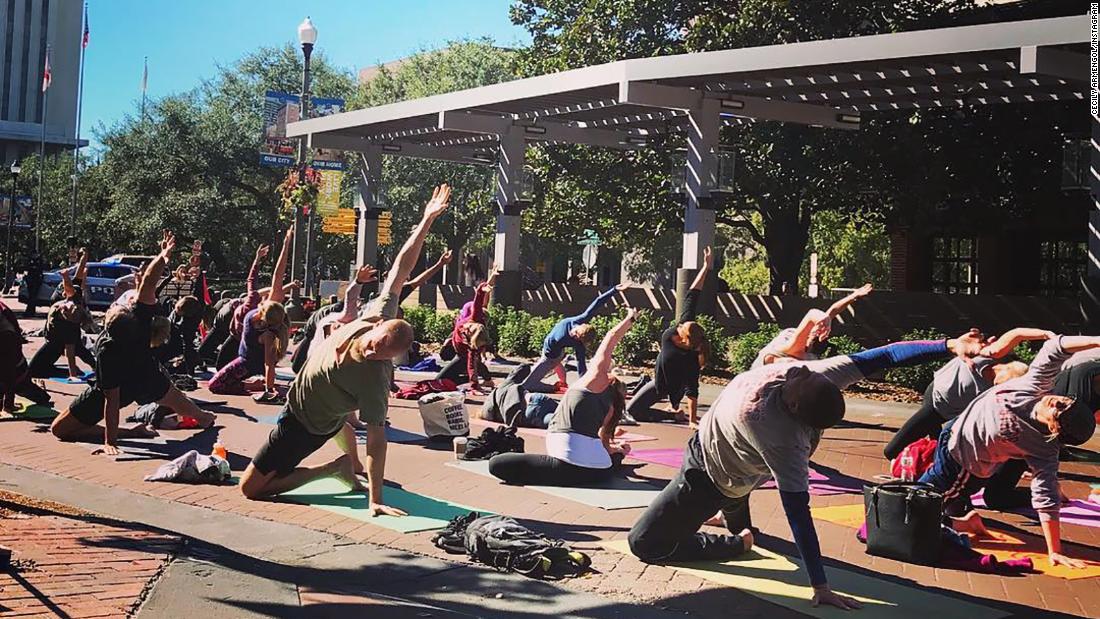 (CNN)Tallahassee yogis planned to roll out their mats on a downtown street Saturday morning to raise funds for Hurricane Michael recovery efforts. But the class took on an additional meaning in the wake of Friday's deadly shooting at a yoga studio in the Florida city.
View this post on Instagram
Yoga in downtown Tallahassee to honor and remember #yoga #IHeartTally #TallahasseeStrong #PrayforTallahassee #StoptheViolence #Namaste #TallyStrong
McKenzie Burleigh Lohbeck, who organized
"Yoga For a Cause,"
told CNN on Saturday the instructor who was scheduled to teach the class works at the studio targeted by the gunman. Lohbeck said she immediately reached out to the instructor to find out if she was safe and to tell her not to worry about the event.
"She said 'no, we need yoga more than ever,'" Lohbeck said. The event continued as planned.
"There were so many hugs and so much love and gratitude for just being here together," Lohbeck said of the event held on Adams Street. "It was the most powerful experience I've ever been a part of."
View this post on Instagram
This afternoon I practiced yoga under a beautiful crape myrtle downtown in the city that I love with my friends from @hotyogatallahassee @sweattherapyfitness @purebarretallahassee and more from our yoga/fitness community plus so many from TLH who came together to lift each other up and spread love #namaste 🙏🏻
Cecily Armengol, a fitness director at Sweet Therapy Fitness, joined Saturday's event. Armengol told CNN "the mood throughout the practice was incredible."
"[The instructor] encouraged us to hold each other, look up to the sky, cry, smile and strengthen ourselves through our practice," Armengol said.
Armengol, who's lived in Tallahassee for 10 years and is friends with instructors and clients that go to the studio that was targeted, said people should feel safe in their workout spaces.
"It is where we go to relieve the stress of the day, forget our problems, and strengthen our bodies and mind," Armengol said. "To know that my friends and neighbor have had this taken from them is heartbreaking."
Other attendees took to social media to post from the outdoor event.
Pure Barre Tallahassee, a local athletic apparel boutique, wrote in an Instagram post: "Today we witnessed men and women of the Tallahassee community come together and choose to believe and trust that LOVE is stronger than hate ever will be."
View this post on Instagram
Today we witnessed men and women of the Tallahassee community come together and choose to believe and trust that LOVE is stronger than hate ever will be. #YogaForACause was a beautiful event and, we believe that we can speak for everyone involved, we were honored to participate. #TallahasseeStrong #HurricaneMichaelRelief #PanhandleStrong
Read more: https://www.cnn.com/2018/11/03/us/yoga-tallahassee-shooting/index.html