Train delays are 'tip of the iceberg'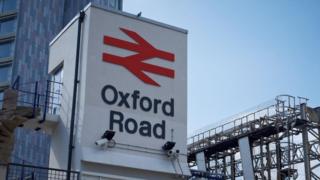 As consumer group Which? reveals ten of Britain's busiest railway stations have seen more than half of all trains in delayed in 2018, commuters react to the small delays that have knock-on effects.

'Frustrating and expensive'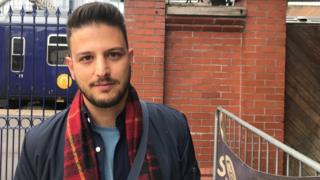 Digital marketing manager Rafi said he was "annoyed and frustrated" by the number of delays at Manchester Oxford Road, which took the "undesirable crown" of worst-performing station, according to Which?.
He said: "You pay for a ticket and you never get what you pay for. You go to other cities in Europe and there's a perfect system.
"There are no delays, buses leave on time, trains leave on time, trams leave on time.
"But we always have a delay here.
"It's more frustrating especially because it's so expensive as well."
Locked out of lectures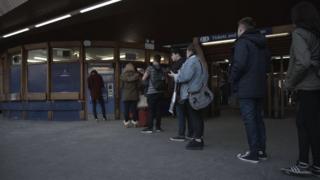 Student Ella Welsby commutes from Wigan Northern Western to Manchester Oxford Road regularly.
The 22-year-old said constant delays to the service mean she now has "no choice" but to aim to get to Manchester an hour before lessons – or face the wrath of a lecturer who's a stickler for time-keeping.
"It should take 35 minutes [on the train] but often it can be 75 minutes or more," said 3D design student.
"On my first day back I was three minutes late getting to uni because of train delays and I was locked out of the lecture.
"Now I get there an hour early."
'More investment needed'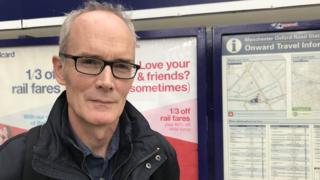 Commuter John laughed when he heard 68% of trains going through Manchester Oxford Road station were delayed.
"It doesn't surprise me," he said. "I get the train regularly to Manchester and they are often late. Today was late again."
The landscape architect from York said delays were frustrating but he has "resigned" himself to them.
He added: "I now get a train earlier than I need to because I need to get to meetings on time. I can't be late for them.
"I think, overall, [the government] need to take the railways and public transport more seriously and invest more in it."
'Tip of the iceberg'
Recruiter Philip Smith travels from Farncombe in Surrey into Waterloo, passing through Woking and Clapham Junction, which are among the stations with most delayed services.
He said delays are "only the tip of the iceberg" as they can result in cramped trains which make for uncomfortable travelling conditions.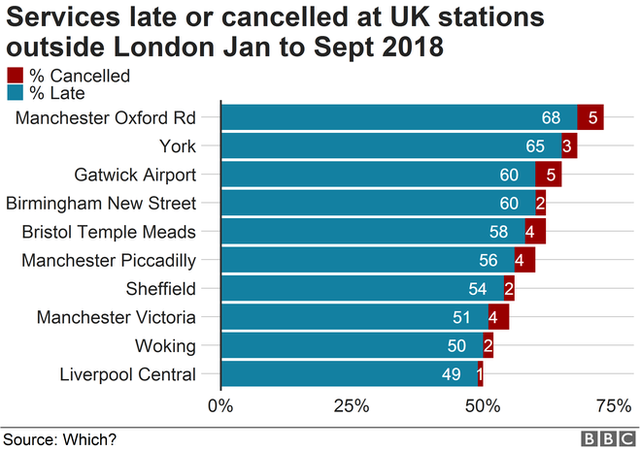 Mr Smith, 23, said: "Right now it feels like you're paying the highest possible price for the minimum possible service.
"If trains were only delayed for two minutes then that would be fine, but it's often 35 to 40 minutes and that really adds up," he added.
Rail replacement romance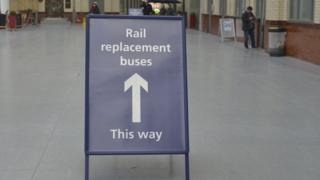 However, train delays can have unexpected positive consequences.
Ellie said she met her boyfriend in a queue for a rail replacement bus in Stockport when all the trains were cancelled due to a tree falling on the overhead cables at Macclesfield.
While she described management of the disruption as "not great" and caused her to arrive home more than two hours late, Ellie said she "wouldn't change it for the world".
Aww.