US midterm election to have higher than typical voter turnout, analysts say
More than 800,000 registered to vote on national voter registration day in September compared to 154,500 in 2014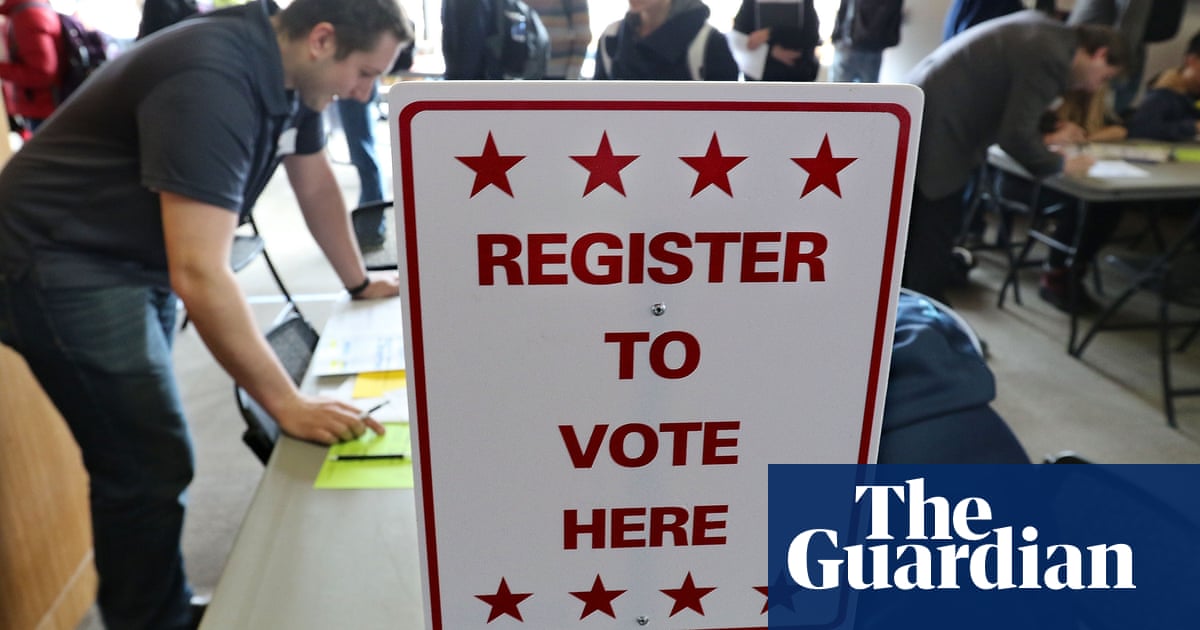 With the 2018 midterm elections less than a month away, states across the US are reporting record numbers of voters registering in what is poised to be a decisive battle for Congress.
The uptick in political engagement comes as Donald Trumps presidency has raised the stakes for the American electorate, energizing voters on both the left and right as they head to the polls on 6 November against a backdrop of deep-rooted polarization.
To Democrats, the elections mark the first concrete opportunity to channel the energy that has so far been manifested in marches and protests into action at the ballot box. Republicans, meanwhile, view the looming contest as another clash of the culture wars that have dominated Trumps first term, rallying behind the presidents us v them clarion call.
The outcome will determine which party controls Congress and has the potential to change the course of Trumps presidency.
2018 appears to be an election where were going to have higher than typical midterm turnout, said Michael McDonald, an associate professor of political science at the University of Florida, whose research has focused on voter turnout.
Why? Its name is Donald Trump.
Noting that both parties were seeing higher levels of engagement, McDonald said midterms were typically a referendum on the president and his party.
Donald Trump is part of the story of whats going on. The policies that the Republicans have enacted are also part of that story.
According to a Pew Research Center survey, 60% of Americans said their vote would be an expression of opposition to or support of the president. Far more respondents, by a 14-point margin, said they viewed their midterm vote as being against Trump.
Democrats need to flip 24 Republican seats to take back the majority in the House of Representatives for the first time since 2010. The Senate map is more favorable to Republicans, who are hoping to expand on a narrow 51-49 seat majority by toppling several red-state Democratic incumbents.
Several states signaled they were seeing record numbers of voters registering to cast their ballots in November.
This month, Californias secretary of state said 19 million residents had registered to vote, an increase of about 1.5 million compared with the 2014 midterms. A similar trend was observed in Texas, where state officials cited an 11% rise in registered voters from the previous midterms.
California is home to a handful of key battleground races for the House, while Democrat Beto ORourkes quest to unseat Republican Ted Cruz in Texas is among the most closely watched Senate races.
A record number of people also registered to vote last month on the national voter registration day. According to the organization Nonprofit Vote, more than 800,000 people registered on the holiday, which was created in 2012. In 2014, just 154,500 people registered to vote.
It remains to be seen, however, how many of those who registered will show up at the polls.
McDonald said there was not yet enough data from which to draw any sweeping conclusions, and that there had been little evidence to suggest the kind of turnout in midterms that the country typically sees when the White House is in play.
Its still going to be well short of a presidential election. Its not that its going to revolutionize turnout, he said.
Politicians, celebrities and other public figures have nonetheless escalated their calls on voters to register as deadlines come to a close in states that could prove influential in November, underscoring the importance of the moment.
Trump, who has ramped up his campaign appearances on behalf of Republican candidates, implored his supporters on Tuesday to register to vote in an all-caps tweet.
Celebrities have joined the chorus. Rihanna shared voter registration information across her social media platforms to tens of millions of followers.
I dont care what responsibilities you have today. Theres no greater responsibility than being in control of your future and it starts NOW!! the musician wrote.
Her appeal came two days after Taylor Swift broke her silence on politics to endorse two Democratic candidates in Tennessee. Swifts rare political statement led to a spike in voter registrations that, according to Vote.org, topped 65,000 in just 24 hours.
Raven Brooks, the COO of Vote.org, said celebrities were particularly persuasive in motivating young voters to the polls.
Weve been seeing an incredible spike in voter registration just in terms of numbers, he said, adding: Its definitely being driven by younger voters.
Brooks said the vast majority of the registrations his group had seen were by voters aged 18 to 24, followed by those aged 25 to 29.
That is completely inverted from what we saw at the same time in 2016, he said, noting in the previous election year the registration numbers were dominated by voters aged 30 to 39 and older.
Youre getting a lot of people into the process that are new voters, theyre young voters, he said. That changes, over time, what our political leaders look like.
Read more: https://www.theguardian.com/us-news/2018/oct/10/midterm-elections-voter-registration-turnout