SNP's autumn conference to open in Glasgow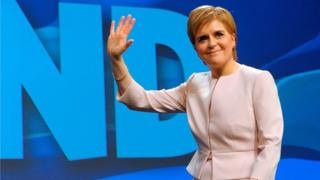 The SNP's autumn conference is to open in Glasgow later, with party leader Nicola Sturgeon due to address the three-day event on Tuesday afternoon.
Ms Sturgeon had been expected to set out this month whether she would press ahead with plans for a second independence referendum.
But she said last week that continuing uncertainty over Brexit meant she was still unable to do so.
Ms Sturgeon will be interviewed on the BBC's Andrew Marr Show at 10:00.
Thousands of delegates will gather at the Scottish Event Campus for the conference, which will include motions on reusable plastic, compulsory CPR training in schools and the devolution of migration policy.
Justice Secretary Humza Yousaf will use his speech to announce a dedicated "victims task force" which will aim to ensure victims' voices are heard and they are adequately supported within the justice system.
The establishment of a new Scottish government infrastructure commission was also confirmed ahead of conference.
Brexit 'uncertainty'
There will be no discussion of independence or a second referendum in the main conference hall – although both will feature at fringe events and in speeches from party figures including deputy leader Keith Brown and the SNP's Westminster leader Ian Blackford.
Ms Sturgeon had called for another vote on independence immediately after the EU referendum in 2016, but her plan was temporarily shelved after the SNP lost 21 seats in last year's general election.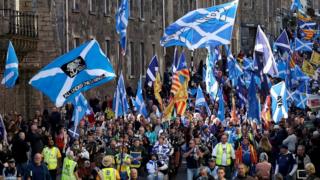 Speaking at an event in Edinburgh last week, Ms Sturgeon – who is also Scotland's first minister – said continuing uncertainty over the UK government's Brexit negotiations meant she was still unable to make a judgement on another independence referendum.
She said: "The end of this period of negotiation, I previously thought that would be October. It is now looking like that is more likely to be November, perhaps with a vote in the House of Commons in December.
"So I will take a judgment depending on where we get to, set out some views on where I think we're heading if we don't change course, and have more to say at that point."
Ms Sturgeon has also faced calls to formally back the so-called People's Vote campaign for a referendum on the final Brexit terms but has so far refused to do so – although she has stressed that her party would not stand in the way of one being held.
'Not the way to go'
Most opinion polls have suggested support for independence remains broadly similar to 2014, when Scotland voted to remain in the UK by 55% to 45%.
In a BBC Scotland interview on Friday, SNP deputy leader Keith Brown urged the party's 125,000 members to be patient over a second referendum, because "we have to have a situation where the people of Scotland themselves are wanting to move forward to independence".
Mr Brown added: "I think the idea of putting a further constitutional question in front of the people of Scotland as they are wrestling with, and anxious about, Brexit is not the right way to go.
"We want to continue to build that appetite for independence, because we believe that represents the best and most hopeful future for Scotland.
"But we have to take the people of Scotland with us, and we have to know what the shape of Brexit is first."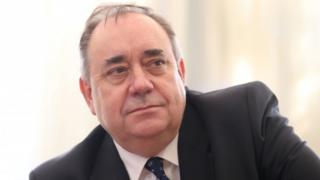 The conference is being held against the backdrop of former SNP leader Alex Salmond taking the Scottish government to court over its handling of sexual harassment allegations that have been made against him by two former staff members.
The allegations, which Mr Salmond has firmly denied, relate to incidents that are said to have happened in 2013, while he was serving as first minister.
Last week, Mr Salmond used his show on the controversial RT television channel to contrast the SNP leadership's "cautious" approach to a second referendum with the "urgency" of the wider pro-independence movement.
SNP MSP Alex Neil and MP Angus MacNeil appeared on the programme, as did Tricia Marwick – a former SNP MSP and Scottish Parliament presiding officer.
Ramping up pressure
Tens of thousands of independence supporters – including Mr Brown – marched through Edinburgh on Saturday in the latest in a series of rallies aimed at ramping up pressure for a second referendum to be held.
Writing in the conference guide, Ms Sturgeon said that she and her party "want Scotland to join other small, independent European nations as amongst the fairest, wealthiest, healthiest and happiest countries in the world."
She said she was "incredibly proud" of the party's record during its 11 years in government in Scotland, but said it was now "time to refocus our efforts and refresh our agenda to meet the changing needs of our people and the unprecedented challenges of our times."
Ms Sturgeon added: "It's time to aim high, look resolutely outwards and never accept second best.
"Above all, it's time to believe that we can. Together we can and will make Scotland the country we all know it can be."
Read more: https://www.bbc.co.uk/news/uk-scotland-scotland-politics-45760207