Cable: Lib Dems will oppose Chequers plan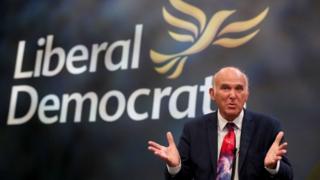 If Theresa May strikes a Brexit deal with Brussels based on her Chequers plan the Liberal Democrats will oppose it, Sir Vince Cable has warned.
"We are not going to buy it," the Lib Dem leader told a fringe meeting at his party's conference to loud applause.
He said the party's 12 MPs – with one exception – were "solid" in their determination to stop Brexit.
Stephen Lloyd MP voted Remain but has vowed to respect the wishes of his Leave-voting Eastbourne constituents.
Mr Cable said he hoped to persuade Mr Lloyd to change his mind before the "meaningful" vote promised to MPs on the terms of any Brexit deal.
Downing Street believes it can get Mrs May's Chequers plan – which would see the UK obeying single market rules for goods after Brexit – through Parliament, despite opposition from many Conservative MPs.
Mr Cable, who was business secretary in David Cameron's coalition government, said the Chequers deal had an "enormous hole in it" because it did not include services – which make up 80% of the British economy.
The Chequers plan was a "second best solution" to the issue of frictionless trade in goods but was based on a "very, very complicated mechanism," he added.
And Mr Cable said he could not vote for it even if the government claimed the only alternative was a no deal Brexit because there are "better alternatives".
Sir Vince, who is campaigning for a referendum on the final Brexit deal, said: "We're absolutely solid that we need to vote against Brexit and stop it."
In other conference developments:
Party members backed a policy that would allow migrant spouses an entitlement to benefits from their first day in the UK – without any form of means testing.
The party also backed a complete ban on single-use plastics within three years.
Deputy leader and former minister Jo Swinson admitted the party had "lost too many arguments" with their Conservative coalition partners and said "when they fought dirty, we were too nice".
Sir Vince ruled out going into coalition with Labour or the Conservatives in the near future.
Speaking at an earlier meeting, Mr Cable warned the world economy "could well" be heading for a serious crash within the "next 18 months to two years".
The Lib Dem leader – who famously predicted the 2008 financial crash – warned about "dangerously high" levels of debt in the UK economy.
And it was "difficult to see" major economies coming together to tackle any crisis as they did in 2008 with the current political climate, he added.
The Lib Dem leader is also calling for the creation of a £100bn "citizens fund" to protect the UK from future economic crises by bolstering the public finances.
The fund could be built up through taxes on the rich and the sale of state assets, such as the UK stake in Royal Bank of Scotland, he argues.