Anti-migrant feeling fuels Swedish far right as election looms
Popular concern looks likely to propel Sweden Democrats to a possible 20% of the vote
Last month, yards from the Social Democrats booth in Rinkeby town square, where Kersten Aggefors is handing out leaflets for the party that has finished first in every Swedish election since 1917, masked young people set five cars ablaze.
A few days earlier, eight unidentified men had attacked the towns half-built new police station, crashing through the gate and hurling rocks and firecrackers at security guards, apparently in retaliation for a drug bust. In January, two gunmen walked into a crowded pizzeria and shot a man dead, in what police said was a gang execution.
Rinkeby, a symbol of Scandinavian social democracy when it was built in the 1970s, had a bad reputation, but this was largely undeserved, insisted Aggefors, who has lived in the suburb, 20 minutes by metro from the capital, for 47 years.
Yes, things need fixing, she said. But the residents here are decent people, doing nothing wrong. Maybe Im stupid, but Ive always felt safe. Its just theres a small criminal minority.
Tawfiiq, who arrived from Somalia 15 years ago, agreed. Its a good place, its fine, he said outside the Islamic centre. There are some bad people, like everywhere. Tomas Beer, a local teacher, professed enthusiasm for a really committed, active, generous community.
Nevertheless, this suburb of about 16,000 residents, 90% of whom were born abroad or to parents born outside Sweden, and only half of whom are in work, has become shorthand for inequality, social exclusion, crime and immigration.
Three years after the European migration crisis rocked the country, a headline-hogging series of torched cars, grenade attacks and shootings (129 in Stockholm last year, 19 of them fatal), mostly in socially deprived suburbs such as Rinkeby with high immigrant populations, has kept immigration and integration at the top of the political agenda.
With a week to go before an election on 9 September, in a country that has long prided itself on being perhaps Europes most liberal and open to migrants, popular concern over migration looks likely to propel the populist, far-right and anti-immigration Sweden Democrats to a possible 20% of the vote.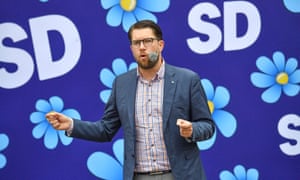 Read more: https://www.theguardian.com/world/2018/sep/02/sweden-democrats-far-right-anti-migrant