US cardinal accused of concealing abuse pulls out of Dublin event
Donald Wuerl was to speak at World Meeting of Families, which pope is attending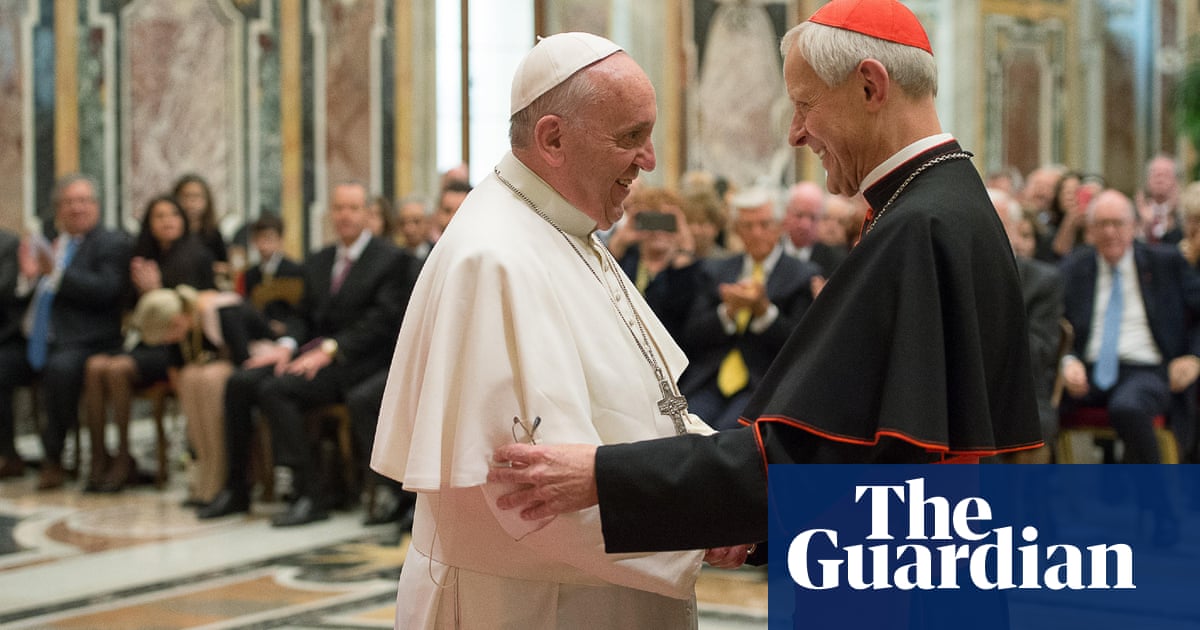 A US cardinal has pulled out of a keynote speech at the World Meeting of Families, a global event being hosted by the Roman Catholic church in Dublin, after he was criticised for his handling of child sexual abuse in a damning report.
Donald Wuerl, the archbishop of Washington, concealed abuse and moved known child molesters to new posts when he was bishop of Pittsburgh in Pennsylvania from 1988 to 2006, according to the grand jury report.
His withdrawal from the event, which begins on Tuesday and which Pope Francis will attend next weekend, is another indicator that the church is struggling to get on top of a wave of sexual abuse scandals that have engulfed the Vatican this year. Survivors of sexual abuse are expected to protest during the popes 36-hour visit to Ireland.
No reason was given for Wuerls withdrawal. It follows the cancellation of the appearance another cardinal, Sean OMalley, the archbishop of Boston, whose diocese said he had to personally attend to allegations of sexual harassment and bullying at a seminary.
The Pennsylvania report, published last Tuesday, concluded that 301 priests in six dioceses had abused more than 1,000 children over a 70-year period. Priests were raping little boys and girls, and the men of God who were responsible for them not only did nothing; they hid it all. For decades, the report said.
Two days after its publication, the Vatican expressed shame and sorrow over the scandal and said Pope Francis was on the side of survivors. The abuse was criminal and morally reprehensible and the church must learn hard lessons from its past, it said in a statement.
The grand jury said Wuerl had approved transfers for known abusers rather than removing them from ministry, and had withheld information when priests were reported to police and other authorities. He also offered financial support to priests accused of child sexual abuse.
Responding to the report, Wuerl said that while he was bishop of Pittsburgh he had acted with diligence, with concern for the victims and to prevent future acts of abuse.
More than 140 Catholic theologians, educators and lay leaders in the US have called for all American bishops to resign following the Pennsylvania report.
We call on the Catholic bishops of the United States to prayerfully and genuinely consider submitting to Pope Francis their collective resignation as a public act of repentance and lamentation before God and Gods people, said a statement, posted on the Daily Theology blog on Friday.
They urged US bishops to follow the example of 34 Chilean counterparts who tendered their resignations to the pope after a Vatican investigation found hundreds of cases of child sexual abuse had been covered up. Francis accepted the resignation of five, including one he had personally defended, and personally apologised to survivors.
This month, the former archbishop of Washington Theodore McCarrick resigned as a cardinal after being accused of sexually abusing an altar boy while serving as a priest.
Last week, Ending Clergy Abuse, a global organisation of survivors and human rights activists, wrote to the archbishop of Dublin to demand that three cardinals facing questions about allegedly protecting predatory priests should be banned from attending the World Meeting of Families. Along with Wuerl, they named Cardinal scar Maradiaga of Honduras and Cardinal Kevin Farrell of the US.
The organisation also demanded the pope publicly meet survivors when in Ireland.
Another group of survivors is due to launch a database on Monday containing the names of more than 70 Irish clergy who have been convicted of child sexual abuse or named by state inquiries.
Eamon Martin, the most senior Roman Catholic figure in Ireland, told the Guardian last week that abuse was a systemic issue for the whole church. This is not an isolated issue of a bad priest in a particular school or parish. This is an issue where the whole culture of our church wrongly facilitated abuse.
Read more: https://www.theguardian.com/world/2018/aug/19/us-cardinal-donald-wuerl-accused-concealing-abuse-pulls-out-dublin-event-pope-francis