Mosque denies 'military jihad' support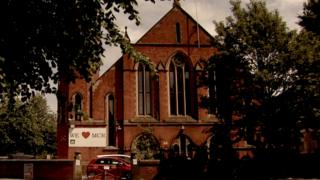 A mosque where the Manchester Arena bomber worshipped denies encouraging people to "fight in any military struggle" following a BBC report.
A sermon by Imam Mustafa Graf at Didsbury Mosque in 2016 called for the support of fighters in Syria, according to two Muslim scholars.
It was delivered six months before Salman Abedi killed 22 people after an Ariana Grande concert.
Mr Graf declined to be interviewed but denied preaching Islamic extremism.
Didsbury Mosque said it had "launched an investigation into the sermon to identify any issues raised by the BBC report" as part of its regulations.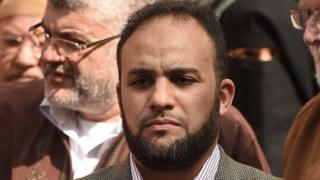 The sermon was held in December 2016 when the Syrian city of Aleppo had been caught in a brutal four-year deadlock.
Prayers were said for the mujahideen – a term often used to describe Islamist fighters.
Mr Graf is heard saying: "We ask Allah to grant them mujahideen – our brothers and sisters right now in Aleppo and Syria and Iraq – to grant them victory."
Elsewhere, he says: "Lots of brothers stayed behind unfortunately. They love Islam and Muslims but they do nothing for the support of their brothers and sisters."
He also remarks: "Jihad for the sake of Allah is the source of pride and dignity for this nation."
At one point Mr Graf is heard saying: "The whole world, including Europe, America – what is the so-called civilised world – is watching what is happening in Aleppo and Syria.
"They know that Iran, Russia and the militias are killing humans in Syria and they do nothing.
"Well in fact they helped the Russians and the Iranians and others, the militias, to kill Muslims over there."
---
What does jihad mean?
The word "jihad" is widely used, though often inaccurately
In Arabic, the word means "effort" or "struggle"
In Islam, it could be an individual's internal struggle against baser instincts, the struggle to build a good Muslim society, or a war for the faith against unbelievers or oppressors
A mujahideen is a term usually used for someone who engages in the latter form of jihad
Muslim jurists agree there are conditions for armed jihad, says Dr Emman El-Badawy, a counter-extremism expert, including that it can only be declared by a Muslim leader, not an individual, and only enemy combatants are legitimate targets, not innocent civilians
---
Abedi and his family regularly attended Didsbury Mosque and his father sometimes led the call to prayer.
The recording the BBC obtained is of Friday prayers six months before the attack, although the family's whereabouts on the day of the sermon are unknown.
The BBC has been told Abedi bought a ticket for the concert he bombed 10 days after the sermon took place.
In a Facebook post, Didsbury Mosque said it believed the BBC investigation was "a misleading report, out of context, which appears to create an association between the criminal act of Salman Abedi and a dated sermon at the mosque."
"The Friday sermon in question took place shortly after chemical weapons were used by the Syrian regime against innocent men, women and children of Aleppo."
It said the sermon was encouraging people "to pray to God to help those victims of oppression".
Shaykh Rehan Ahmed Raza, who is a Muslim scholar, said there were "no ifs and no buts" that Mr Graf was referring to "being on the battlefield".
Usama Hasan, head of Islamic studies at the Quilliam think tank that focuses on counter-extremism, said the sermon was "clearly referring to military jihad, to armed jihad".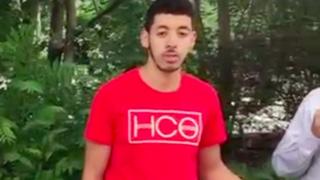 Didsbury Mosque said: "The term jihad was used in its wider meaning; 'to strive and struggle' and in this case aid to those being oppressed. There was no call for any military Jihad (qital).
"Nor was there any comment which could in anyway be construed to suggest that Britain or British people should be targeted or attacked. The focus was on the behaviour of the Syrian regime and its victims.
"Didsbury Mosque does not encourage anyone to go and fight in any military struggle."
Mr Graf denied he had called for armed jihad.
A spokesman from the BBC press office said: "We stand by our journalism."
Greater Manchester Police said: "We have been handed the material from the BBC following their broadcast and will now review it to establish if any criminal offences have been committed."
The region's deputy mayor Bev Hughes said: "The mayor and I are clear: we will always act on any evidence of the incitement of hate and violence whenever it happens and from wherever it comes.
She said she would "expect all communities in Greater Manchester to do the same".
Read more: http://www.bbc.co.uk/news/uk-england-manchester-45221035