'He had his chance': Elway says Broncos won't consider Kaepernick for No 2 role
The Broncos may be on the hunt for a veteran backup quarterback, but general manager John Elway insisted that Colin Kaepernick will not be considered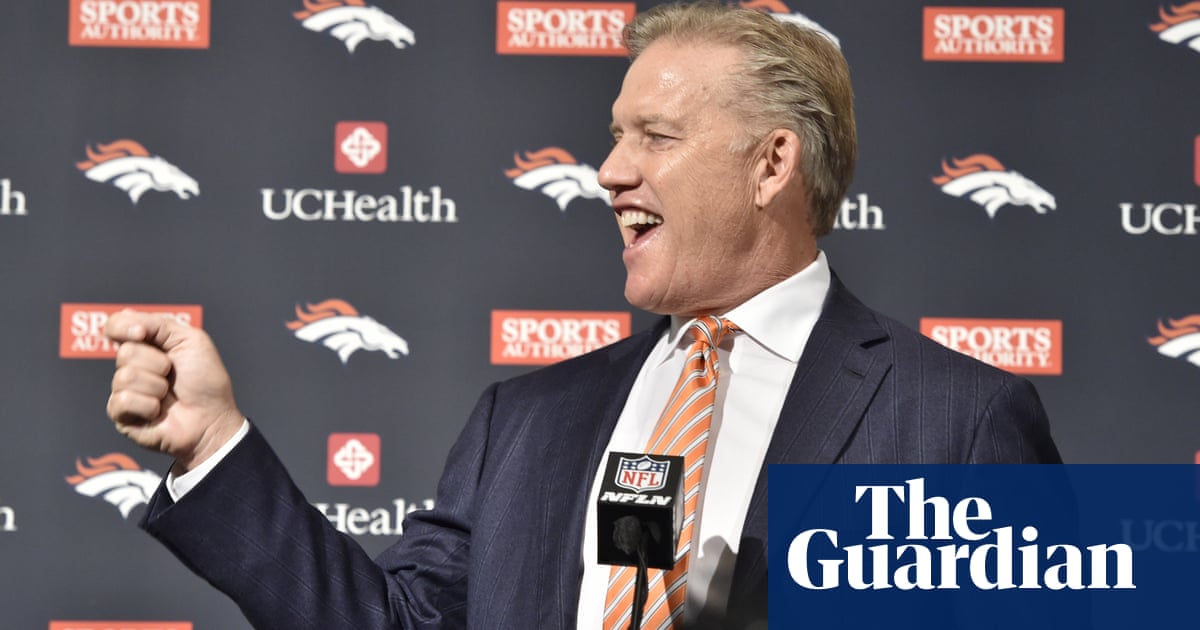 The Denver Broncos may be on the hunt for a veteran backup quarterback, but general manager John Elway said on Thursday that Colin Kaepernick will not be considered for the job.
Quarterbacks Chad Kelly and Paxton Lynch are currently second and third on the depth chart behind starter Case Keenum, but Elway has not ruled out signing a veteran to play ahead of them.
But it wont be Kaepernick, the former San Francisco quarterback whose protest of racial injustice and police brutality have left him without a job since his contract with the 49ers expired after the 2016 season.
Colin had his chance to be here, Elway told reporters on Thursday, referencing an attempted trade before the 2016 season which fell apart when Kaepernick refused to accept a pay cut. We offered him a contract, he didnt take it.
Kaepernick has filed a collusion grievance against the NFL, alleging that his unemployment is a result of his protest and not his playing ability. Elway was one of a number of front-office executives to give a deposition in the proceedings in Kaepernicks presence.
I dont know if Im legally able to say this, but hes had his chance to be here. He passed it, Elway said.
Kaepernick helmed San Francisco to Super Bowl XLVII before the league caught up to his running-and-passing style but has remained unsigned since leaving the 49ers at the end of the 2016 season. A number of NFL players, including former Seattle Seahawks cornerback Richard Sherman, believe he is being blackballed by NFL teams for his political protest.
Kaepernick completed 59.2% of his passes, averaged 6.8 yards per attempt and threw 16 touchdowns with four interceptions in 12 games for the 49ers in the 2016 campaign, his last in the league. But his refusal to stand for the anthem in the name of his principles became a far bigger story than his on-field performance.
Shaun King, a columnist with the New York Daily News and high-profile supporter of Black Lives Matter, was quick to criticize Elways comments and the manner in which they were aggregated by major outlets like Sports Illustrated as intellectually dishonest for the implication that Kaepernick turned down the contract after beginning his protest.
Disgusting & misleading what @SINow and John Elway did here, King tweeted. The @Broncos NEVER offered Colin Kaepernick ANYTHING after he took a knee. This statement and this tweet make it sound recent. They expressed interest in Colin THREE YEARS AGO pre-protest.
There is no incidication that Elways decision is politically motivated, but the popular former Broncos quarterback and two-time Super Bowl champion has thrown support behind conservative causes in the past most recently last year when he wrote the Senate judiciary committee on official team letterhead urging them to confirm Neil Gorsuch to the US supreme court.
Read more: https://www.theguardian.com/sport/2018/aug/16/colin-kaepernick-broncos-john-elway-trade