Bradley charity hits out at online trolls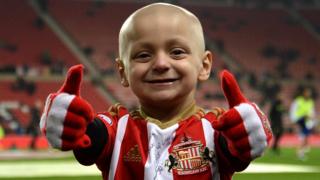 The foundation set up in memory of Bradley Lowery has hit out at trolls accusing his parents of using charity donations to live a "luxury lifestyle".
The avid Sunderland fan, from Blackhall Colliery, County Durham, died aged six in July 2017 after battling the child cancer neuroblastoma.
Some social media comments suggested his parents Gemma and Carl misused some of the estimated £1.4m in donations.
The foundation said all donations had been accounted for.
One comment highlighted by the foundation suggested the Lowery family were enjoying a "luxury lifestyle" and suggested "the truth will be out soon".
But co-founder Lynn Murphy said those making such comments should be "ashamed of themselves".
'Worst possible pain'
She said the accounts, which will soon be published, would show that "every penny was accounted for".
In a post on the foundation's Facebook page, she said: "Gemma is apparently living the life of luxury. Let me get one thing straight… losing a child is the worst possible pain anyone can ever go through.
"No-one and I mean no-one is living a life of luxury."
The Bradley Lowery Foundation was set up last year to help families who are unable to get funding for child cancer treatments on the NHS.
Ms Murphy said: "Each day for Gemma, Carl and Kieran is struggle, but what does Gemma do?
"She gets up and helps support other families in the hope they never have to feel the pain her family are going through.
"Before passing judgment, take a few steps in Gemma's shoes, think about all the rubbish you talk about on social media and amongst yourselves."