Are You Pound-Proof Yet? The Brexit Endgame Is About to Begin
Time is running out to position for a disorderly Brexit.
That's the chorus growing louder among pound traders and strategists, with Morgan Stanley joining the ranks of those recommending options to hedge the risk of Britain tumbling out of the European Union with no agreement for future economic ties. Asset managers including Allianz Global Investors are betting on wider swings in the U.K. currency as Brexit uncertainty mounts.
"The window for trading pound weakness is becoming shorter as the end of the Brexit negotiations gets nearer," Morgan Stanley strategists including Sheena Shah wrote in a research note Wednesday. The trade recommended by the bank "benefits from U.K. uncertainty remaining high for the coming months but also if global volatility rises from equity market weakness."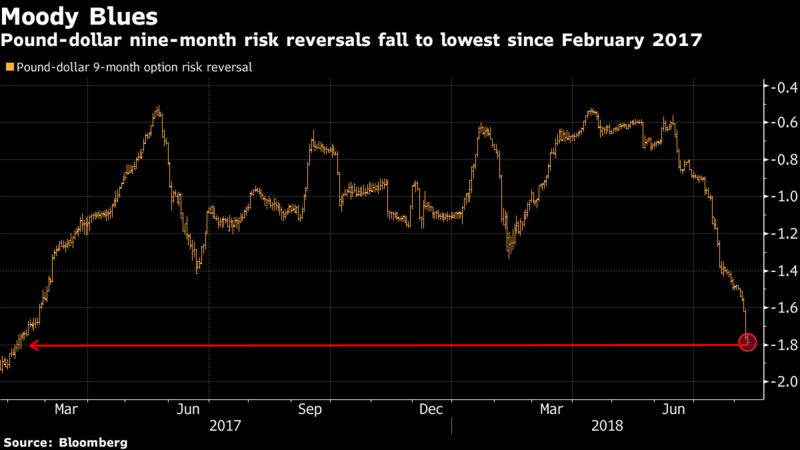 Indeed, sterling option volatility is now rising at the fastest pace since the currency's so-called flash crash of October 2016, after languishing below long-term averages in recent months. Nine-month pound-dollar risk reversals that cover Britain's official exit date in March are now at the most bearish levels in 18 months, showing that demand for put options far exceeds that for calls.
Option Strategy
Morgan Stanley recommends buying a three-month at-the-money put option in the pound-dollar pair, costing 1.65 percent. While this isn't a direct volatility trade, the position stands to benefit if either the pound falls or volatility rises, according to the analysts. If the pair falls to $1.25 over that time, from about $1.2890 currently, investors would profit from the difference from the current spot level minus the premium paid.
With Britain said to be preparing for a failure to secure an accord on future economic ties with the EU, the European Council meeting in October and the U.K. Parliament vote on the final exit agreement in December or January are potential flash points, according to the U.S. bank.
The pound fell to the lowest level in almost a year against the dollar Thursday, with losses deepening after U.K. International Trade Secretary Liam Fox said over the last weekend that the risk of a no-deal Brexit had increased to as much as 60 percent.
Still, Morgan Stanley sees scope for an eleventh-hour deal between the two sides, with Britain agreeing to accept a common rule book for goods while maintaining jurisdiction over free movement.
Near-term weakness in the pound should be followed by strength next year, according to strategists at the U.S. bank. They forecast sterling will rally to $1.50 by end-2019, well above the median in a Bloomberg survey of economists, which sees the pound-dollar exchange rate advancing to $1.42.
Read more: https://www.bloomberg.com/news/articles/2018-08-09/are-you-pound-proof-yet-the-brexit-endgame-is-about-to-begin