Deadly California wildfire kills missing children and great-grandmother, family says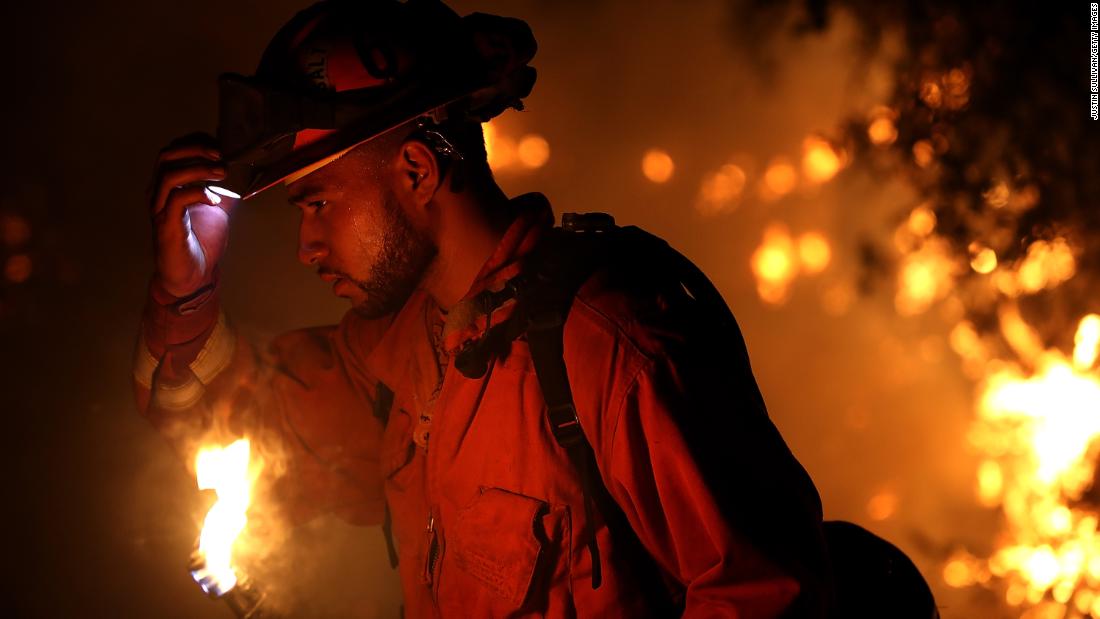 Redding, California (CNN)A woman and her two great-grandchildren who had been missing since Thursday died in Northern California's deadly Carr Fire, according to their relatives.
"With a heavy heart we are sad to inform you all that Mel and the great grand babies were confirmed to be in the home," the family said
on a GoFundMe page
.
CNN has reached out to the Shasta County Sheriff's Office, Medical Examiner and multiple family members for additional details and comment, but has not heard back.
The Carr Fire nearly doubled in size to 80,906 acres Saturday. The rapidly spreading fire — fueled by soaring temperatures, erratic winds, dry air and heavy vegetation — scorched more than 32,000 acres overnight and was only 5% contained, according to the California Department of Forestry and Fire Protection, known as Cal Fire. It has already claimed at least two lives, destroyed 500 structures and threatened thousands more.
"This fire is scary to us. This is something we haven't seen before in the city," Redding Police Chief Roger Moore told reporters Friday night. "It's changing direction radically."
The blaze is continuing its chaotic path Saturday west of Redding, prompting more evacuations.
The top of my work last night leaving. 7/28/18 #CarrFire went from 40,000 to 80,000 acres it doubles in size nightly. The black smoke at the end is where it has grown. The start is facing Mt. Shasta and Quartz Hill. #fire
"Time to go Igo. The fire is coming down muletown ready to hit placer," the Igo Ono Fire Department posted on Facebook, referring to local roads. "Time to go now. Leave Igo take your pets time to go."
More than 3,410 fire personnel are battling the blaze with more than 300 engines and 17 helicopters,
Cal Fire reported
, as tall smoke plumes turn the sky an eerie orange-brown hue.
The fire began Monday when a vehicle suffered mechanical failure, officials said. Firefighters had been making progress containing it until Thursday night, when it doubled in size.
Death toll rises
At least two people died fighting the fire, and several others have been hurt.
Jeremy Stoke, a fire inspector with the Redding Fire Department, died Thursday, the Redding firefighters union said.
"Jeremy died while battling the Carr Fire," the union posted on Twitter. "We ask for your thoughts and prayers for his family and the RFD as we process this tragic loss."
A private-hire bulldozer operator, who was not identified, also died Thursday while battling the fire.
Additional details on the fatalities were not available.
Three Marin County firefighters were treated for burns to the ears, hands and face after they encountered a "sudden blast of heat" from burning vegetation. Engineer Scott Pederson and firefighters Tyler Barnes and Brian Cardoza have been released from a hospital, the fire department said Friday in a news release.
A fourth firefighter was being evaluated at the UC Davis Burn Center, the news release said.
Eight people were treated for respiratory and burn-related injuries at Mercy Medical Center in Redding, a hospital spokeswoman said Friday morning.
'I can't believe it's gone'
The fire forced many residents to gather belongings and escape in just minutes.
"We didn't think the fire was going to come here, so we didn't really take things out like everyone else that was scrambling at the last minute to get out when we saw fire on the ridge," Dominic Galvin said.
A resident of French Gulch, west of Redding, said she had two hours to evacuate, but some people had only 30 minutes.
"It's terrifying," Rachel Hines told
CNN affiliate KRCR
. "You're frightened a little bit because you don't know if you're going to come back to your house and the town is going to be different."
Chris Corona went to his parents' home to look for their cat, Jinx. The home was gone, but Jinx was there, safely hiding in a bush on a hillside untouched by the flames that killed all the other vegetation.
Corona wept as he thought of things they lost in the house.
"I can't believe it's gone. All those memories, childhood memories," he said. "Stuff that parents save, like stuff you built as a little kid for your mom. I'm just glad my mom got all the valuable stuff that she wanted out."
Looting has been reported in abandoned residences in Redding, and some arrests have been made, according to Police Chief Roger Moore.
Cal Fire also
reported Saturday
that a separate blaze burning since July 13 near Yosemite National Park, known as the Ferguson Fire, has grown to 49,619 acres and is 29% contained.
Read more: https://www.cnn.com/2018/07/28/us/california-carr-fire/index.html