Missing beach walk man, 75, found in water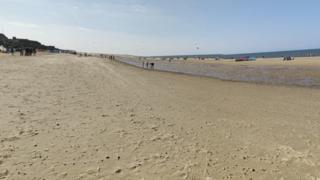 A 75-year-old man who went missing on a beach walk with family has been rescued from water nearly 24 hours later.
The man, who has yet to be identified, sparked a major search after he was last seen at about 17:10 BST on Saturday on Brancaster beach, Norfolk.
He was found in water by a police drone at nearby Titchwell Marshes at 14:36 BST and teams managed to pull him out about an hour-and-a-half later.
His condition is unknown but he was taken to hospital for treatment.
Insp Lou Provart, from Norfolk Police, said: "He was found in water so we can only assume he has been there for some time.
"We are delighted to have found and located the gentleman and he is now receiving the appropriate treatment with our colleagues in the ambulance service and will be going to hospital."
The search for the man, who had been heading in the direction of Titchwell when he went missing, involved police, HM Coastguard and a lifeboat from Wells.
Insp Provart praised the "positive" use of the new drone technology but said the "inaccessibility" of where the man was found it made it difficult to rescue him.
With the help of the Lowland Search and Rescue he was rescued at 15:58 BST.
Read more: http://www.bbc.co.uk/news/uk-england-norfolk-44511679