'We are truly sorry': Eta apologises for four decades of deadly violence
Basque separatist group bears direct responsibility for deaths of at least 800 people in name of nationhood struggle
The Basque terrorist group Eta, which killed more than 800 people during its four-decade armed campaign, has apologised for the suffering it caused and asked for the forgiveness of victims and their families as it prepares to dissolve.
In a statement released on Friday morning, the group made a full and unambiguous apology for its actions, accepting that it bore direct responsibility for years of bloodshed and misery.
We know that we caused a lot of pain during that long period of armed struggle, including damage that can never be put right, it said. We wish to show our respect for those who were killed or wounded by Eta and those who were affected by the conflict. We are truly sorry.
The statement also recognised that Etas mistakes or mistaken decisions had led to the deaths of people who had nothing to do with the conflict, both in the Basque country and beyond.
We know that, owing to the necessities of all kinds of armed struggle, our actions have hurt people who bore no responsibility whatsoever. We have also caused damage that cant be undone.
We apologise to those people and their families. These words wont make up for what happened nor will they lessen the pain, but we speak to them respectfully and without wanting to provoke further suffering.
However, the group also said the suffering of the Basque people had begun before it took up its violent, separatist struggle, citing the bombing of the Basque town of Guernica during the Spanish civil war as the root of the regions enduring pain.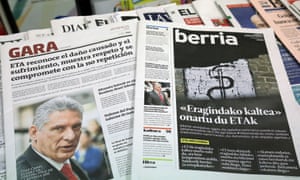 Read more: https://www.theguardian.com/world/2018/apr/20/eta-apologises-basque-separatists-deadly-violence