Arab Stocks Advance as Jitters Over U.S. Strike in Syria Fade
Stocks in Riyadh lead gains, rise the most in almost 10 months

Main equities benchmark in Dubai climbs the most since June
Stocks across most Arab markets advanced on Sunday as the risk of a military showdown between the U.S. and Russia in Syria that would roil the region faded.
Saudi Arabia's Tadawul index led the advance as all but one stock rose, and Dubai's main equity gauge climbed the most since June. Shares in Abu Dhabi gained as much as 1.3 percent, sending the benchmark index to the highest level on a closing basis since August 2015.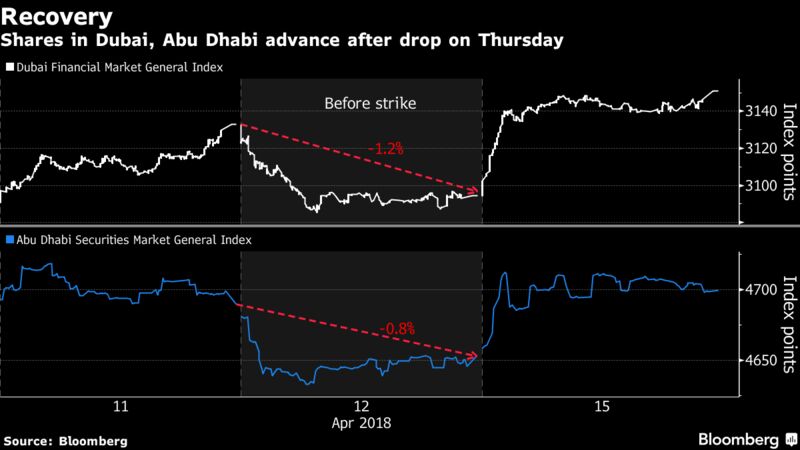 The U.S., U.K. and France attacked targeting military positions and research facilities linked to chemical weapons in Syria over the weekend. While Russia, Iran and Lebanon's Hezbollah group rallied around Syrian President Bashar Al-Assad's regime, they didn't threaten any retaliation. Saudi Arabia said it would take part in the U.S. coalition if asked.
Investors have had two days to reflect on the strike, so the operation isn't a factor that would prompt traders to sell anymore, said Mohammed Ali Yasin, the chief executive officer of FAB Securities in Abu Dhabi. What they're focused on is company results, he said.
Read More: Analysts Say Syria Strike Isn't Causing Panic in Mideast Markets
Saudi Arabia's stocks on Wednesday fell the most since October after U.S. President Donald Trump's comments on Twitter suggested that strikes against Syria were imminent. On Sunday, the Tadawul All Share Index climbed 1.9 percent, the most since June.
Dubai's DFM General Index added 1.8 percent, led by Emaar Properties PJSC's 2.9 percent increase. Abu Dhabi's ADX General Index rose 1. percent. Stocks Bahrain gained 0.1 percent, while gauges in Egypt and Qatar lost 0.2 percent and 0.3 percent, respectively.
More on Middle Eastern markets:
In Riyadh, Al Rajhi Bank, Saudi Basic Industries, Samba Financial Group, National Commercial Bank, Saudi British Bank advanced at least 1 percent
Aldar Properties gained 2.9 percent in Abu Dhabi, the most in a month, as foreign ownership limit of 49 percent became effective
Marka PJSC fell 10 percent in Dubai as company plans capital restructuring that includes the cancellation of shares. Traders exchanged 10.5 million shares, more than six times the stock's 30-day average
Six of October Development & Investment Co. rose as much as 4.3 percent in Cairo. It has gained 11 percent in past three sessions as it announced it was starting talks with Medinet Nasr Holding that may lead to a takeover deal
Stock exchanges in Kuwait, Oman were closed on Sunday for a local holiday
Read more: https://www.bloomberg.com/news/articles/2018-04-15/arab-stocks-advance-as-jitters-over-u-s-strike-in-syria-fade