Jeremy Corbyn criticised for attending radical Jewish event
Labour leader attended meeting of Jewdas, which is at odds with mainstream Jewish groups over alleged antisemitism in the party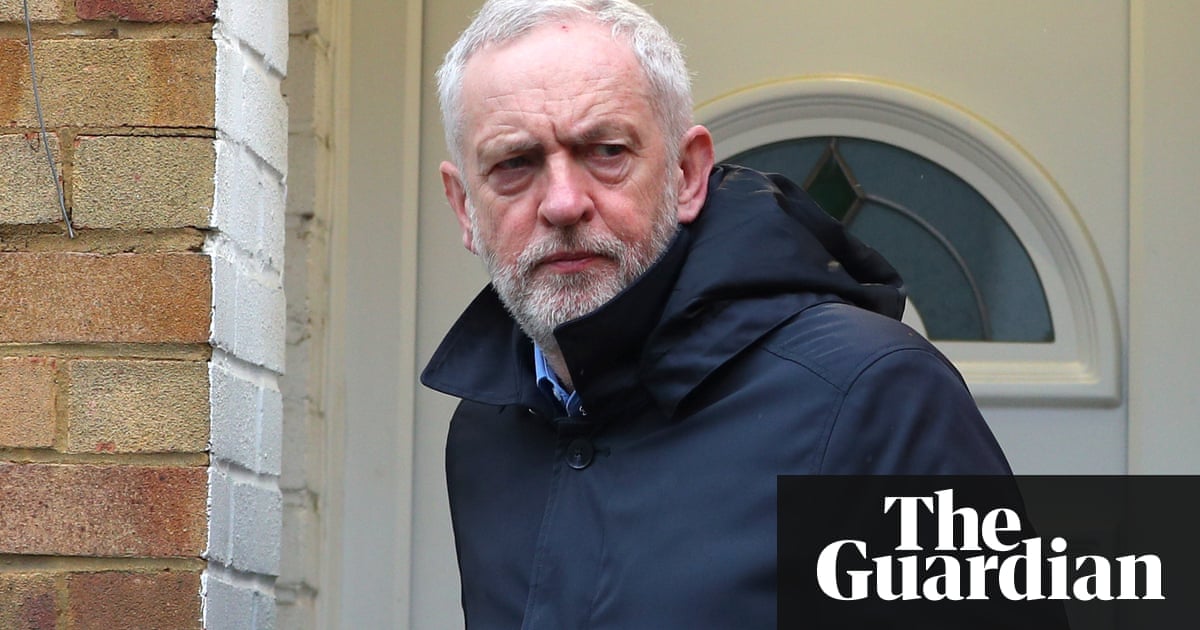 Jeremy Corbyn has been criticised for attending a Passover event with a leftwing Jewish group highly critical of mainstream Jewish communal bodies, and which has described the protests against the Labour leader as faux outrage greased with hypocrisy and opportunism.
Corbyn attended a Passover seder, the traditional meal of the Jewish festival, in his Islington constituency that was organised by Jewdas, which last week accused the Jewish Board of Deputies, Jewish Leadership Council and Jewish Labour Movement of playing a dangerous game with peoples lives.
The group which runs alternative Jewish parties, events and a satirical website said in a statement last week over the Enough Is Enough protests that much of the furore over antisemitism in Labour was the work of cynical manipulations by people whose express loyalty is to the Conservative party and the right wing of the Labour party.
A spokesman for Corbyn said he attended the event in a personal capacity and not in his official role as Labour leader, after his attendance was revealed by the Guido Fawkes blog. He wrote to the Board of Deputies and Jewish Leadership Council last week to ask for an urgent formal meeting to discuss tackling antisemitism in the Labour party and in society, the spokesman said.
Jewdas, a collective that describes itself as radical voices for the alternative diaspora, says its members are synagogue-going Jews, most with either paid or voluntary positions within our communities. The group has been highly critical of the Israeli government, but has also published pamphlets for pro-Palestinian demonstrations advising activists how to avoid antisemitism in campaigning.
In a piece for the pro-Labour website Labour List, Charlotte Nicols, one of the attendees of the Jewdas seder, said Corbyn had stayed for four hours and was an active participant in the rituals.
Many of last nights attendees are absolutely part of the mainstream community, she wrote. It is untrue to say that there is any one narrative, political or otherwise, within Jewdas. It is a collective space where we can have uncomfortable conversations what unites us all is the fact that we are Jewish.
It is not for non-Jewish people, in criticising Corbyns attendance, to determine what is and isnt a legitimate expression of the Jewish faith. For those in the community who want to paint Jeremys attendance as an act of provocation, rather than an attempt to listen, engage, and share our festival with us, its actually just alienating many young Jewish people further and validating Jewdas very existence.
Jon Lansman, the Jewish founder of Momentum, the group that has been a key backer of Corbyn, said a distinction should be drawn between Jewdas and some other leftwing groups. I think this group, unlike other groups you might describe as a far-left, fringe, Jewish group, are orthodox, theyre embedded in their synagogues and communities. They are part of the community, he said.
Lansman said Corbyn had gone to the seder on his night off, his office didnt know he was there.
Asked if it was helpful for Corbyn to meet a group whose Twitter account called Israel a steaming pile of sewage which needs to be properly disposed of, Lansman said the comment was certainly not helpful to Jeremy or the cause of opposing antisemitism in the Labour party.
On Monday, Momentum released a statement from its highest governing body calling for more action against antisemitism in the Labour party, saying it should not be dismissed as a right-wing smear or conspiracy, but was more widespread than many had thought.
Lansman said the crisis had been something of a shock for Corbyn who was proud of his anti-racism activism. I think awareness has grown, it has for all of us, he said.
Others were more critical of Corbyns judgment. Jonathan Goldstein, the chair of the Jewish Leadership Council, said the JLC had no issue with Jewdas and Jewdas having its opinions that it does. However, Goldstein said he was surprised the Labour leader had met the group so soon after the breakdown of relations with mainstream Jewish organisations.
In his first act towards the Jewish community he has gone to sit with a group who describe the JLC and the Board of Deputies actions as being a cynical ploy, he said.
The Jewish Labour Movements Ivor Caplin said Corbyns attendance had truly topped off the worst week on record of awful relations between the Labour party and the Jewish community and said Jewish Labour activists campaigning in local elections do not deserve the indignity of our leader making the situation worse.
The Labour MP John Woodcock said Corbyns attendance at the meeting was irresponsible and dangerous and said it was deliberately baiting the mainstream Jewish community days after they pleaded with him to tackle antisemitism.
The Labour MP Angela Smith said Corbyns attendance at the Jewdas seder reads as a blatant dismissal of the case made for tackling antisemitism in Labour.
In a Twitter post, Jewdas said its members were proud to be Jews and proud of everyone who attended, whether they were Jewish or not. We want everyone to know were leaving Mitzrayim [Egypt]. Change is coming. Revolution will come.
Two Jewish comedians David Baddiel and David Schneider, who have regularly written on the issue of antisemitism and the Labour party, both tweeted that MPs and others should not immediately dismiss Jewdas.
They are just Jews who disagree with other Jews. Which means: Jews … To make out that its somehow antisemitic for him to spend Seder with them just because theyre far left is balls, Baddiel wrote on Twitter.
Schneider tweeted: Boo! Corbyn needs to get out and meet some Jews! (Corbyn spends Passover with some Jews at Jewdas) Boo! Not those Jews!
Read more: https://www.theguardian.com/politics/2018/apr/03/jeremy-corbyn-called-irresponsible-after-attending-radical-jewish-event