Final wish granted as dog visits dying owner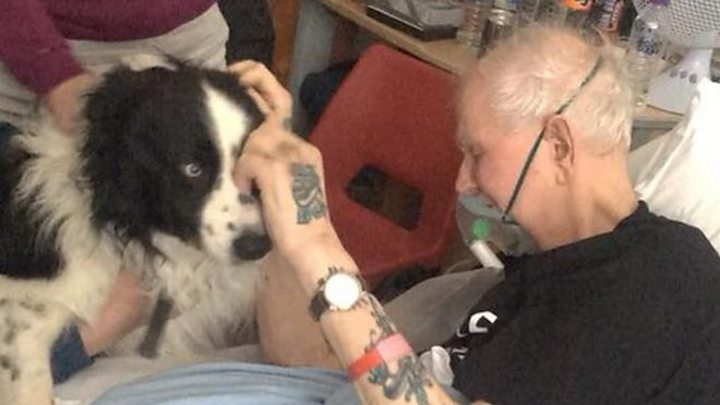 A terminally-ill man had his dying wish granted when his dog was allowed to make a final visit to his hospital bedside hours before he passed away.
Staff at Ninewells Hospital in Dundee allowed Peter Robson's border collie Shep into Ward 3 on Thursday.
Infection control regulations mean animals are only allowed into hospitals under exceptional circumstances.
Mr Robson's family paid tribute to hospital staff for "making a dying man very happy".
NHS staff had asked his relatives whether the 70-year-old, who was suffering from fibrosis of the lungs, wanted any comforts from home taken in before he died.
The family said his only wish was to see Shep one last time, but they thought there was no chance of it being allowed to happen.
'Eternally grateful'
However, they were told just 20 minutes later that Shep would be allowed to visit – and the dog was brought to his owner's bed in the ward, where Mr Robson was able to say goodbye to his beloved pet for the final time.
In a post on Facebook, his granddaughter Ashley Stevens said she had been "absolutely amazed and touched" by the gesture from NHS staff at Ninewells.
She added: "Our granddad's last and final wish was to see his dog one more time.
"Still in shock that the wish was granted and they went above and beyond today and made a dying man very happy."
She described Cheryl Ward, a charge nurse in Ward 3, as an "absolute angel", saying: "We are all eternally grateful – you don't know what this meant to our granddad."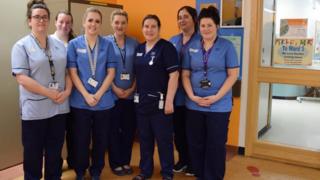 Ms Stevens later told BBC Scotland that her granddad had got Shep as a puppy eight years ago, with the dog becoming his companion after Mr Robson's wife died.
She added: "He really thought he would never see Shep again. It was an amazing moment to see the two of them together, and Shep was so excited to see him".
Ward 3 senior charge nurse Fiona McCallum said she was proud of Ms Ward and the rest of the team for their "caring and compassionate act".
She said: "The team worked with colleagues in infection control to make this possible and I can't thank them all enough for going above and beyond to bring some comfort to Mr Robson and his family."
NHS Tayside chief executive Lesley McLay added: "Our thoughts are with Mr Robson's family as they deal with their loss at this difficult time.
"The ward 3 team has done a wonderful thing for this family. It is often the little things that mean the most to patients and their families and I'm so pleased that the staff were able to grant this wish.
"The team in ward 3 were the first ever Gold Outstanding Team winners in our STAR Awards last year and, with actions like this, it's not hard to see why."