Manhattan subway explosion 'was attempted terrorist attack', says mayor
Four total injuries reported following blast on subway near Port Authority at 42nd Street and Eighth Avenue in Manhattan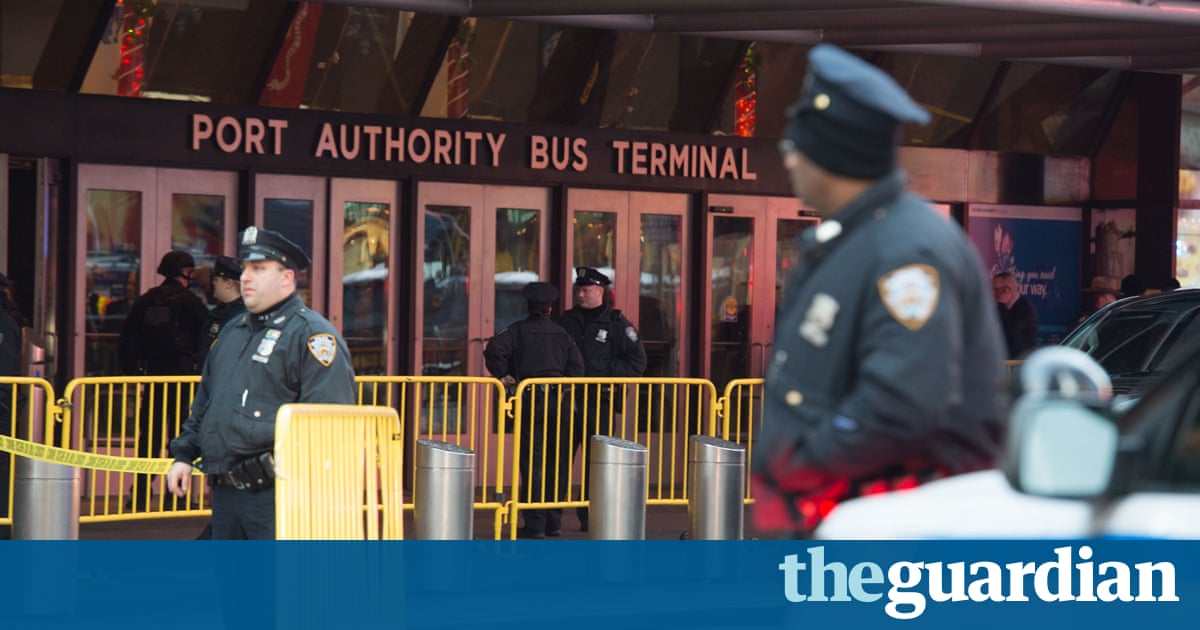 A 27-year-old man was in custody on Monday after detonating an explosive device on the New York City subway during the morning commute.
The suspect, Akayed Ullah, was one of four people injured in the explosion, which occurred at about 7.20am in a passageway near 42nd Street and 8th Avenue, in midtown Manhattan near Times Square, New York City police said.
None of the injuries were life-threatening. At a midtown press conference, New York police commissioner James ONeill said the suspect had an improvised low-tech explosive device attached to his body. Daniel Nigro, the fire department commissioner, said Ullah sustained burns to his hands and torso while the three other people suffered ringing ears and headaches.
This was an attempted terrorist attack, said New York City mayor Bill de Blasio.
Andrew Cuomo, the governor of New York, said an attack on the subway was very frightening and disturbing and in many ways, one of our worst nightmares.
This is New York, Cuomo said. The reality is that we are a target by many who would like to make a statement against democracy, against freedom. We have the Statue of Liberty in our harbor. Anyone can go on the internet and download garbage and vileness, how to put together an amateur level explosive device, and that is the reality we live with.
The counter reality is that this is New York and we all pitch together, and we are a savvy people and we keep our eyes open and we have the best law enforcement in the globe.
De Blasio said there were no known additional incidents or activities but said there would be an increased police presence in the city.
The suspect, a Bangladeshi immigrant who lived in Brooklyn, was being treated at Bellevue hospital. Police said there was video of the attempted attack. Asked if the suspect was connected to the Islamic State terror group, ONeill said the suspect did make statements but did not elaborate.
The subway station where the blast happened is just below Port Authority bus terminal, the busiest in the world, serving at least 65 million passengers each year. On Monday morning, nearby Times Square and its surroundings were overwhelmed by police. The area would usually be packed with frenzied commuters and tourists.
The explosion occurred less than two months after a man drove a truck into a bicycle lane on Manhattans west side, killing eight people. The suspect pleaded not guilty to 22 counts including providing material support to the Islamic State group.
In September 2016, 30 people were injured when a bomb exploded behind a dumpster on West 23rd Street, in the Chelsea neighbourhood. The suspect was found guilty this October, on eight charges.
On Monday, travellers at Port Authority reacted with bemusement, relief and some humor.
Danny Nguyen, 24, heard the explosion while he waited for a bus home to Philadelphia. He said police ran into the station. I saw a mom trying to take her daughter up the elevator the wrong way, just panicking, he said.
Tina Grimes, 38, was supposed to be on a bus to Boston. She said she was going to make the best of her extra time in New York. Its too cold to walk around, she said. Maybe Ill go shopping or something.
Barbara Petro had been due to return to Columbia, Maryland. She said the incident would not put her off visiting New York again, but was disappointed because my granddaughter is singing in a Christmas performance as an angel tonight, and I dont think Ill make it.
The attack interrupted nearly every subway line and some trains were evacuated. The delays put even more strain on the citys subway system, which has been heavily criticized this year because of long delays and frequent train breakdowns.
Many New Yorkers were unfazed, even as they let out impatient sighs and grumbles. Shaun Henderson was on the F train after the explosion and said he was just happy the trains were working, even if he was going to be late for work.
Its the subway, you know, Henderson said. New Yorkers are used to this. The F train doesnt need a pipe bomb to be fucked up.
Donald Trump was briefed on the situation but did not immediately respond. Instead, the president tweeted a complaint about a New York Times story that said he watched four to eight hours of television every day. Bad reporting, he wrote.
Though witnesses described panic immediately after the explosion, shortly after the attack the scene was calm. The usually frantic five lanes of 8th Avenue were closed to traffic from 34th Street to the site of the explosion although pedestrians and cyclists moved freely. Police blocked off the road between the huge frame of Port Authority and the New York Times skyscraper, across the street.
Lythia, who asked for her last name not to be used, was handing out a free local paper, Metro, at the corner of 40th Street and 8th Avenue when she saw people running towards me saying it was an explosion, it was a bomb. Everybody was just running. Then I saw the cops, the fire department, the ambulance, the bomb squad.
She said she was not scared and did not run away. I felt like an angel was protecting me.
Another newspaper distributor, Jerome Thompson, had been more shaken up by the incident. People came running from the situation. I was shocked. I thought what is going on? I was getting a little frightened too. I thought this is serious. Im glad everybody is all right.
Read more: https://www.theguardian.com/us-news/2017/dec/11/new-york-police-explosion-reports-manhattan