Two Palestinians shot dead and one critical in riots after Trump speech
Palestinian worshippers and Israeli troops clash as Muslims protest against Donald Trumps recognition of Jerusalem as Israels capital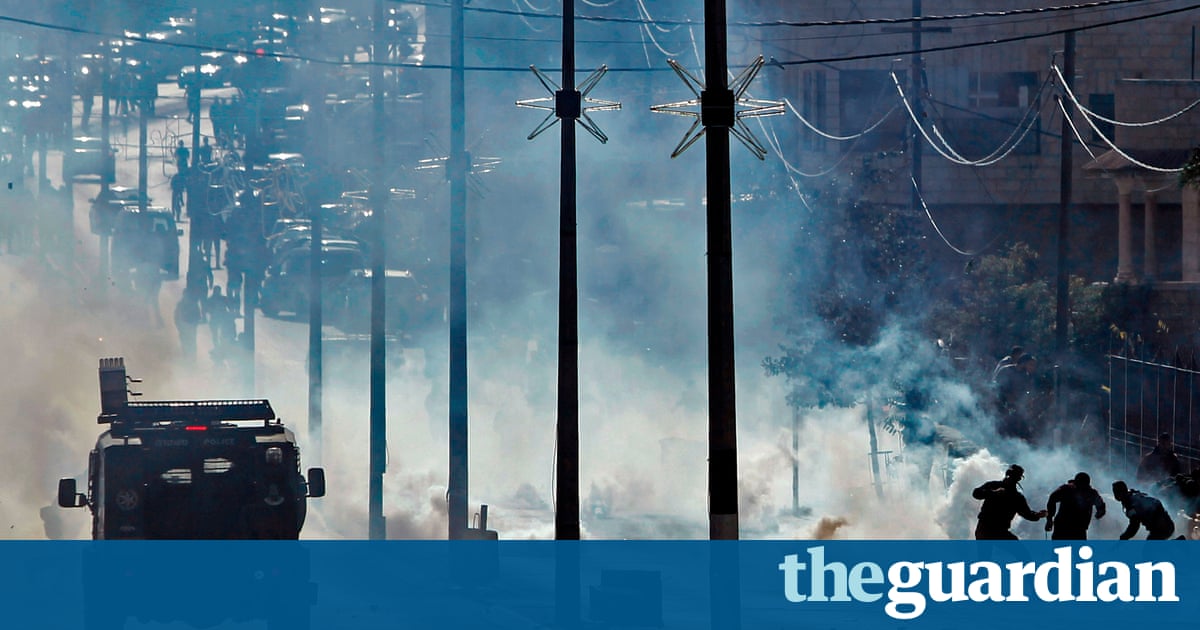 Two Palestinians have been shot dead in Gaza by the Israeli army, the first people killed in clashes that began after Donald Trump recognised Jerusalem as Israels capital.
Palestinian protesters clashed with Israeli troops across the West Bank as worshippers throughout the Muslim world took to the streets after the weekly Friday midday prayers to vent their fury at Trumps decision. A third man was in a critical condition after being shot in the head during the clashes.
Despite calls for a day of rage, Palestinian protesters turned out in smaller numbers than they had on Thursday in the immediate aftermath of Trumps controversial speech, allowing reinforced Israeli troops, who had been anticipating clashes, to manage the confrontations with ease.
Late on Friday, Israeli planes bombed militant targets in Gaza in response to a rocket fired at nearby Israeli towns. The Palestinian health ministry said at least 25 people were wounded in the strikes, including six children.
The main focus remained on the diplomatic front, as UN security council members met to reaffirm their support for a two-state solution and demonstrate the diplomatic isolation of the US.
Addressing members via videolink from Jerusalem, Nikolay Mladenov, the UNs Middle East special envoy, said Trumps remarks had undermined a decades-old consensus.
Francois Delattre, the UNs French representative, said Trumps unilateral decision was in breach of international law and carried the risk of taking a political conflict and seeing it morph into an insurmountable religious conflict.
Underlining the extent to which France has lost patience with the US handling of the Palestine issue, the countrys foreign minister, Jean-Yves Le Drian, said America had excluded itself as a Middle East mediator.
US officials were still scrambling to limit the fallout of a move that has drawn near-universal condemnation and shocked Washingtons allies, both in its clumsiness and for shattering the long-established international consensus on the question of Jerusalem.
Rex Tillerson, the US secretary of state, tried to limit the diplomatic damage, saying any move of the US embassy from Tel Aviv to Jerusalem as the US president had called for could take at least two years. He also insisted Trumps statement did not prejudge the final status of Jerusalem in any peace talks.
Le Drian said: I hear some, including Tillerson, say things will happen in time and the hour is for negotiations. Until now the US could have had a mediation role in this conflict, but it has excluded itself a little.
Nikki Haley, the US ambassador to the United Nations, disputed the French attack, telling the security council: The United States has credibility with both sides. Israel will never be, and should never be, bullied into an agreement by the United Nations, or by any collection of countries that have proven their disregard for Israels security.
The controversy appears to have opened up opportunities for Vladimir Putin, Russias president, who is due to discuss the issue during talks with the Turkish president, Recep Tayyip Erdoan who has been one of the most vociferous in condemning Trumps actions on Monday, and with Egypts leader, Abdel Fatah al-Sisi, later in the week.
Whether unrest would spread and spiral, both in the Palestinian territories and elsewhere in the region, was being closely watched.
In Bethlehem, where some of Fridays biggest clashes occurred, several hundred Palestinians sporadically moved forward to throw stones at Israeli soldiers from behind burning tyres billowing black smoke, before being driven back by volleys of teargas, sponge-topped riot rounds and plastic-coated pellets.
Confrontations also took place in Jerusalem and other locations.
Mahmoud Abbas, the Palestinian president, prepared for 24 hours of urgent consultations with other Palestinian factions, including Hamas, which were expected to conclude with a declaration that he was cutting ties with US peace negotiators as well as cancelling a meeting with the US vice-president, Mike Pence, who is due to visit this month.
Palestinian officials confirmed that Abbas had ordered his security forces to ensure that trouble did not escalate to more dangerous levels, amid calls from some quarters for a third intifada.
Trumps seismic policy shift on Jerusalem has angered Arabs and Muslims, who view it as an expression of blatant pro-Israel bias in one of the regions most explosive religious and political disputes.
Protesters marched throughout the Arab world from Lebanon to Egypt and Jordan to protest against the decision, with no sign of an end to the crisis in sight, following calls from different militant groups in the region from Iraq to Afghanistan to attack American interests. Marches were also staged in Iran, Indonesia, Malaysia and Pakistan.
Among the groups that have called for attacks on Americans are al-Qaida and Islamic State. Israeli security agencies are also concerned that the anger could lead to a return to lone wolf attacks against Israelis by individuals largely unconnected with the main Palestinian factions.
In Jerusalem the preacher at al-Aqsa mosque told worshippers that the city will remain Muslim and Arab.
All we want from the Arab and Muslim leaders is action and not statements of denunciation, Sheikh Yousef Abu Sneineh told around 27,000 worshippers.
Its empty talk, said a 20-year-old man who gave his name only as Omar, as he walked toward al-Aqsa for prayers. No matter what happens, we know Jerusalem is the capital of Palestine, not of Israel. Israel is an occupier.
About 2,000 people later gathered in the plaza around the mosque, chanting: With our soul and blood, we will defend al-Aqsa and Jerusalem.
In neighbouring Jordan, hundreds of protesters in Amman, the capital, chanted: Jerusalem is Arab, and America is the head of the snake.
In the wake of the outrage across the Arab world, Britain and France, traditionally close allies of the US, called the emergency UN meeting in part to inject some much needed momentum into a peace process that has largely been left to Trumps son-in-law, Jared Kushner, to develop.
On Thursday Matthew Rycroft, the British UN ambassador, described Trumps intervention as unhelpful and urged the US administration to publish its plan for peace as quickly as possible.
One of the few countries that had appeared to suggest it might follow Trumps move, the Czech Republic, appeared to scotch the idea on Friday.
The new Czech prime minister, Andrej Babi, dismissed a suggestion by the president, Milo Zeman, that it should follow the US example and move its embassy from Tel Aviv to Jerusalem. Speaking to Czech public radio on Friday, he said: This idea of President Trump is not good. You can see the reactions.
Read more: https://www.theguardian.com/world/2017/dec/08/palestinian-shot-dead-in-gaza-as-protesters-clash-with-israeli-troops-in-west-bank