Odds and Ends
All bombed up and nowhere to go!!! Superhero Week, a Pipe_Picasso and Madolite event Nov 12-18th.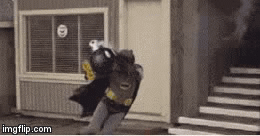 Read more: https://imgflip.com/gif/1zetft
Related posts
Answer your phone and only hear silence and you might assume it is a pocket call....

During the last Ice Age, the landmasses around the Arctic Ocean were covered in ice kilometers...

Drake spilled a LOT of tea on LeBron James' new barbershop-themed show, y'all!! The Canadian rapper appeared on...