Odds and Ends
All bombed up and nowhere to go!!! Superhero Week, a Pipe_Picasso and Madolite event Nov 12-18th.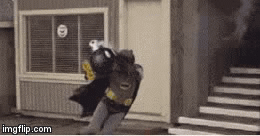 Read more: https://imgflip.com/gif/1zetft
Related posts
When you hear the angry rhetoric from politicians about preserving gendered bathrooms and abolishing transgender rights,...

Here's further proof that even when times are tense and trying, kids so often rise above...

Meet Albert, a little bird that defied the odds thanks to a curious stranger from the...