'Guilty, your honor': Michael Flynn, who led the 'lock her up' chants, enters his plea
In a dark suit and striped tie, Flynn stood before a federal judge and pleaded guilty and for Hillary Clinton, the sense of schadenfreude may be irresistible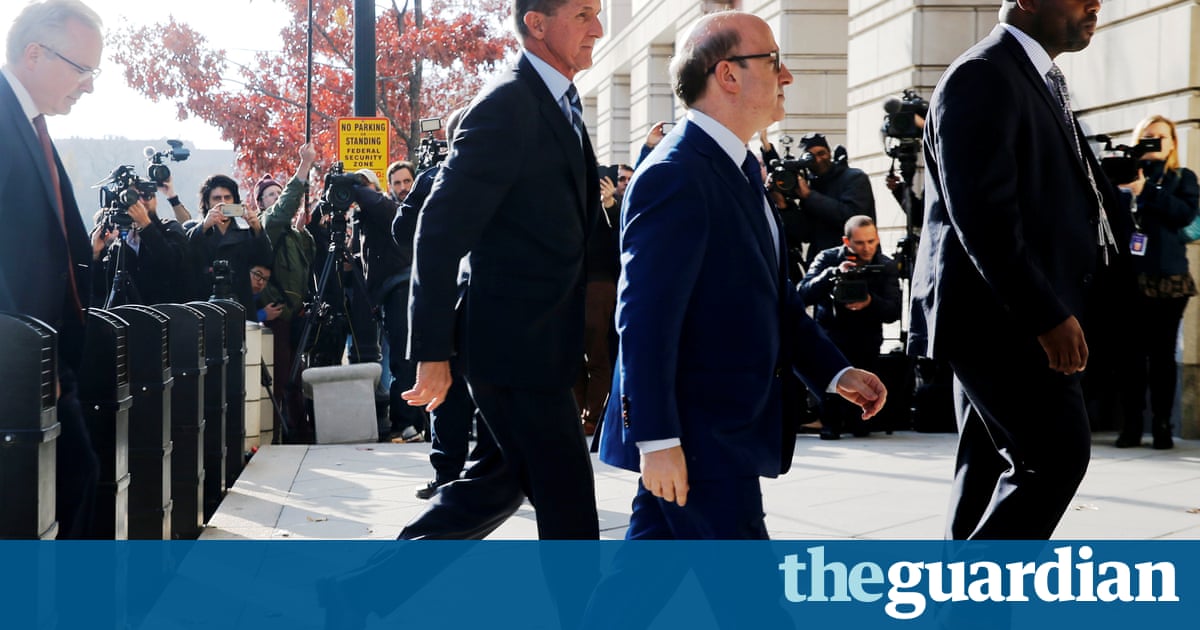 When the crowd chanted Lock her up! about Hillary Clinton, Michael Flynn smiled. Youre damn right, he told last years Republican national convention. Youre exactly right. Theres nothing wrong with that! And you know why were saying that? Were saying that because if I a guy who knows this business if I did a tenth of what she did, I would be in jail today.

On Friday Flynns bravado and righteousness had been stripped away. A humbled Flynn buttoned his jacket as he walked into the US district court in Washington, to be greeted by the austere trappings of a federal courthouse with its solemn lawyers, stiff-backed marshals and hungry reporters.
Flynn, the man once led crowds in calling for Clinton to be put behind bars, found himself standing before a judge, pleading guilty to making false statements to the FBI, and facing a possible prison term. Not for the first time in Donald Trumps presidency, it was the kind of plot twist that most thriller writers would avoid as just too improbable.
Clinton herself maintained a diplomatic silence, but for her supporters, a sense of schadenfreude may be irresistible.
Flynn was once Trumps favourite general, who warmed up the Republican candidates rallies with fiery speeches and bolstered his unlikely credentials as a potential commander-in-chief of the worlds most powerful military. He was rewarded with the job of national security adviser at the start of the administration.
But he was fired after just a month in the White House for misleading Vice-President Mike Pence over his contacts with the Russian ambassador, Sergey Kislyak. He is now the first aide who worked in the Trump administration as opposed to just the campaign to face charges in special counsel Robert Muellers investigation into alleged collusion with Russia.
Wearing a dark blue suit and blue striped tie, Flynn arrived at the same courthouse where, a month earlier, former Trump campaign chairman Paul Manafort and his deputy Robert Gates pleaded not guilty to charges including conspiracy to launder money and conspiracy against the United States.
Read more: https://www.theguardian.com/us-news/2017/dec/01/mike-flynn-court-guilty-plea-hillary-clinton