Snap Is Looking a Lot Like Twitter After Another Earnings Miss
Snap Inc. went to great lengths to differentiate itself from Twitter Inc. during its initial public offering process. Tuesday's earnings report revealed some striking similarities.
The owner of the Snapchat photo-sharing app displayed some of the same problems that have vexed Twitter, namely disappointing revenue and user growth, in its third-quarter results. Chief Executive Officer Evan Spiegel even highlighted that Snapchat isn't easy enough for many to use, echoing similar complaints about Twitter.
Snap's surprise disclosure Wednesday morning that Tencent Holdings, China's biggest instant messaging company, had accumulated a 12 percent stake initially propped up shares. But the stock later fell as much as 20 percent after at least four analysts cut their ratings.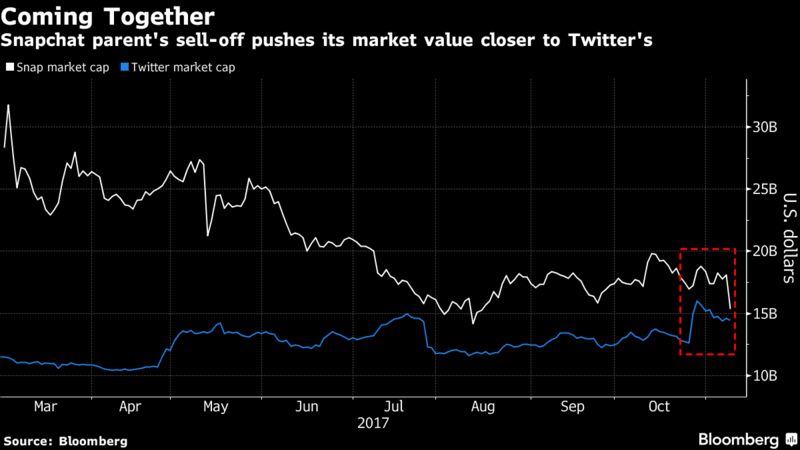 Snap has now fallen 25 percent since its March IPO, bringing its market capitalization to within $900 million of Twitter's. Of course, Snap's valuation is still richer. Twitter is projected to have about three times the revenue of Snap in 2017, and some investors are optimistic the younger company can make a turnaround, like Facebook Inc. did in its early days as a public company.
For more on Snap, check out the   podcast:
Read more: https://www.bloomberg.com/news/articles/2017-11-08/snap-is-looking-a-lot-like-twitter-after-another-earnings-miss