RenTechs Robert Mercer to Exit as Co-CEO, Sell Breitbart Stake
Renaissance Technologies' Robert Mercer plans to step down as co-chief executive officer effective Jan. 1, as he tries to distance himself from controversy over his political ties to associates of President Donald Trump.
Peter Brown, 62, will continue as CEO, according to a letter sent to employees at his hedge fund Thursday. Mercer, 71, will also leave Renaissance's board and remain at the company as a member of the technical staff, focusing on research. Mercer and Brown took the co-CEO posts in 2010 after the company's founder James Simons retired.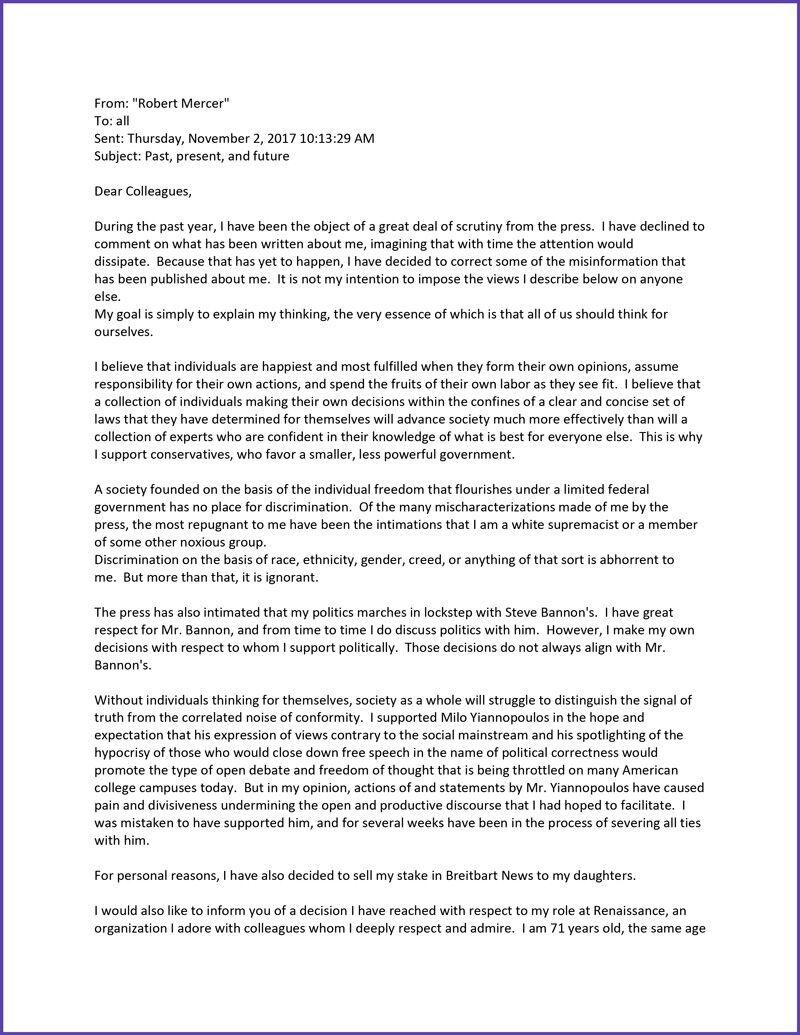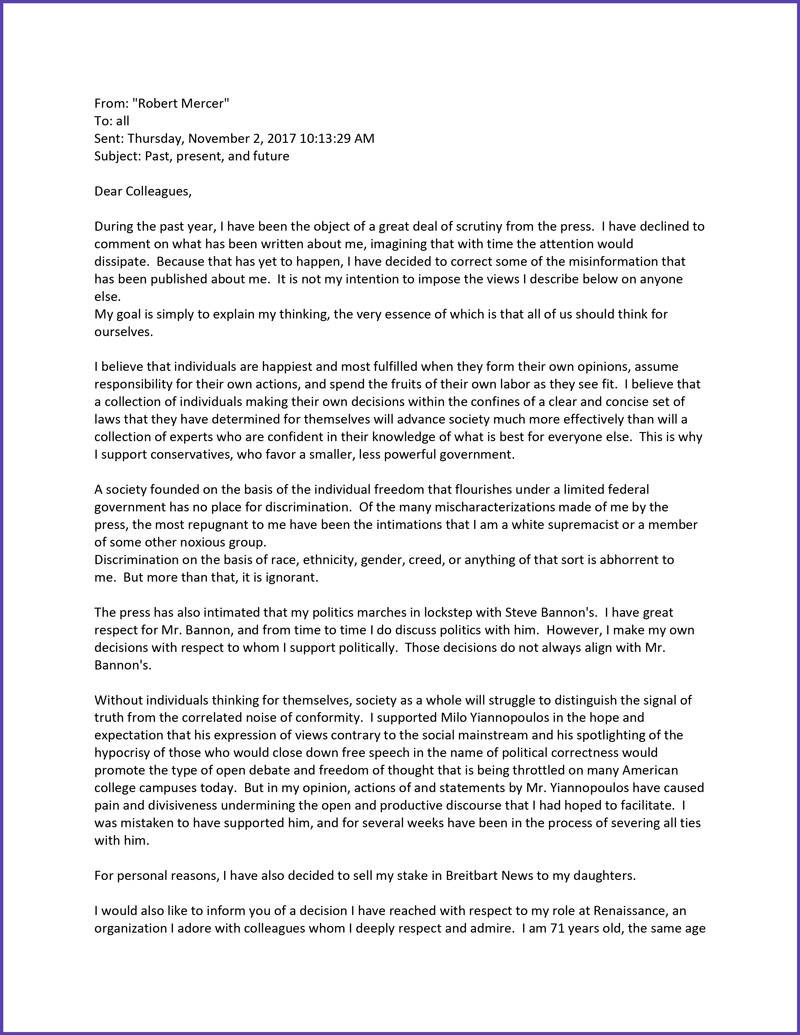 Read Robert Mercer's letter to his staff at Renaissance
In recent months, Mercer's personal political projects dragged the notoriously secretive firm into the national spotlight. Mercer and his daughter, Rebekah, are prominent Republican donors and patrons of Stephen Bannon, the chairman of Breitbart News and a driving force behind the populist, nationalist wing of the Republican Party that carried Trump to the White House.
In the Nov. 2 letter, Mercer said "for personal reasons" he has decided to sell his stake in Breitbart News to his daughters. He wrote that he has "great respect" for Bannon but that their views don't always align.
Mercer also said in the letter that he was "mistaken to have supported" Milo Yiannopoulos, a former Breitbart writer, and is severing ties with him because statements by Yiannopoulos have caused "pain and divisiveness."
Mercer also sought to correct what he called mischaracterizations of him in the press.
"The most repugnant to me have been the intimations that I am a white supremacist or a member of some other noxious group," Mercer wrote. "Discrimination on the basis of race, ethnicity, gender, creed, or anything of that sort is abhorrent to me."
In recent weeks, universities and pension funds have come under pressure to pull investments from Renaissance because of Mercer's ties to Breitbart. Even so, Renaissance attracted a net $1 billion in November, according to a person familiar with the firm, and the firm manages more than $50 billion in assets.
More on the campaign against Renaissance
Mercer's politics contrast with some other top figures at Renaissance. Simons, who remains chairman of the Renaissance board, was one of Hillary Clinton's top financial backers during last year's election.
Brown and Mercer were both hired by Renaissance in 1993 from the IBM Thomas J. Watson Research Center, where they were language technology experts. The firm has been a pioneer in the growing industry of computer-driven investing.
In the letter, Mercer noted that at 71 years old, he is now the same age as Simons when he retired.
"I do not plan to retire, but I do plan to relinquish my management responsibilities," he wrote.
Renaissance's crown jewel, the Medallion Fund, has been perhaps the world's greatest moneymaking machine. Medallion is open only to Renaissance's roughly 300 employees, about 90 of whom are Ph.D.s, as well as a select few individuals with deep-rooted connections to the firm. The fabled fund, known for its intense secrecy, has produced about $55 billion in profit over the last 28 years, according to data compiled by Bloomberg. The firm also runs investments for outside clients.
Read More: How Renaissance's Medallion Became Finance's Blackest Box
Read more: http://www.bloomberg.com/news/articles/2017-11-02/rentech-s-robert-mercer-to-resign-as-co-ceo-of-hedge-fund-firm