Eight people killed in New York 'act of terror' after truck drives on to bike path
Police say suspect, 29, in hospital after being shot by officer while mayor De Blasio says attack being treated as a particularly cowardly act of terror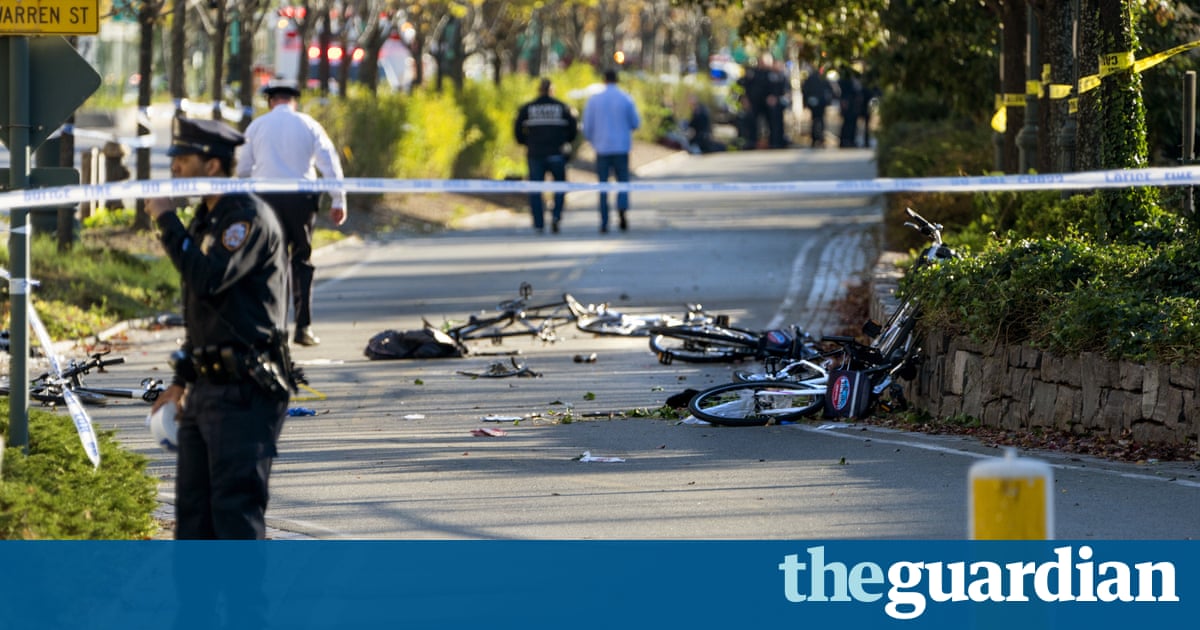 Eight people were killed and more than a dozen injured after a man drove a truck nearly a mile down a bike path in Manhattan on Tuesday afternoon, striking pedestrians, cyclists and a school bus.
New York City mayor Bill de Blasio said the incident was being treated as an act of terror, a particularly cowardly act of terror. De Blasio said a police officer assigned to the area stopped the attacker by shooting him in the stomach.
After smashing into the school bus, injuring two adults and two children, the 29-year-old suspect exited the truck displaying imitation firearms and was shot by police, according to the New York police department (NYPD). The suspect was in custody, and a paintball gun and a pellet gun were recovered at the scene.
Police said the truck drove south after entering a pedestrian and bicycle path, where it struck multiple people. Six men were pronounced dead at the scene on the cycle lane and two other people were dead on arrival at the hospital.
It is a very painful day in our city, De Blasio said.
The victims included a Belgian citizen and five Argentinians. The five men from Argentina Hernn Diego Mendoza, Diego Enrique Angelini, Alejandro Damin Pagnucco, Ariel Erlij and Hernn Ferruchi were part of a group of school friends who travelled to New York to celebrate the 30th anniversary of their graduation. Another member of the group, Martin Ludovico Marro, remains in hospital.
The justice department said in a statement that a joint terrorism task force that included the FBI, the NYPD and others was investigating the attack.
There have been multiple and conflicting reports that a note and/or flag showing support for Isis has been found in the truck used in the attack. The Guardian is working to verify these reports, which have not been officially confirmed.
The New York Times reports that handwritten notes in Arabic near the truck indicated allegiance to the Islamic State, while CNN says a note was written in English, also indicating support for Isis, and was found inside the truck. Others including the Daily Mail claim an Isis flag was found in the truck. This has not been confirmed.
The suspect was said to be Sayfullo Saipov, an Uzbek national, according to the Associated Press (AP) which cited two law enforcement officials speaking anonymously and other reports. The suspect has not yet been officially named.
Saipov was said to have entered the US in 2010. He has a Florida license but may have been living in New Jersey, reports said.
A woman from Cincinnati, Ohio, contacted by the Guardian, who identified herself as Dilfuza Iskhakova, said that Saipov had stayed at her home there for several months about six years ago, after arriving in the US from Uzbekistan. He seemed like a nice guy, but he didnt talk much, said Iskhakova. He only went to work and came back. He used to work at a warehouse.
Iskhakova said Saipov had been applying for a green card when she knew him. Ohio state records show he registered a business involving vehicles to her home in May 2011. Iskhakova said her family lost contact with Saipov in recent years. She said she thought he had moved from Ohio to Florida, and then to the New York region, and that he now had a wife and two young daughters.
She said she did not know if Saipov was religious.
Hes from my country, Iskhakova said. His father knows my husband, and sent Sayfullo here because he didnt know anyone.
Security heightened in New York
Officials in New York said additional resources were being deployed around the city, where children would be on the streets late into the evening to celebrate Halloween. They also confirmed the citys landmark Halloween parade in Greenwich Village, about six blocks from where the rampage began, would continue as usual. On Tuesday night, the spire of 1 World Trade Center was lit up in red, white and blue.
At a news conference, New York governor Andrew Cuomo said these resources were being deployed out of an abundance of caution and that there was no indication of additional threats.
Donald Trump tweeted about the incident: In NYC, looks like another attack by a very sick and deranged person. Law enforcement is following this closely. NOT IN THE U.S.A.!
He added later: We must not allow ISIS to return, or enter, our country after defeating them in the Middle East and elsewhere. Enough!
NYPD commissioner James ONeill responded to a press question about whether the terror suspect shouted Allahu Akbar from the van by saying: Yes, he did make a statement. He would not confirm the words used, but added: The MO [modus operandi] of the attack is consistent with what has been going on. He also said he considered the incident over.
The suspect began driving around 3pm, leaving behind a trail of crumpled bicycles on the pedestrian and bike path, which runs along the Hudson river on the west side of Manhattan.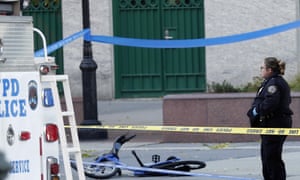 Read more: https://www.theguardian.com/us-news/2017/oct/31/new-york-police-shooting-manhattan