BrightHouse to repay customers 14.8m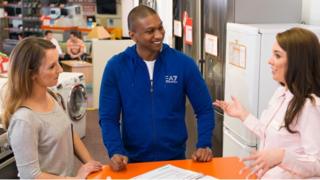 Rent-to-own retailer BrightHouse has been told to pay £14.8m to 249,000 customers by the financial regulator, the Financial Conduct Authority (FCA).
BrightHouse will compensate customers who had cancelled agreements after one downpayment but had not been refunded.
It will also make payments to those who signed up to lending agreements that "may not have been affordable".
The FCA said BrightHouse had not acted as a "responsible lender".
The firm, which lets customers pay for household items such as washing machines and televisions on a weekly basis, has been criticised for its business model.
In 2016 a BBC investigation conducted by Ed Miliband, the former Labour leader, highlighted the example of a £358 washing machine that ended up costing more than £1,000.
BrightHouse has apologised to customers.
There is no need for customers affected to contact BrightHouse. It will write to 213,000 current and former customers by the end of the year, explaining what they are due.
Rent-to-own firms selling to vulnerable people
Price cap on rent-to-own goods possible says FCA
Written off
Customers whose deposits BrightHouse failed to refund signed up between April 2010 and April 2017. These customers will receive an average payment of £27.
The second group includes those who took out an agreement between April 2014 and September 2016. These will receive an average payment of £147.
In the case of customers who were not assessed properly at the start of the loan who may have had difficulty making payments, BrightHouse will pay back interest and fees along with compensatory interest of 8% – provided they handed back the goods.
Those who kept the goods will have their balances written off.
The chief executive of the FCA, Andrew Bailey, told Radio 5 Live the move set a "very important precedent… BrightHouse did not behave as responsible lenders and they failed to meet our expectations".
Overhaul
BrightHouse chief executive Hamish Paton said: "We sincerely apologise to those customers who were affected. Our top priority is to ensure that they are reimbursed as soon as possible.
"We're absolutely determined that this doesn't happen again and have made significant improvements over the last 18 months. The FCA recognised this when they confirmed in April that they are minded to authorise our business, subject to specific conditions."
The company said it had been working with the regulator since late 2014 after admitting its assessments of customers' ability to pay. It also said collections processes did not always deliver good outcomes for customers, particularly those who were at a higher risk of falling into financial difficulty.
BrightHouse said it had overhauled its lending application assessment to ensure that future loans were affordable and that customers were treated fairly throughout the collections process.
The company was founded in 1994 as Crazy George and rebranded as BrightHouse in 2002. It has about 280 stores across the UK.
---
Read more: http://www.bbc.co.uk/news/business-41732865