Yellen Calls Inflation the 'Biggest Surprise' in the Economy
Federal Reserve Chair Janet Yellen said that the U.S. central bank expects to continue to raise interest rates gradually as solid growth, a strong labor market and a healthy global economy lift prices even as she recognized that inflation has been surprisingly low. 
"My best guess is that these soft readings will not persist, and with the ongoing strengthening of labor markets, I expect inflation to move higher next year," Yellen said Sunday at the Group of Thirty's Annual International Banking Seminar in Washington.
Yellen's term expires in February and she is said to be among the candidates President Donald Trump is considering to be his pick to lead the central bank. She has presided over a sustained recovery from the global financial crisis, though inflation has remained below the Fed's 2 percent goal, a development that's puzzled policy makers at a time when the unemployment rate has fallen past its pre-crisis low.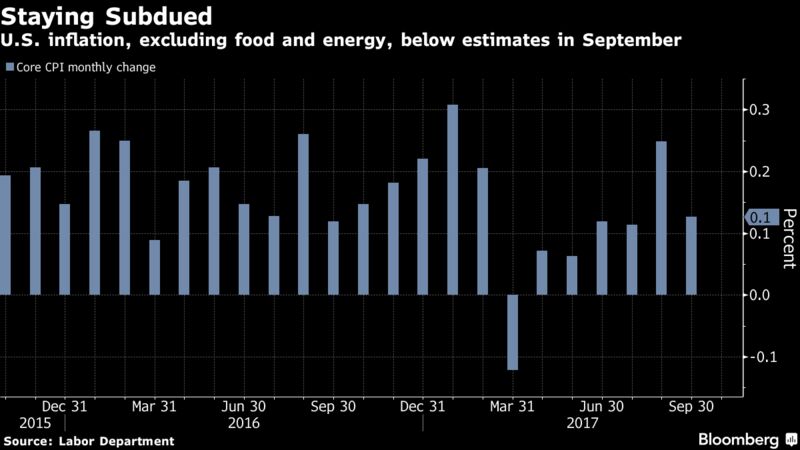 "The biggest surprise in the U.S. economy this year has been inflation," Yellen said on a panel that included Bank of Japan Governor Haruhiko Kuroda, People's Bank of China Governor Zhou Xiaochuan and European Central Bank Vice President Vitor Constancio.
While the Fed chair said she expects a pickup, she and her colleagues "recognize that this year's low inflation could reflect something more persistent than is reflected in our baseline projections."
Inflation came in at 1.3 percent in August after stripping out volatile food and fuel, well below the Fed's target. It has been headed in the wrong direction for months, and data through the end of the year will be unreliable, clouded by seasonal adjustment issues and price fluctuations wrought by hurricanes that hit the U.S. South late this summer.
Higher Wages
Employment, meanwhile, has surpassed officials' expectations. The U.S. jobless rate has fallen to 4.2 percent, its lowest level since 2001, and the participation rate has shown stabilization as Americans come back into the workforce. Wages have been slow to accelerate, but show early signs of life.
"On balance, wage gains appear moderate, and the pace seems broadly consistent with a tightening labor market once we account for the disappointing productivity growth in recent years," Yellen said in her prepared comments. She said "risks to global growth have receded somewhat" and that she and her colleagues "expect growth to continue to improve over the near term."
If strong growth and labor market tightness do push inflation higher, it would support the committee's policy of gradual tightening through interest-rate increases and a reversal of quantitative easing. Officials project another increase in 2017, and market pricing shows that investors see the move coming in December.
"We continue to expect that the ongoing strength of the economy will warrant gradual increases in that rate to sustain a healthy labor market and stabilize inflation around our 2 percent longer-run objective," Yellen said.
Central bankers voted last month to begin unwinding their balance sheet, and Yellen reiterated on Sunday that they do not intend to use that process as an active monetary policy tool. "Our balance sheet will decline gradually and predictably," she said, avoiding outside movements in interest rates and market strains.
Financial Stability
Some Fed officials have cited concerns over financial stability as another reason to gradually raise rates after U.S. stock markets reached record highs.
In response to a question from the audience, Yellen said that while asset-market valuations "are at high level in historical terms" when assessed on metrics akin to price-earnings ratios, "broader financial stability risks depend on more than just asset prices."
"One factor that clearly comes into play is an environment of low interest rates and central bankers like many market participants have been adjusting our notions of what" interest rates are likely to be in the longer term, she said.
Read more: http://www.bloomberg.com/news/articles/2017-10-15/yellen-says-fed-to-raise-rates-gradually-as-inflation-picks-up