The Making of a Millionaire and a Massacre
Five days after the deadliest mass shooting in modern American history, Jeremiah Cottle, ashen-faced and unshaven, looks toward the four flags by his company's front gate in Moran, Texas. There's the Lone Star State flag, the Stars and Stripes, a POW-MIA one, and another with the green-and-black logo of his company, Slide Fire Solutions LP. Each flies at half-staff just inside a 10-foot-tall fence topped by razor wire. "My family was always here," he says, motioning across the two-lane highway to the ranch with the Cottle sign out front. "So I built something, and a madman is taking it all away."
What Cottle built is a multimillion-dollar empire based on the simple idea of converting a semiautomatic rifle into a weapon that can fire up to 800 rounds per minute, about the same as a fully automatic machine gun. The "madman" is Stephen Paddock, who investigators say had 12 so-called bump stocks in the arsenal he used to kill 58 people on Oct. 1 in Las Vegas. Audio recordings captured the extraordinary rate of fire as Paddock shot into the crowd at a country music festival from a room on the 32nd floor of the Mandalay Bay Resort & Casino. The devices are fully legal in the U.S.
The story of how Cottle successfully navigated America's gun laws to sell tens of thousands of bump stocks over the past six years says a lot about how permeable those laws are. It also sheds light on the protections federal law affords the gun industry against claims of liability when firearms are put to horrific use. Ironically, the argument Slide Fire used to get approval for its bump stocks may end up exempting it from those protections—an argument being used in the lawsuits that are already being filed by victims of the Las Vegas shooting. The sheer horror of the massacre, combined with the revelation that a simple device likely made the carnage much worse, seems to have altered the debate about gun violence, eroding Republican resistance to discussing gun control of any kind, if only temporarily.
In the following days, Republicans began talking about the need for action. Then on Oct. 5 the National Rifle Association, which for decades has fought any gun control measure, called for a review of bump stock regulations, albeit not a ban. That same day, White House Press Secretary Sarah Huckabee Sanders said President Trump "would like to be part of that conversation," but Congress would have to make any substantial change. Although incremental and even tepid, the NRA and GOP reactions are "a significant change in the debate over gun control in America," says Steve Miller, a political science professor at Clemson University who studies public opinion on gun control. "We are seeing ardent gun control opponents giving in to some regulation, unlike what we saw in the aftermath of past mass shootings."
Like many of the 250 people who live in Moran, about 150 miles west of Dallas, Cottle grew up shooting guns. After leaving the U.S. Air Force in 2005, he came up with an idea for a device that uses a rifle's recoil, or bump, against a stiffened trigger finger to approximate automatic fire. He went down to his woodworking shop, and in about two hours he built a crude prototype out of some scrap wood, PVC pipe, and duct tape.
By mid-2010, Cottle was ready to start selling his device, but he first needed clearance from the Bureau of Alcohol, Tobacco, Firearms, and Explosives. To comply with federal law, he simply needed to demonstrate that the bump stock was itself not a machine gun. In a letter to the ATF, Slide Fire argued that its product was an accessory to help people with disabilities who had difficulty firing the AR-15, a semiautomatic civilian version of the M-16 military assault rifle. The ATF's Firearms Technology Branch ruled that the bump stock is a gun part, one that isn't integral to the functioning of the weapon, and as such excluded it from federal firearm regulations, according to a June 7, 2010, letter from the bureau. Two years later the ATF made a similar determination in reviewing another bump stock maker's device.
Armed with the ATF's blessing, Cottle and his then-wife, Lora, started the company out of their bedroom and a shed where they kept the family dogs. They plowed $120,000 into the business, scraping money together from retirement savings, his veterans benefits, and selling guns and ammunition, according to records filed in relation to the couple's divorce. To protect his investment, Cottle also filed multiple patents, claiming ownership over the bump stock design and invention.
Slide Fire's bump stocks were an immediate hit. Within the first year, sales exceeded $10 million, and the company shipped more than 35,000 units. Slide Fire hasn't disclosed sales since 2011, but considering the growth of the industry, there are likely tens if not hundreds of thousands of bump stocks in gun owners' hands. To keep up with demand, Cottle built a 22,000-square-foot, near-windowless, corrugated-steel compound to serve as headquarters and an assembly plant on part of his family's farm. He hired about two dozen people, including buddies from the Air Force, and housed some of them in trailers on the property. He even hired the town's mayor and his wife to work in the plant. For Moran, a town that consists of little more than a few roads, a liquor store, a bank, and some clapboard homes and where most people work as ranch hands and in nearby oil fields, Slide Fire was a godsend to the local economy.
Cottle marketed his product heavily. One ad for gun magazines shows a child cradled under his father's arm, firing an assault rifle next to a Benjamin Franklin quote: "Tell me and I forget. Teach me and I remember. Involve me and I learn." Some YouTube reviews of the device drew almost 1 million views.
It wasn't long before competitors cropped up with their own bump stocks, underpricing Slide Fire and cutting into its sales. Cottle fought back in court, suing at least five companies for allegedly stealing Slide Fire's patented designs. The fiercest battle was against Miami-based Bump Fire Systems. Its product worked just like Slide Fire's, only it was "lighter, just as durable, maybe even more so, and a lot cheaper! Instead of $400 for a Slide Fire you can get a Bump Fire for $100," according to company social media posts filed in court.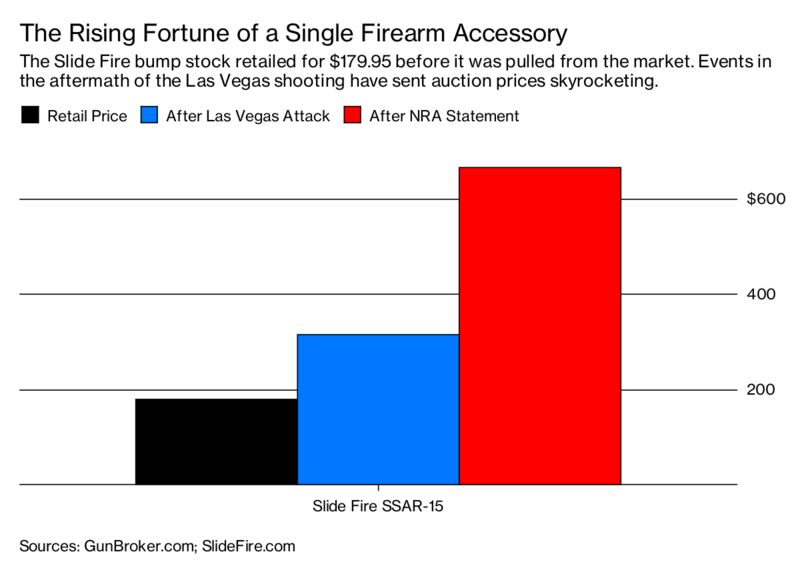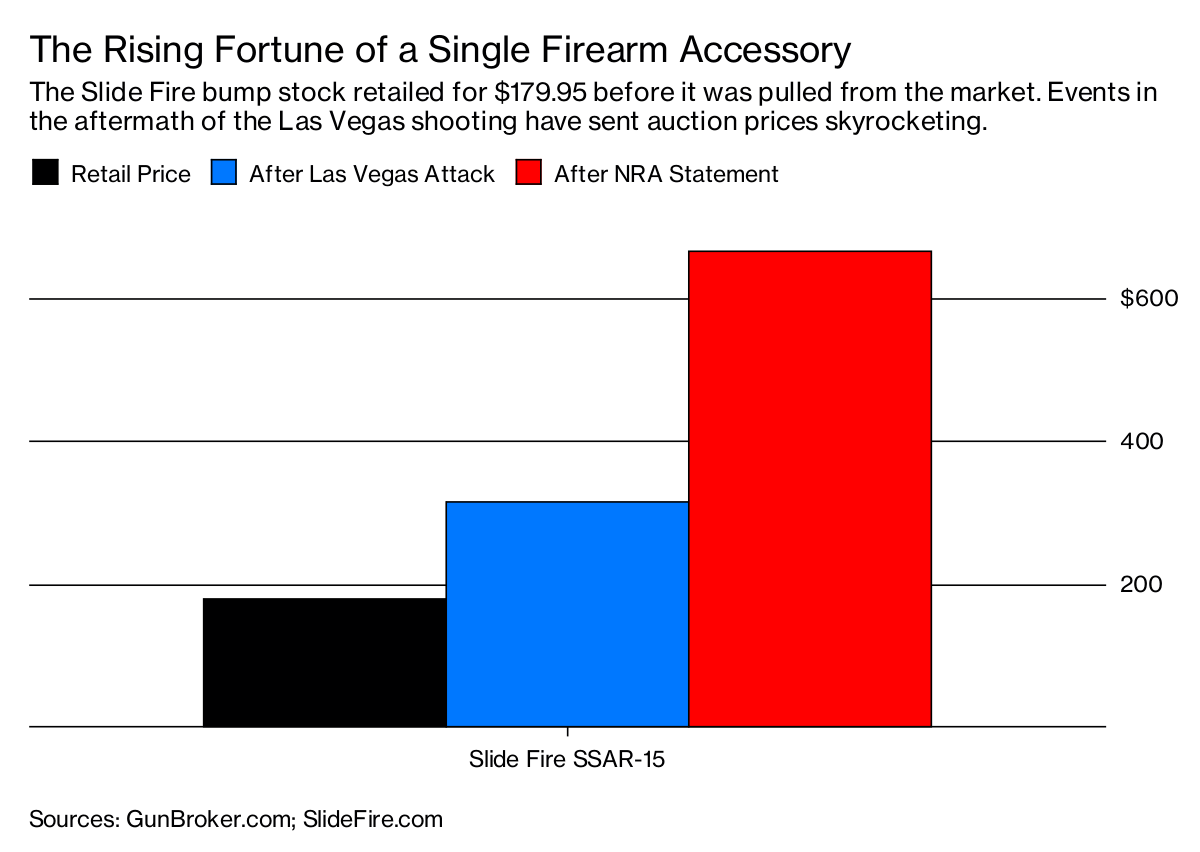 Bump Fire managers told the court they'd hired subcontractors to make its bump stocks and that they had sold more than 2,000 in Texas alone, Slide Fire's main market. In court, Slide Fire said Bump Fire's price-cutting had cost it almost $4 million in sales. The legal fight went on for two years before Slide Fire won. In a settlement, Bump Fire agreed not only to stop selling bump stocks but to allow Slide Fire to take over its web assets, such as its social media accounts.
Although bump stocks weren't widely known, they were extremely popular among enthusiasts. And because they aren't subject to registration or limitations on how many you can buy, Paddock was able to buy at least a dozen of them. Now, politicians are aiming to curb their use. Within days of the shooting, Senator Dianne Feinstein (D-Calif.) introduced a bill to effectively eliminate bump stocks by making it illegal to either sell or manufacture them.
This is hardly the first time Feinstein has proposed tighter gun laws. After the 2012 Sandy Hook school shooting in Connecticut, which left 20 children dead, she co-sponsored a bill to ban 120 types of assault and semiautomatic weapons. If passed, that bill would have effectively banned bump stocks by outlawing the sale of firearms with detachable stocks. Slide Fire helped lead opposition to the bill. In an op-ed published on April 1, 2013, in the , Laura Shackelford, Slide Fire's chief executive manager at the time, wrote that such a ban would do nothing to reduce gun violence. It would, however, erode the constitutional right to bear arms, she wrote. Feinstein's bill was defeated, 40 to 60.
Prices for bump stocks have skyrocketed since the Las Vegas massacre. A Slide Fire SSAR-15 OGR stock, which typically retails for $179.95, was bid up to $315 on the secondary gun marketplace GunBroker.com. After the NRA's statement on Oct. 5, prices soared to $666. (Overwhelmed with orders, Slide Fire announced a hold on all new sales.)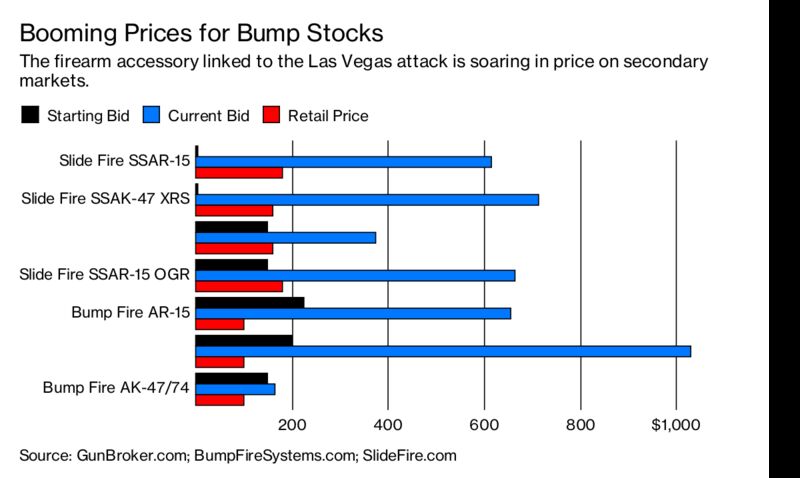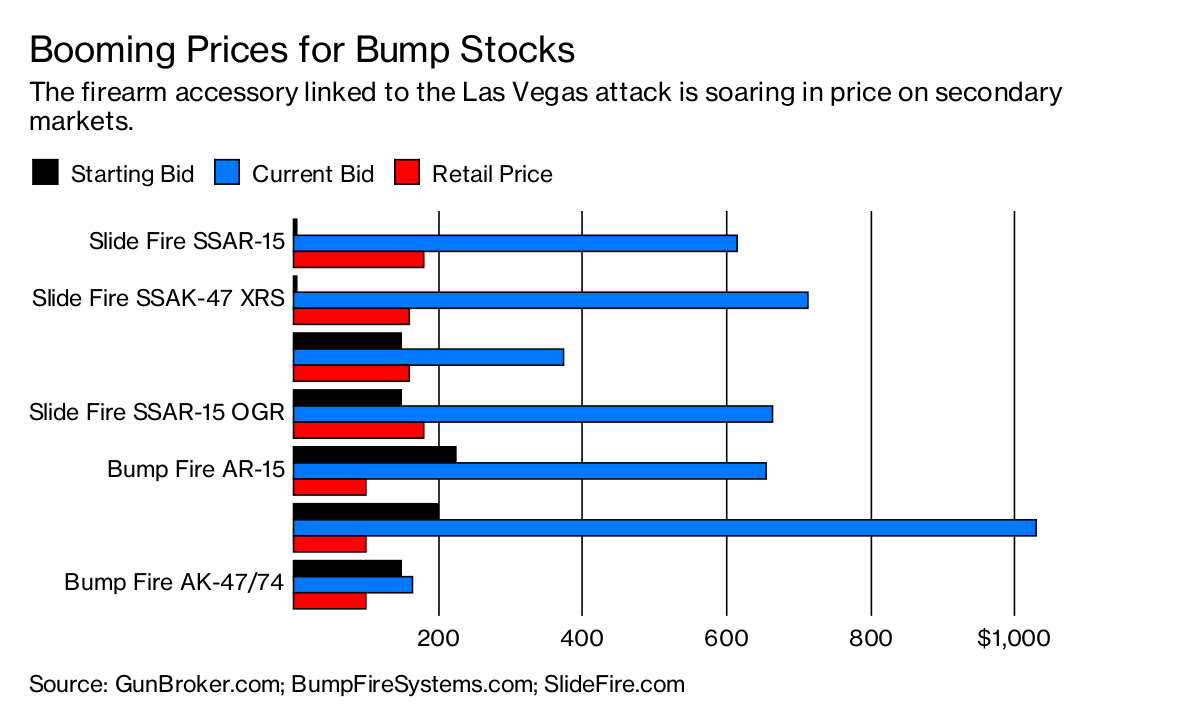 Slide Fire is already under attack in the courts. Because bump stocks are an accessory without functioning mechanical parts, the company may fall outside the protections of a 2005 federal law shielding gun and ammunition makers from being held liable for gun violence. On Oct. 6 three victims of the shooting filed a class-action suit against Slide Fire and unnamed manufacturers, accusing the industry of negligence. "Paddock could not have injured so many people without a bump stock," the complaint states.
The suit, filed on behalf of the victims by the Brady Center to Prevent Gun Violence in Nevada state court, argues that bump stocks are an accessory under Slide Fire's own definition and as such aren't covered by the federal shield law. "A bump stock is not a firearm, and it is not ammunition," says Avery Gardiner, chief legal officer of the Brady Center. "It does not qualify for immunity." The suit aims to recover unspecified damages as well as funds to pay for the victims' counseling, treatment for emotional distress, and some medical monitoring for everyone who attended the Las Vegas concert.
Back in Moran, Cottle stands outside the locked door of Slide Fire's headquarters, looking like he's still processing the shock of the past several days. His eyes are bloodshot and moist. He seems anxious, distraught, exhausted. "It's been rough," he says. "There are the death threats. People are coming after my kids. Words can't describe," he says, his voice trailing off. Asked whether he knows if Paddock bought any Slide Fire bump stocks, Cottle says he's been going through sales records to find out. He declines to say if he's been contacted by investigators. Asked whether he thinks his company can survive, given that even the NRA is zeroing in on the product he invented, he stares past the fence shaking his head. "I don't know," he says, just as a local TV truck creeps by. "I have to get back inside," he says. "I've said too much." And behind him, the door slams shut.
BOTTOM LINE –
The Las Vegas massacre has put a spotlight on bump stocks and the man who invented them in 2010 in a tiny Texas town.
Read more: http://www.bloomberg.com/news/articles/2017-10-11/the-bump-stock-millionaire-and-the-las-vegas-massacre