At least 217 dead after powerful earthquake hits central Mexico
The 7.1 magnitude earthquake is deadliest to hit country in more than 30 years and has brought down buildings in the capital, Mexico City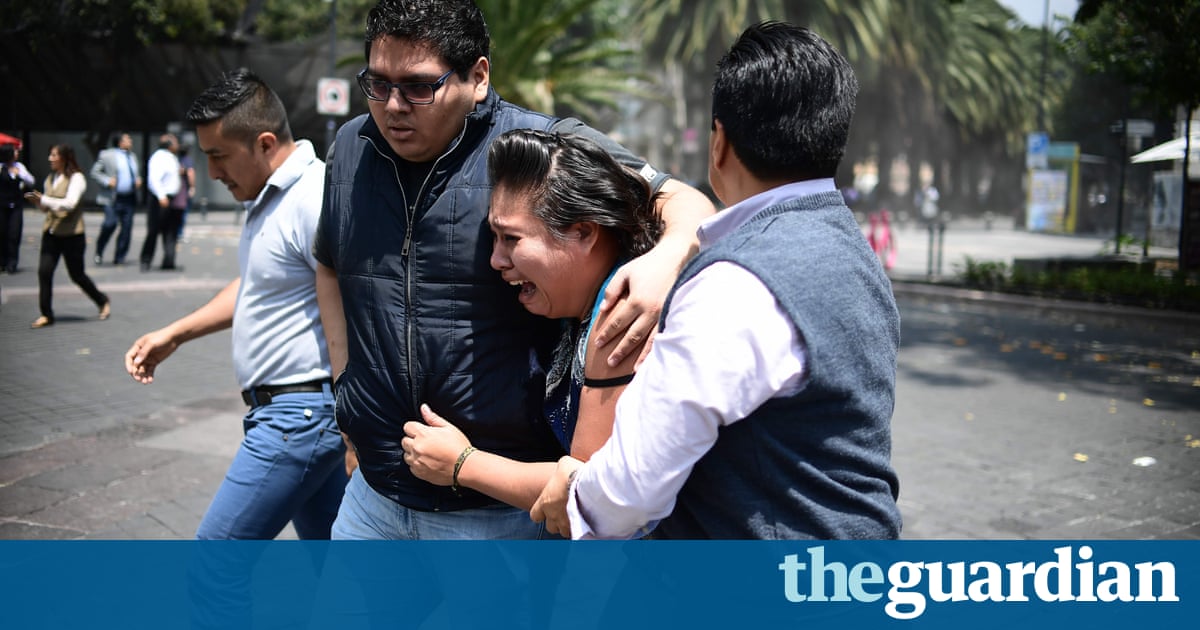 Emergency crews and volunteers are digging through rubble with their bare hands in search of trapped survivors after a powerful earthquake stuck central Mexico on Tuesday afternoon, toppling dozens of buildings and killing at least 217 people
The magnitude 7.1 quake the deadliest to hit the nation since 1985 struck shortly after 1pm local time, causing violent, prolonged shaking, which flattened buildings and sent masonry tumbling onto streets, crushing cars and people in the capital, Mexico City, and surrounding areas.
As night fell, rescuers armed with cutting tools and sniffer dogs scrambled to reach survivors pinned inside the ruins of offices, schools and apartment blocks amid plumes of dust and wailing sirens. Power cuts left much of the capital in darkness. Many people remained outdoors, fearful of aftershocks.
It was the second major earthquake to hit Mexico in two weeks and came on the anniversary of the 1985 quake that devastated Mexico City, killing 5,000 people and destroying 10,000 homes.
The earthquake also appeared to have triggered an eruption of Mexicos Popocatpetl volcano. In Atzitzihuacn on the slopes of the volcano, a church collapsed during mass, killing 15 people, Puebla governor Jos Antonio Gali said.
Authorities said at least 54 people died in the state of Morelos, with 30 perishing in Mexico City, 26 in Puebla state and nine in the state of Mexico, which borders the capital.
Public education undersecretary Javier Trevio said 21 children and four adults had died at the collapsed Enrique Rebsmen school, according to local media. The online news organisation Animal Poltico reported at least 30 children were still trapped in the school, according to Mexico City authorities.
The Mexican president, Enrique Pea Nieto, visited the site earlier in the evening and was besieged by desperate parents, telling him that their children were missing.
Local residents, police and firefighters were using their bare hands to dig through the ruins of the four-storey building, which had pre-school, primary and secondary classes. Appeals went out for torches, batteries and water to help the rescuers with their search.
Pedro Serrano, a 29-year-old doctor, was one of the volunteers who managed to crawl into the rubble of a classroom only to find its occupants dead.
We dug holes, then crawled in on our bellies, Serrano told the Associated Press.
We managed to get into a collapsed classroom. We saw some chairs and wooden tables. The next thing we saw was a leg, and then we started to move rubble and we found a girl and two adults a woman and a man.
Asked if there was hope of finding anyone alive, Serrano said workers were still trying despite the danger.
We can hear small noises, but we dont know if theyre coming from above or below, from the walls above [crumbling], or someone below calling for help.
Anxious parents outside the gates said they had heard reports that two families had received WhatsApp messages from girls trapped inside, but that could not be confirmed.
The rescue effort was punctuated by cries of Quiet! to allow searchers to listen for any faint calls for help.
Guillermo Salazar, a construction foreman whose crew was working on a half-finished apartment block, said the building swayed like a hammock when the quake struck.
Everyone escaped unscathed thanks in part to an earthquake drill held two hours earlier, added Salazar. It was helpful. Everyone knew what to do.
Elsewhere, however, there was chaos. Authorities took so long to respond to a collapsed seven-storey building in La Condesa, a wealthy part of Mexico City, that hundreds of people frantically scrambled through the rubble with their hands using shovels and shopping trolleys to remove debris.
The overall death toll was expected to continue rising as emergency crews and improvised citizen brigades combed through rubble.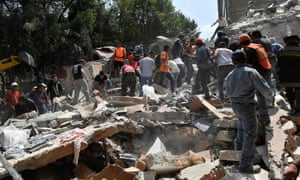 Read more: https://www.theguardian.com/world/2017/sep/19/mexico-city-earthquake-anniversary-1985