'Ribbon of poppies' pledge for WW1 centenary – BBC News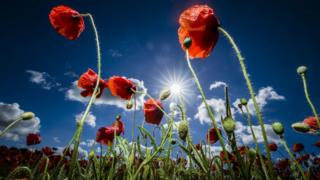 Scouts and guides the length and breadth of the UK have pledged to plant poppies to help create a carpet of the red flowers in time for the centenary of the end of World War One.
The Ribbon of Poppies project is the brainchild of Iain Henderson from Iver Heath, Buckinghamshire.
"Our idea is to create a carpet of crimson from Land's End to John O'Groats to remember all those killed or wounded in the war," he said.
Hundreds have pledged to plant poppies.
Mr Henderson and colleagues from The Memorial Mob – a group dedicated to creating memorials and events to help remember the "uniformed" services – are hoping the poppy "ribbon" will be "a living legacy to those who paid the ultimate sacrifice".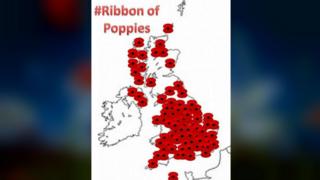 Poppies grown this year should flower between April and August next year, in time for World War One centenary commemorations.
Since Mr Henderson launched the Ribbon of Poppies project last month, hundreds of scout, cub, guide and brownie groups have pledged support, as well as a number of schools.
"We've had people as far south as Jersey and as far north as the Orkney Islands joining in," he said.
In the west, groups in Cornwall and in the east those in Norfolk, have also pledged to plant poppies.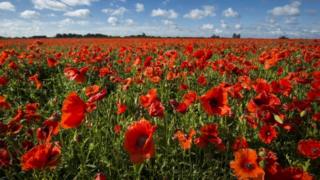 Harve Symonds, assistant leader of the 2nd Orkney Scouts was one of the first to get involved in the project.
"Our Scouts learn a lot about World War One and Two as Orkney was so involved, and they were asking if there would be anything they could do next year," she said.
They plan to plant poppies around the scout hut in Kirkwall and a number of homes for the elderly in the area.
"All you need to take part is a packet of poppy seeds or some wild seeds scattered across your land or suitable public places where you can get permission," Mr Henderson said.
"It's not rocket science."
Initially his group wanted to grow 700,000 poppies – "one for each casualty from the UK" – but with hundreds already signed up and an average packet containing thousands of poppy seeds, he said: "I think we'll just aim for a very long ribbon or a very big carpet."
Read more: http://www.bbc.co.uk/news/uk-england-beds-bucks-herts-40960256