'We are jobless because of fish poisoning': Vietnamese fishermen battle for justice
A year after Vietnams worst environmental disaster, lives remain ruined while the government cracks down on protesters seeking compensation
We used to eat the meat of the pig, but now all we have to eat is the skin the Vietnamese saying neatly encapsulates the predicament facing the countrys fishermen, says Nguyen Viet Thieu.
Before the marine disaster happened, I could earn up to 15m Vietnamese dongs [500], reflects Nguyen. But after, I didnt sell any fish at all. I was sick of my profession.
He moors and ties his small boat in the dock of Tan An village. Today, he has caught nothing.
This weekend, like every other, Nguyen and his neighbours will attend a protest vigil at the local church. It is their attempt to keep attention focused on the aftermath of the chemical spill that poisoned up to 125 miles of Vietnams central coastline last April. The disaster has damaged the regional economy of a country that earned $7bn (5.4bn) from seafood exports in 2016.
Led by Catholic priests, prayers and marches have been held ever since. Despite reports of demonstrators being arrested and beaten by the authorities in Nghe An province, rallies calling for justice and government accountability have been spreading across this central region.
Families from Nghe An say their livelihoods have been destroyed by the toxic discharge from a steel plant in neighbouring Ha Tinh province. But compensation has been awarded only to people in Ha Tinh and three other adjacent provinces Quang Binh, Quang Tri and Thua Thien-Hue.
Anger has been growing over the governments handling of what is thought to be the countrys worst environmental disaster affecting 450 hectares (1,112 acres) of coral reefs, of which about half were totally destroyed.
Slow government response and denials of wrongdoing sparked angry protests not often seen in four decades of Communist party rule.
In April 2016, at least 70 tonnes of dead fish were washed ashore. In July, the Formosa Ha Tinh Steel Corp, a subsidiary of Taiwans Formosa Plastics Group, admitted responsibility, blaming an accidental release of chemicals including cyanide in waste water during a test run of the plant.
Formosa Ha Tinhs chairman, Chen Yuan-Cheng, apologised, saying: Our company takes full responsibility and sincerely apologises to the Vietnamese people for causing the environmental disaster that seriously affected the livelihood, production and jobs of the people and the sea environment.
A government minister, Mai Tien Dung, told reporters Formosa Ha Tinh had pledged $500m for a cleanup and to pay compensation, which included helping fishermen find new jobs.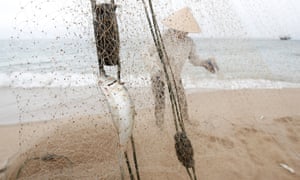 Read more: https://www.theguardian.com/global-development/2017/aug/14/vietnamese-fishermen-jobless-fish-poisoning-battle-justice