Ole Miss coach Hugh Freeze resigns amid reports of escort call
Mississippi football head coach Hugh Freeze has resigned after five years in charge of one of the college games most famous teams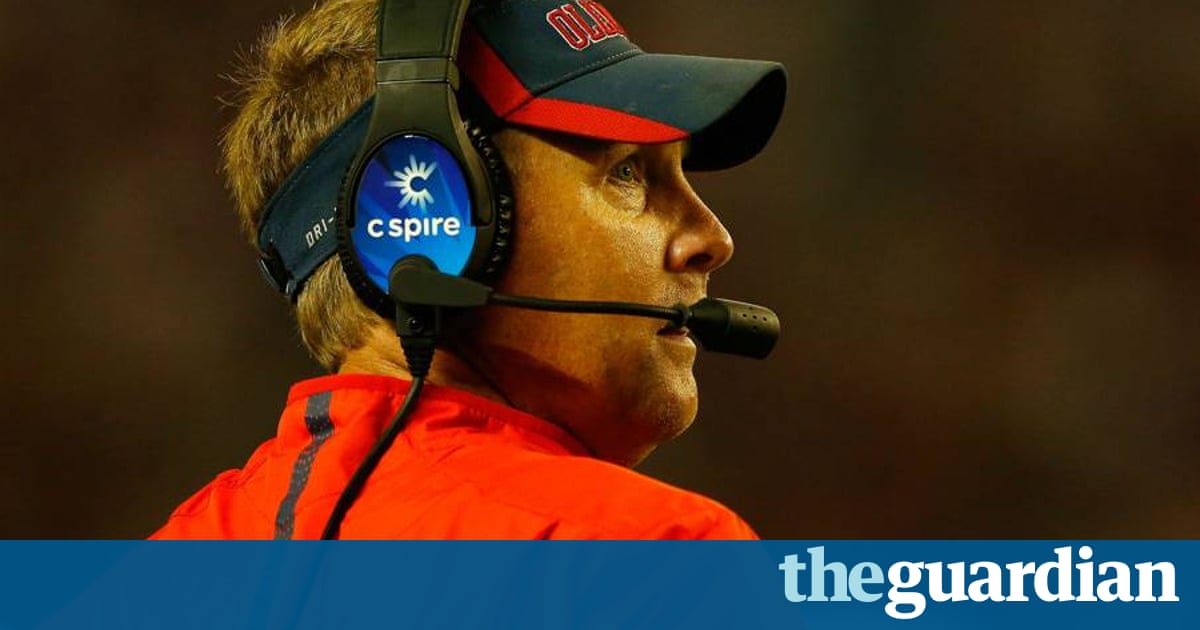 Mississippi football head coach Hugh Freeze has resigned after five years in charge of one of the college games most famous teams amid reports he had called a phone number associated with an escort service.
Ole Miss chancellor Jeffrey Vitter said that Freeze had resigned after saying he had been involved in a pattern of personal conduct inconsistent with the standard of expectations for the leader of our football team. USA Today Sports had earlier reported that records showed a one-minute call from Freezes phone to the number associated with the escort service. Last week Freeze told ESPN: We call the wrong numbers all the time.
While Coach Freeze served our university well in many regards during his tenure, we simply can not accept the conduct in his personal life that we have discovered, Vitter said at a press conference on Thursday night.
Ole Misss athletics director, Ross Bjork, said the decision had come after an analysis of Freezes phone records. In our analysis, we discovered a pattern of conduct that is not consistent with our expectations as the leader of our football program, Bjork said. As of yesterday, there appeared to be a concerning pattern.
When pressed to explain Freezes conduct, Bjork said the school needed to protect that information.
His privacy is important, Bjork added. The conduct was just not something we could continue with as our head coach.
Freezes assistant, Matt Luke, has been named as interim head coach.
The Rebels had a quick rise under Freeze, recruiting at a high level and reaching an apex with a Sugar Bowl victory over Oklahoma State following the 2015 season.
But an NCAA investigation alleging 21 charges of academic, booster, and recruiting misconduct has overshadowed much of that success, especially over the past year. The school has already self-imposed several penalties, including a one-year postseason ban for the upcoming season.
Freeze who was making more than $5m per year had a 39-25 record over five seasons, including a 19-21 mark in the Southeastern Conference.
But Ole Miss newfound ability to recruit at a high level drew the attention of the NCAA, which was already investigating the school for a handful of violations that occurred before Freezes tenure. The school has received two Notice of Allegations letters from the NCAA over the past two years. The first alleged 13 rules violations, including nine that were classified as Level I, which the governing body deems the most serious.
But the case expanded in April 2016 after Rebels offensive lineman Laremy Tunsil became the story of the NFL draft after a bizarre video of him smoking from a gas mask-bong was posted on his Twitter account just before the selections began. There was also a post on Tunsils Instagram account showing an alleged text conversation with a football staff member about arranging payment for bills.
Freeze, a north Mississippi native, had an unlikely rise to major college coaching, spending about a decade as a successful high school coach in Memphis, Tennessee, before landing a job at Ole Miss in the mid-2000s under Ed Orgeron. After Orgeron was fired in 2007, Freeze became the head coach at Lambuth, a tiny NAIA school in western Tennessee.
He became Arkansas States offensive coordinator in 2010 and was promoted to head coach in 2011, leading the Red Wolves to a Sun Belt Conference title before being hired at Ole Miss.
Freezes specialty was on offense and the Rebels were especially efficient on that side of the ball. Behind quarterbacks like Bo Wallace and Chad Kelly, Ole Miss was consistently one of the best schools in the SEC through the air.
Read more: https://www.theguardian.com/sport/2017/jul/20/ole-miss-coach-hugh-freeze-resigns-escort-call-reports