Earthquake in Turkey and Greece leaves at least two dead in Kos, 200 injured
6.7 magnitude quake struck overnight between Bodrum and Greek islands, injuring 200 people and sending residents and tourists running into the streets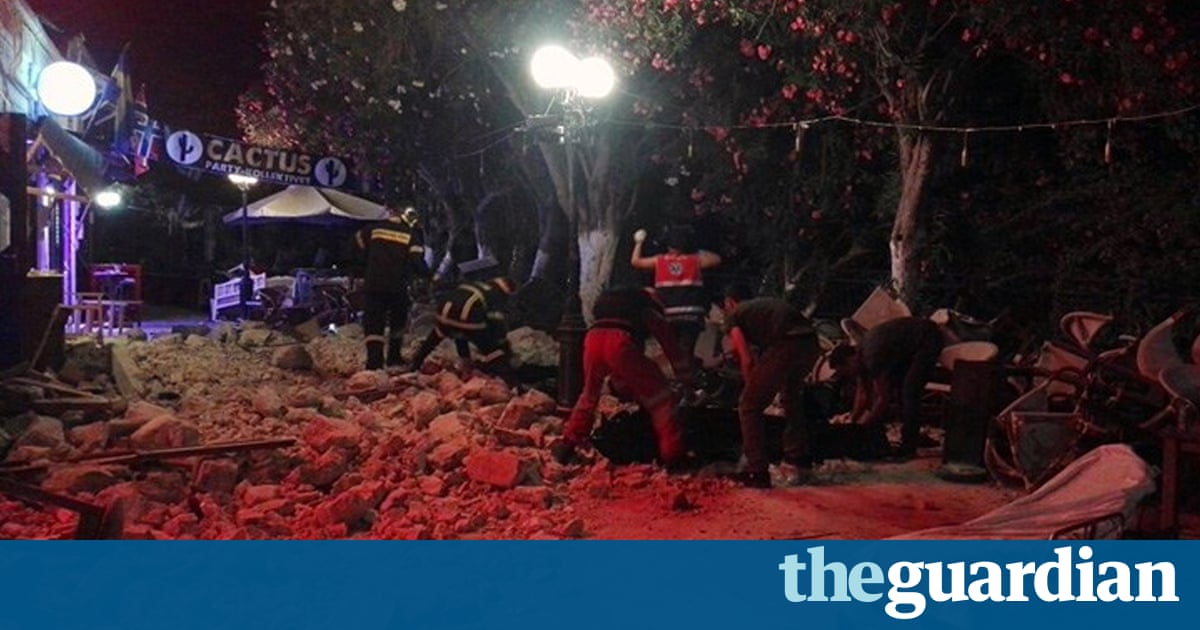 A powerful earthquake of magnitude 6.7 has killed at least two people on the island of Kos and injured 200 in Greek and Turkish coastal towns.
The quake struck near major tourist destinations around the Aegean sea in the early hours of Friday, Turkish and Greek officials said. Around 200 people have been injured, officials said, with at least 120 on Kos and 70 in Turkey.
The United States Geological Survey (USGS), which monitors earthquakes, said it was a very shallow quake only 10km (6.2 miles) below the seabed off the southwestern coastal city of Marmaris in the Mugla province. The epicentre was just 10km south of the Turkish resort of Bodrum and 16km east-northeast of Kos.
The Turkish towns of Bodrum and Datca, and Kos in the Dodecanese Islands archipelago are all major tourist destinations.
George Kyritsis, the mayor of Kos, told Reuters that at least two people were killed in the Greek island and several were injured by the quake. We have two dead and some people injured so far, Kyritsis said.
A hospital official on the island told AFP they had been killed when the ceiling of a building collapsed. Emergency services said the affected area was a bar in the centre of Kos town. There was no immediate information on the identity of the dead.
The islands port was among structures that sustained damage and a ferry en route there was not docking, the coast guard said. Greeces fire service said it had rescued three injured persons from a damaged building.
The chairman of Turkeys disaster and emergency management presidency (AFAD), Mehmet Halis Bilden, warned citizens about incoming aftershocks, but added there were no casualties or major damage in Turkey.
Our people should know that aftershocks are continuing, so they should refrain from entering damaged or vulnerable structures, Bilden told broadcaster CNN Turk.
AFAD said it had observed at least 20 aftershocks in Turkey and Greece following the mainshock at 1.31am local time on Friday (22.31 GMT on Thursday). At least five of the aftershocks registered over 4.0 magnitude, with the largest so far at 4.6.
A magnitude 6.7 quake is considered strong and is capable of causing considerable damage, but the effects of this one would have been lessened by striking in the sea. The European quake agency EMSC said a small tsunami could be caused by the quake, but Turkish broadcasters cited officials saying large waves were more likely.
Television footage from Turkeys Mugla province showed hundreds of people abandoning their buildings and waiting on the streets, as others ran away from buildings on roads. It showed cars shaking and products falling off shelves at stores across the region.
The UK foreign office has warned of aftershocks and advised British tourists there to follow the advice of local authorities and tour operators. A spokesman said: We are speaking to the Turkish and Greek authorities following an earthquake off the coast of Bodrum and near the island of Kos.
Any British people in the areas affected should follow the instructions of local authorities.
Kristian Stevens, from Nelson in Lancashire, was staying in Didim, 100kms from Bodrum, when he felt the building he was in shake like a jelly. Sophie Wild, from Canterbury, was in Altinkum, 750kms from Bodrum, described running for her life from her room. When we realised it was an earthquake, we got an immediate sense to get out, we thought the building was going to crumble around us.
Daniel Markham, a councillor on Tonbridge and Malling borough council in Kent, said he had felt the effects on the Greek island of Rhodes. He tweeted: earthquake Rhodes felt it here too. Pretty strong. Looked out the window to see the waves in the pool.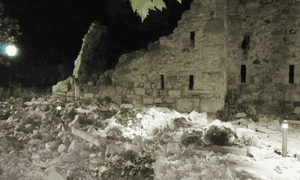 Read more: https://www.theguardian.com/world/2017/jul/21/kos-strong-earthquake-greece-turkey